*AD – Please note some items featured in this guide were gifted and this article also contains affiliate links
Christmas is getting closer and I actually find my pre-schooler the hardest to buy for. Perhaps it is because he is the youngest of three. I like to find toys that keep him entertained, not just chucked into the bottom of the toy box, as well as fun and educational. I hope this is a helpful selection to help you with your Christmas shopping.
Kinetic Sand
This is a great sensory toy for children. Squish and squeeze it, run it through your fingers, use the tools provided to build and mould and make different creations. This set comes with different coloured sand as well as stamps, a plastic knife and building tools. Lots of fun to be had.
Geomag Magicubes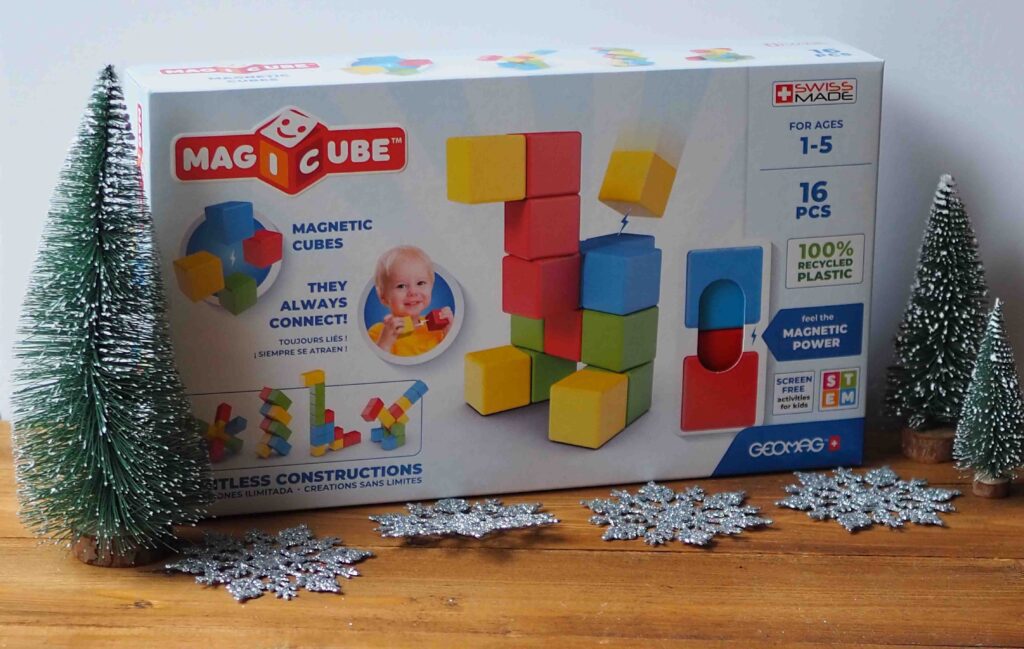 Magic cubes are magnetic cubes that children can use to connect and build different things. Made from recycled plastic these are great for problem solving and creativity.
Orchard Toys Christmas Eve Box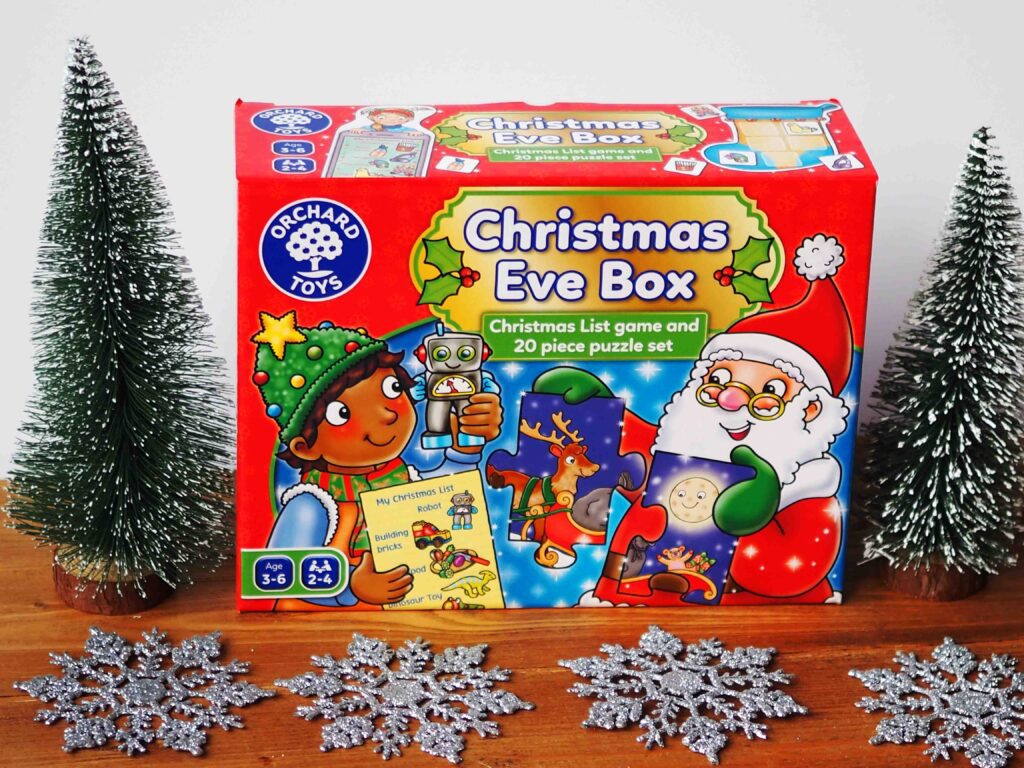 I love Orchard Toys, they make fantastic educational games for children, aimed perfectly at different age ranges. This year they have created this gorgeous box just for Christmas, and would make a fantastic addition to your Christmas Eve box if you do one. With games and puzzles to keep them entertained on one of the most exciting days of the year.
Messy Me Baking Kit
Do you love baking at home together? My kids and I really do, it's something I have done with all of them since they were small. This lovely little kit from Messy Me is an apron (they come in different colours), child size rolling pin and cookie cutters is a lovely gift so to help them bake with you.
Coding Critters – MagiCoders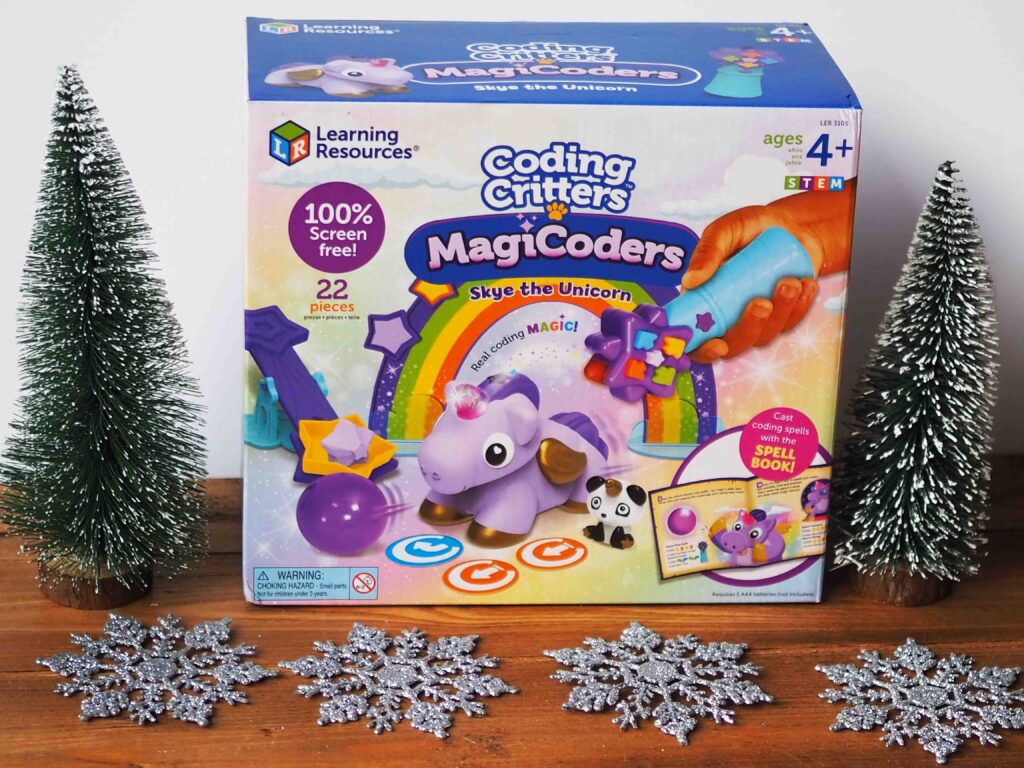 This is a new and rather cool toy out this year for pre-schoolers and an amazing way to introduce them to the world of coding. You can get a dinosaur, dragon and unicorn. This set comes loaded with pre-loaded spells that can make the unicorn sing, flash or dance. Use the magic wand and read through the story using the code to make the animal do different things.
Butterfly Garden Kit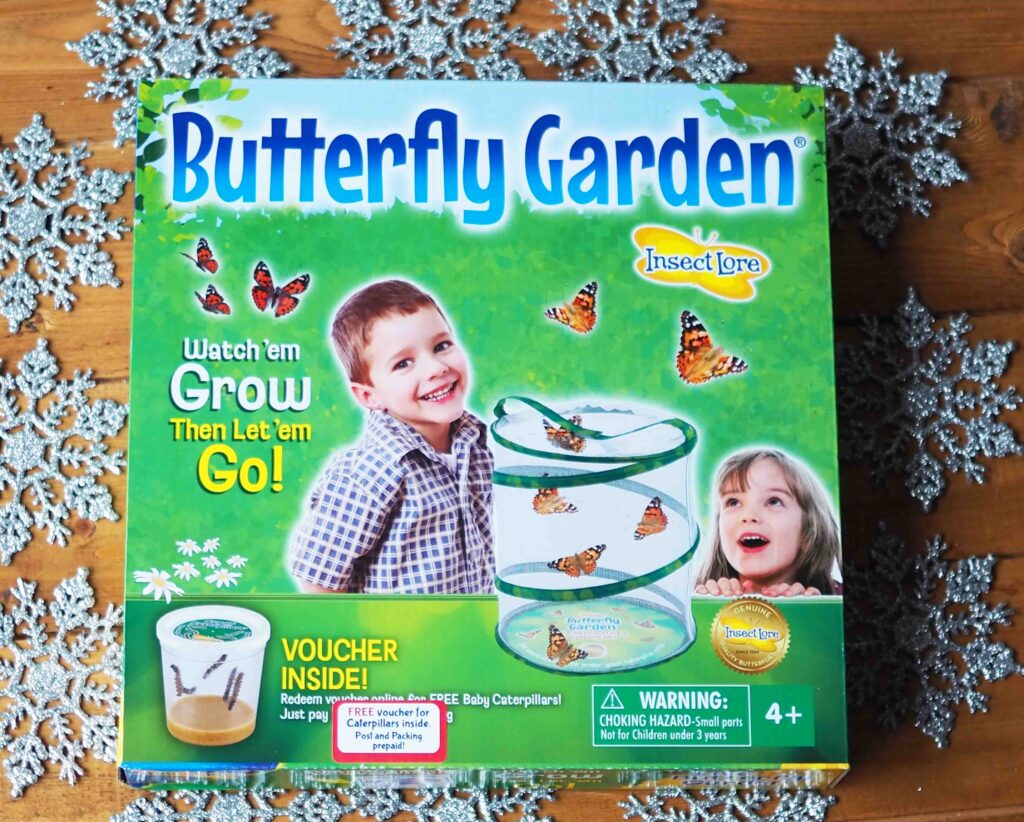 I saw this at a toy fair I went to a little while ago and I think it's such an awesome thing to do with children. Such a fun way to learn about looking after another creature, to learn about change, chrysalis, and how caterpillars become butterflies. This is a butterfly house and vouchers to send off for live baby caterpillars, you feed them, watch them grow and transform and then you release them into the wild. A Christmas gift children won't forget.
Buy Butterfly Garden Kit on Bright Minds
My First Calendar
This interactive calendar is a great way to start teaching children about days of the week, months, seasons and weather. Really useful preparation for starting school and a good daily activity that you can do together.
Exclusive 15% off for blog readers, if you wish to buy something from Jaques London please be sure to use this link to get 15% off your purchase https://jaques.games/15off.
Buy my Magnetic calendar as Jaques London
Doddl Children's Cutlery
Doddl cutlery has been designed to make it easier for your child to eat with cutlery and develop fine motor skills. Why make dinner times stressful when you can make things easier for everyone? This cutlery is designed to make it easier to smaller children to grip and use.
Buy Doddl cutlery set on Amazon
Baby Shark Sing and Snuggle Plush
Give me a child who does not love Baby Shark! My kids will sing the song on repeat along with the actions. This sing and snuggle plush can be played with in the day or put into night mode for lullabies. It also comes with a mask to play peek-a-bo. A lovely toy to take around with you and snuggle up to bed with.
Hapi Water Bottles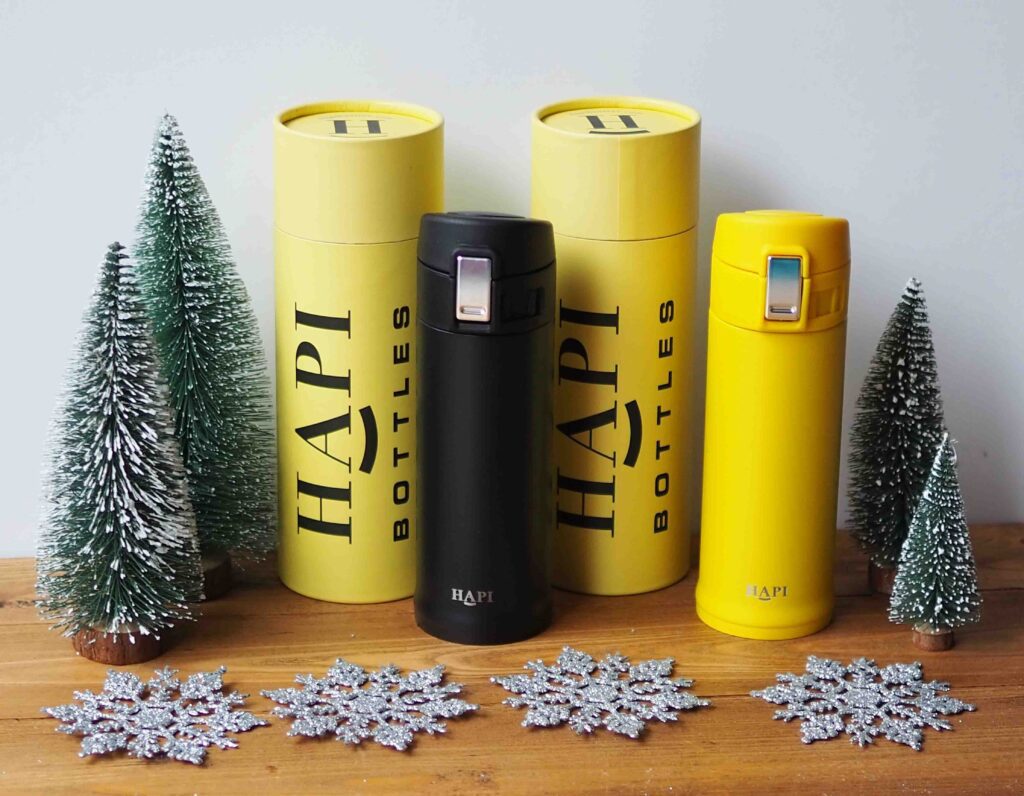 Whether your child is at nursery or you go on lots of days out, they always need a decent drinks bottle. And by decent, I mean and safe and do not leak all over their bag! Hapi bottles are stainless steel so that they can be used hot or cold, perfect for a cold drink or even a warm hot chocolate for a winter's day out. They can be used one-handed, have an easy to open button, are lockable, leak-free and have a mouth spout for easy drinking.
Buy Hapi Water bottle on Amazon
Little Muddy Boots Activity Cards
Little Muddy Boots are a lovely local business near me, we have reviewed their classes before and if you live local I would definitely recommend them. These cards are new and would make a lovely little stocking filler. There is a pack for autumn and a pack for winter and each is full of activities you can do with your little one outside. Stone painting, leaf rubbing, facts about what is happening in nature and wildlife at this time of year. Fun and educational. The cards are suitable for toddlers, pre-schoolers and Key Stage 1 children and great to have in when you're at home and don't know what to do with your children that day.
You can buy each set for £12 each on the Little Muddy Boots website
Tomy Toomies Spin and Hatch Dino Eggs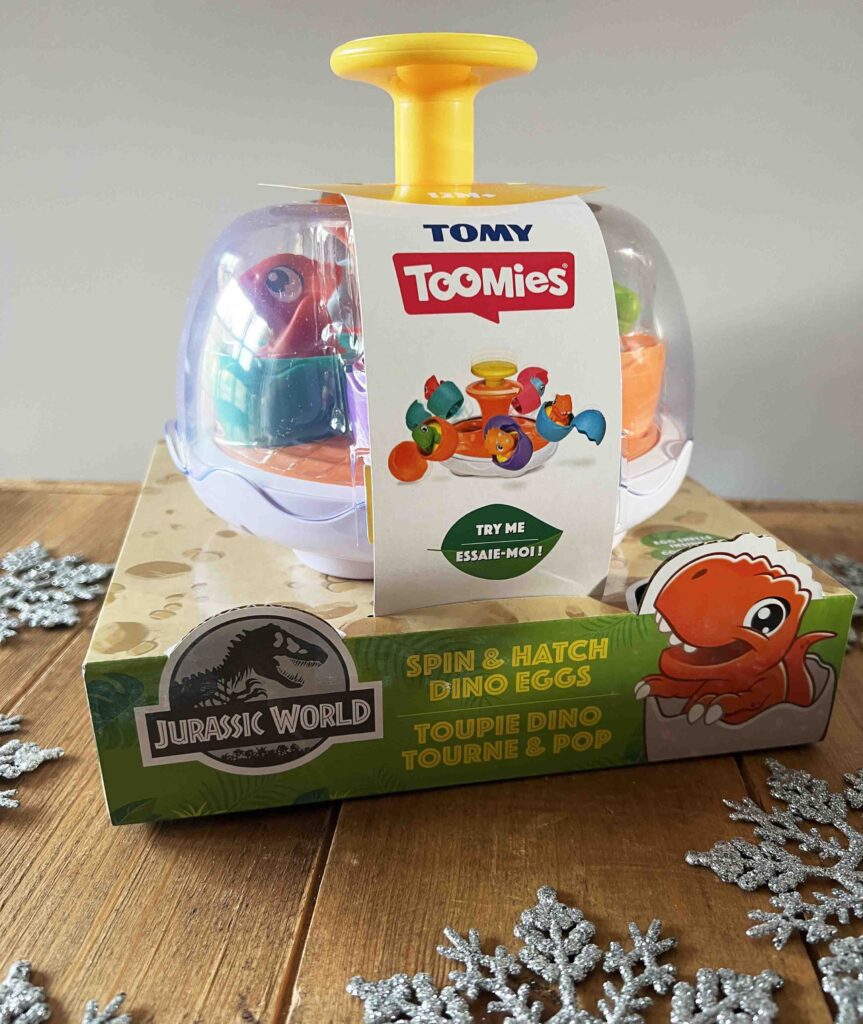 A fun toy for dino lovers. Press the top to make it spin and see which dinosaurs will hatch out of their eggs first. Great for colour matching and sensory learning, as well as giggles as you watch the dinos spin.
I hope these ideas will help you with your Christmas shopping. If you are looking for some ideas for an older child, do not forget to check out my gift guide for children aged 7-10 years old.