*AD – Please note some items featured in this guide were gifted and this article also contains affiliate links
Now it's time for my final, but by no means least gift guide of the season. My women's gift guide is a bumper issue this year, with lots of amazing gift ideas for the woman in your life. Whether it's for a friend, Mum, sister or partner there will be something in this guide for everyone. I hope that you find something for the person that you are looking for here.
Don't forget if you are looking for gifts for children to check out my other gift guides – Gift guide for children 7-10 years and my Gift guide for pre-schoolers aged 3-5 years.
Samrah Creations Light Up Jar
This is a really thoughtful gift, handmade by a lovely small business. These light up jars can be bought with different messages on them, depending on the person you are buying for. There are jars for friendship, for mothers, friend, aunt, sister, Grandma and are actually really beautiful in real life.
My Chronicle Book Box
Have a bookworm in your life? Then a My Chronicle Book Box would make a thoughtful gift for them. You can choose which genre of books you would like – Crime and Mystery or Sci-Fi and Fantasy. You can choose to receive a signed edition book, the latest releases as well as fun bookish accessories. The box I was sent, it included a pen, postcard and bookmark. All of the books were individually wrapped, which was a lovely touch.
Craftiosity Craft Box
If you have a sewing or craft lover in your house then a Craftiosity subscription box would be the perfect gift for them. You can subscribe to receive regular boxes, or gift a box as a present. Each box contains a limited edition craft, instructions and a link to video instructions, all the materials you need, plus a special surprise. This box contains an embroidery kit to embroider your own moon tea towel.
Beautiful Burners
This is a lovely local business in Bracknell. They have beautiful gifts sets of wax melts and burners. They are all wrapped beautiful and make absolutely lovely gifts and are really reasonably priced so would make great gifts for teachers too. With some of the sets started at just £6 which is amazing value.
Visit Beautiful Burners on Facebook to order
Guylian Chocolates
Who doesn't love a box of chocolate for Christmas? Guylian are an absolute classic with their sea shell shaped chocolates made of blended milk, dark and white Belgian chocolate.
Buy Guylian Chocolates on Amazon
Copper Photo Mobile
Looking for an unusual and eye-catching way to display your photographs? How about this pretty copper photo mobile? It holds ten photos, which you can update really easily whenever you feel like it. Hang above your desk, in your bedroom, or wherever you feel like for an eye-catching display.
Buy Copper photo frame mobile on Amazon
White and Silver Marble Organiser
On-trend and stylish, this practical make-up organiser is great for any woman that loves her make up- but likes to get them organised too. It can go in the bedroom or bathroom, it iss white marble and available with silver, gold or rose gold trim.
Buy Marble Organiser from Nikita by Niki
Personalised Myri Bracelet
Personalised gifts really give presents that extra special touch. This is a personalised bracelet with the name inscribed on the charm. I have had my daughter's name inscribed on this, but this would make a lovely gift for adults and children alike. You can also get matching parent and child bracelets which would be really sweet.
Buy personalised bracelets from Engraver's Guild
Lovelox Personalised Locket
Lovelox make beautiful personalised lockets that would make a fantastic gift for a loved one. What I particularly loved about the personalisation process is that you can upload your photos and they print them and put them in the locket for you. As I have more than one locket in my jewellery box and none of them have photos in them. You can also have the person's name inscribed onto the locket.
View the Lovelox Lockets Silver Lockets Collection
London Oliva Baby Changing Bag
London Olivia make the ultimate in super stylish changing bags for the chic mother to be in your life. These bags are beautiful and can be used well after you no longer have a need for a changing bag in your life. They are vegan, come with a changing mat, bottle warmer, purse and charging bank for your phone. They really are absolutely gorgeous. I'm a fan of backpacks at the moment, but they also have shoulder and tote bags for you to choose from.
Reindeer Carousel Wine Glass
Every wine drinker needs a Christmas glass, in the same way that every tea drinker needs a Christmas mug. This reindeer Christmas carousel glass is stunning and would look spectacular on your Christmas table on Christmas day. It would also make a rather fun gift. If you don't fancy a Christmas glass, Lolita makes lots of stunning glasses that would all make wonderful gifts.
Hapi Drinks Bottle
Everyone needs a decent water bottle for work, for days at work or even to keep at your desk. They're also good for the environment and a great way to reduce plastic consumption. These Hapi bottles are also perfect to hold a cup of tea of coffee, great when you take the kids to the park and you can take something with you to keep you warm. They can be used one-handed, have an easy to open button, are lockable, leak-free and have a mouth spout for easy drinking.
Buy Hapi Water bottle on Amazon
North Pole Series – Candy Striper Building
The older I get and the more children that I had, the more I fall in love with Christmas decorations. Christmas lights, little Christmas scenes, it's for a month of the year and I love to fill the house with joy. The North Pole series has lots of very cute Christmas scenes from Dept 56. This Candy Striper building isn't musical but the windows light up and the candy cane turns. All of the scenes on their website are adorable and would make a very thoughtful gift.
Buy North Pole Candy Striper Building
Antique Rose Boutique in Wokingham
Antique Rose is a fabulously chic little boutique based in Wokingham, near where I live. A place filled with gorgeous gifts and trinkets decided to make you go ooooh. All handmade in the UK. I always think it's great to shop small and independent at Christmas, they have a local shop in Wokingham and you can also shop online.
Visit the Antique Rose website
Mustard Faux Suede and Fur Trim Gloves
I love getting new clothes and winter woolies under the tree. These stunning faux suede winter gloves with a faux fur trim on the wrist are a great choice for those cold days when you want to keep your hands warm, and also help you look fabulously stylish.
Buy mustard faux fur trim gloves
Monogrammed Colourful Socks
I love the colour of these socks and I also am the lady that always put socks in the stockings every year! Made with bamboo, these extra soft women's ankle socks will keep your feet stylish and warm. The monograms are a nice touch. I'm also tempted to mix them up and have an L on one foot and an S on the other.
Maison Rustic Home Accessories – Wokingham
Adjacent to Antique Rose in Wokingham is Maison Rustic, home of all things stylish for your home. Full of fabulous things and unusual finds, it's the perfect place for find a gift.
Jasmine and Frankincense Wax Melt Bar
I'm new to the world of max welts, I was thought they were soap (no kidding!). But they make your home so smell so nice and cosy. This melt bar is made from 100% coconut and rapeseed wax bar comes with 6 easy to snap-off cubes. They can be used as many times as you wish, until all the fragrance has evaporated; then simply snap another cube and change the wax. Made with real jasmine flowers, this fragrance is a warming bed of blooming jasmine intertwined with soft spices of clove, frankincense and pepper.
Buy Jasmine and Frankincense Wax Melt Bar
Flower Reed Diffuser
I absolutely fell in love with this diffuser when I opened it. I have several reed diffusers around the house, but I have never seen one as gorgeous as this. The reeds and rope are actually made to look like flowers, it smells good and looks amazing too. It would make such a good gift. Each flower is delicate and unique, carefully handmade from thin slices of sola wood. With real jasmine flowers, this fragrance is a warming blend of blooming jasmine intertwined with soft spices of clove, frankincense and pepper.
Set of 2 Himalayan Rock Salt Tealight Holders
Did you know that Himalayan salt has health benefits? The salt emits negative ions in the air working as a natural air purifier. This is said to improve sleep, mood, reduce stress, help with asthma and allergies. These tea light holders are hand carved, and make really pretty and unique tea light holders.
Buy Rock Salt Himalayan Tea Light Holders
Christmas Romance with Knicker Locker
If you're buying for your partner, you cannot go wrong with some pretty and sexy lingerie. Just make sure to get the size right. (Pro tip… sneak a look at the size in their favourite underwear they wear all the time). The print on this bra is really gorgeous, it's a full cup bra and made by Fantasie and would make for a super sexy and thoughtful gift to find under the tree this year.
Buy Fantasie Pippa Bra from Knicker Locker
Buy-a-Gift Family Family Fun Experience Box
This is a great gift for the person you just do not know what to get for them. Or perhaps want to give the gift of an experience rather than an item. Buy a Gift has so many things to choose from with days out and experiences. This here is a family experience box, it give the recipient 490 gift experience to choose from for a fun family day out, from cinema trips and animals encounters, to go-karting and bowling.
Belle Scarf by Enchanting Disney
A beautiful scarf for Disney lovers, in a pretty pink colour and really soft to touch, it features Belle from the hit Disney film Beauty and the Beast. It would look great with an outfit, or and under a coat on cooler days.
Belle Tote Bag by Disney
This Belle tote bag is the perfect accompaniment to the Belle scarf. You can personalise it with your very own message, here I have chosen 'Dream Big'. It has mid-length straps that mean it can be carried or worn on the shoulder. It's a nice size bag for a day out, or a bit of shopping.
Personalised Gifts from Printster
A great way to get a bit of a different Christmas gift for someone is to get them something personalised. Printster make all sorts of personalized gifts from wrapping paper, socks and mugs, to cards, masks and coasters. Here we have personalised magnets and keyrings which will make perfect stocking fillers.
Buy personalised gifts on Printster
Give the Gift of a Tree
If you're looking for more of an altruistic gift, this one might be perfect. Treedom is all about planting trees and following their journey online. Once you have purchased a tree for loved one, which you can even name and dedicate to them, you will be taken to your online tree diary where you can track its progress online. Everything from its growth to its environmental impact, information about the community it is benefiting, and the produce it creates.
Visit Treedom to find out more
Luxe 39 Cushion
Handmade to order this luxurious Luxe39 velvet cushion is made from the highest quality British fabrics. All cushions are double-sided and with over 100 colour combinations, you can find one to in your favourite colour or to match your decor. Also available in different sizes. The photos do not show just how gorgeous this cushion is.
Buy Bright Pink and Emerald Green Velvet Cushion
Stackers Travel Jewellery Box
A fab stocking filler for the woman who loves to travel. This petite and chic jewellery box can easily slip into a handbag and keep some spare jewellery safe for your travels.
Buy Pebble Grey Petite Travel Stackers Box
Nordgreen Watch
Nordgreen watches are absolutely stunning, elegant and versatile, they're a classic that will go with any outfit and be treasured for years to come. They have styles to suit all tastes and preferences and make watches for men as well as women. They also come presented in beautiful gift boxes and would make a really amazing gift.
Lusso Tan
Luxury tanning company Lusso Tan was created by three sisters in Ireland. They think that simplicity is key. This is why, through many years of practice, they came to perfect the optimal three-step ritual. Each step has a purpose and is designed to fit in with a busy lifestyle —making a perennial glow as straightforward and consistent as brushing your teeth or styling your hair.
These two gorgeous gift sets are the Love Your Skin Collection – Summer Meadows, which include a ten renovating bath bomb, exfoliating mitt and body lotion. The second gift set is Ultimate Body Kit, which contains everything you need for a flawless tan. A self-tan mousse, primer, tanning mitt and tanning brush. A gorgeous gift and way to tan without damaging your skin.
Buy a Gift Set from Lusson Tan
Aveeno Mother and Baby Set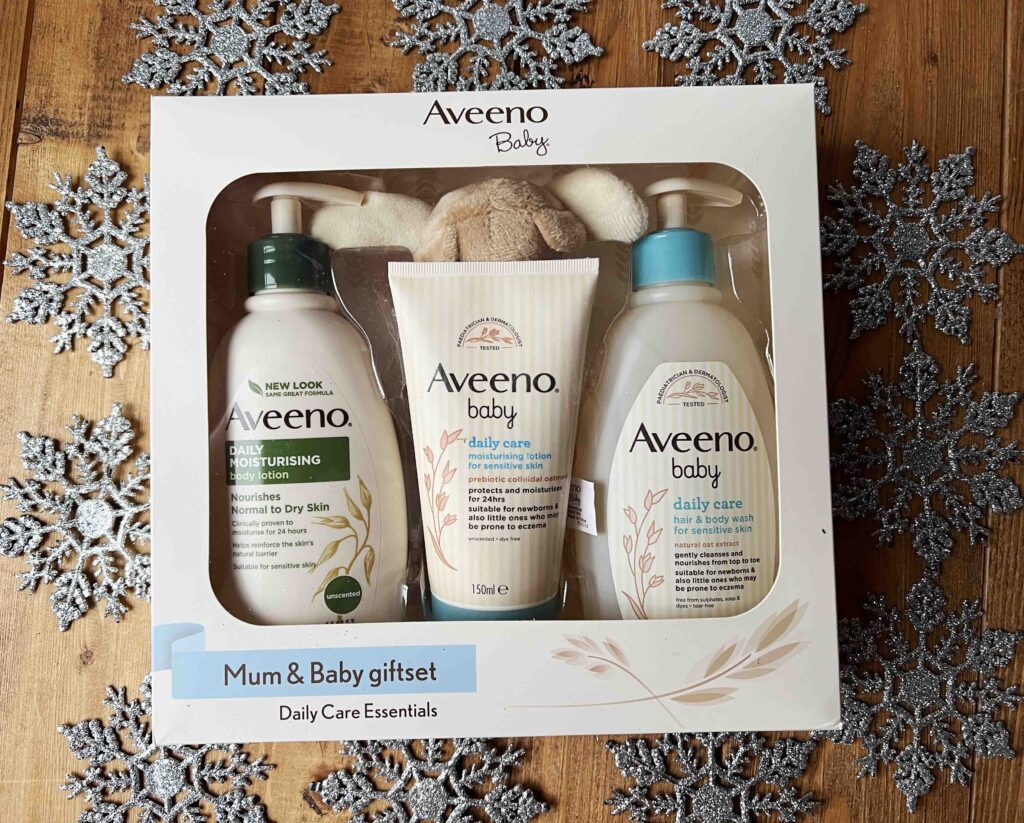 A lovely gift for a new Mum, perhaps one to combine with the London Olivia change bag at the beginning of the post. This set contains a daily moisturising lotion, a moisturising lotion for sensitive skin, and a sensitive hair and body wash. Complete with an adorable little teddy.
Cotton Trader Jumpsuit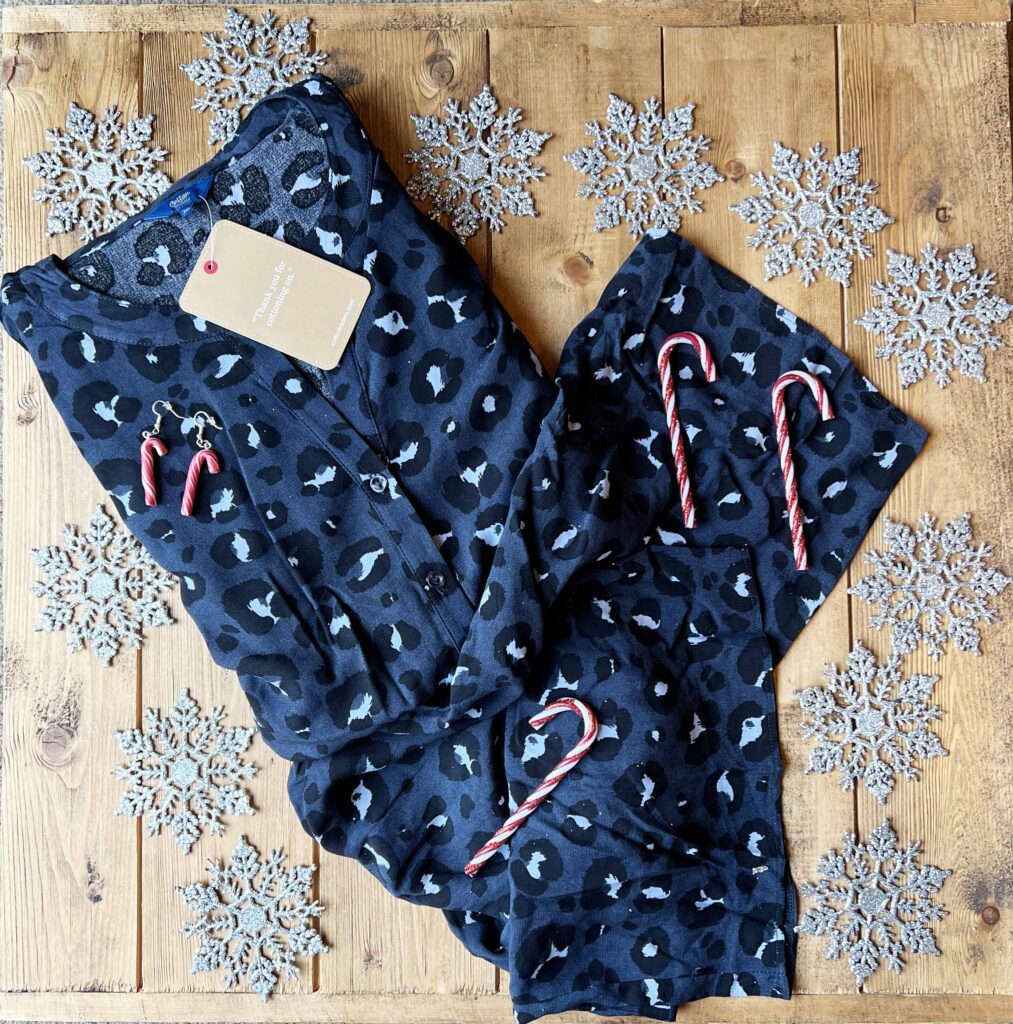 I always love clothes as a Christmas present and having something new and stylish to wear over the festive period. Jumpsuits completely fit this bill, not only are they stylish and can be dressed up or down, they are also super, super comfortable. Wear them with heels or pumps, depending on your mood or the occasion. This Cotton Traders jumpsuit is really soft, has an elasticated waist and even better… it has pockets! A little hint, if you're not sure have a look in the labels of the clothes your partner is wearing to get the size.
Buy Joyful Jumpsuit on Cotton Traders
I hope that this post has given you some really useful ideas to get the right present this Christmas. There is hopefully something here to suit everyone's taste. Happy Shopping!