*This is a collaborative post
My Husband's Man Den (Workshop) with One4All
Before Christmas, I wrote about how we working with One4All Giftcards who have set us the challenge of creating a man den for my husband, or workshop as he likes to call it! When we moved house, back in September, one of the things my husband was really excited about was having his very own garage (workshop) for his motorbikes.
The collaboration has given me the perfect opportunity to give him a belated Christmas present and get the garage all kitted out nicely for him. One4All gift cards make a great gift in that they can be used in over 50,000 retailers worldwide. They have recently added Clarks, Carphone Warehouse and Laithwaites to their portfolio too, and as they can be spent in so many stores, they make a great gift for pretty much anyone.
Before Christmas, I wrote the items that I thought he would like and this is the list I came up with:
An armchair or some sort of seating
Speaker to listen to some cool tunes
Tool chest
Mini Fridge
Posters
Magazine rack for manuals and motorbike magazines
A pair of slippers for when he wants to escape to his new armchair to listen to some music in peace with motorbike magazine in hand
Man Cave sign
What Did we Decide on Buying in the End?
When it came down to the actual buying, we inevitably tweaked the list a little! For example, if we're honest it's not really warm enough in this country that often to need a mini fridge. Let's face it, a coffee is more likely to be needed. But there were items my husband considered an essential – like a Bluetooth speaker for his music.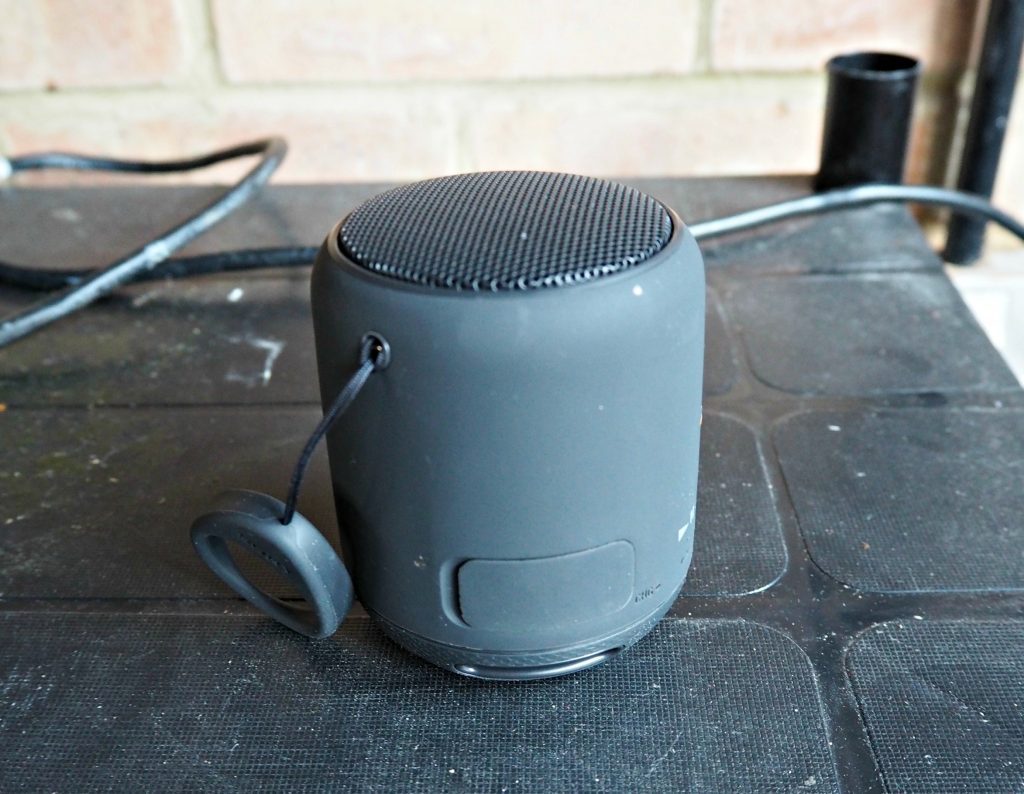 Sony wireless speaker from Carphone Warehouse
There were items that hadn't made the list, but we realised would come in handy – like this kneeler which can be used to kneel on and work on things in the garage, or equally as an impromptu seat.
Garden kneeler and tool storage from Argos
The tool chest was decided by my husband to be an essential and he spent a lot of time arranging his tools in it to organised perfection. He was so excited by the new tool chest he also chose a selection of tools that he's had his eyes on to fill the drawers nicely as well.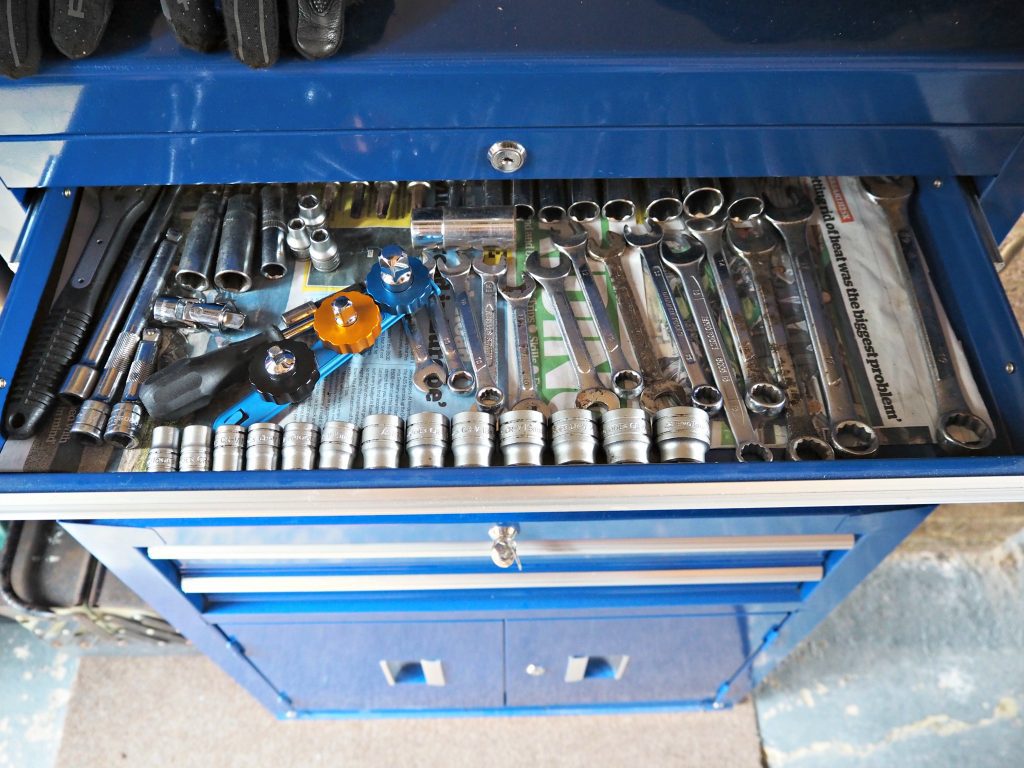 Halfords 6 drawer tool chest and shiny new tools from Halfords
A pair of slippers, for when he just wants to escape the crazy house of which will soon be 3 children in comfort.
There are still some things we want to add to the room, but as with most things in life, we ran out of budget! Such as a whiteboard (for a job's list), posters and bike calendar, a man cave sign, my husband wants to put in a worktop to one side and hopefully at some stage we can rescue and old armchair of a free site.
The Before Photos
So how is the garage looking now? This is what it looked like before we started the project. Messy, disorganised and no luxuries.
The After Photos
Here's what it looks like now. Much, much neater as you can see. We have utilised some items we had already, such as shelving that used to be in our old shed before we moved and some old car mats and inspection light.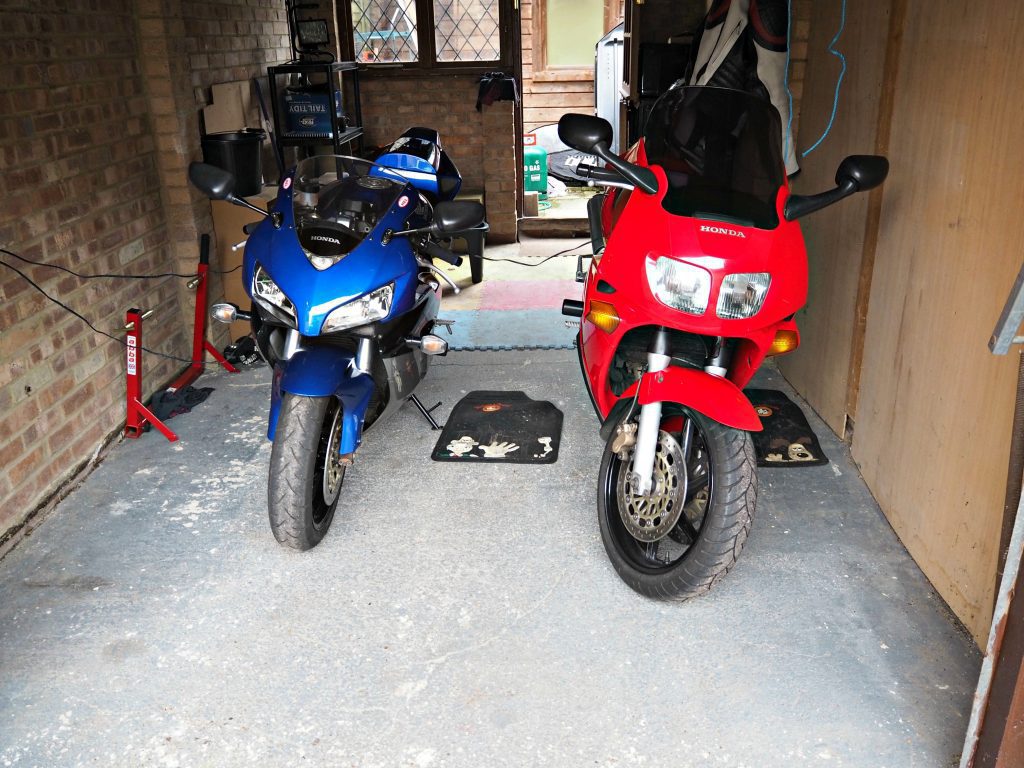 There are some pictures that have meaning to Ben that he wanted to hang up – a picture of his uncle who introduced him to motorcycling, a blueprint his grandfather made when he was an engineer. He also has plans to add some additional photos and posters to the walls as he goes along.
There's a place for everything from his tools to his motorcycle gear, and when he was finished he came out with a great big grin. Which I think means that it made a great belated Christmas present!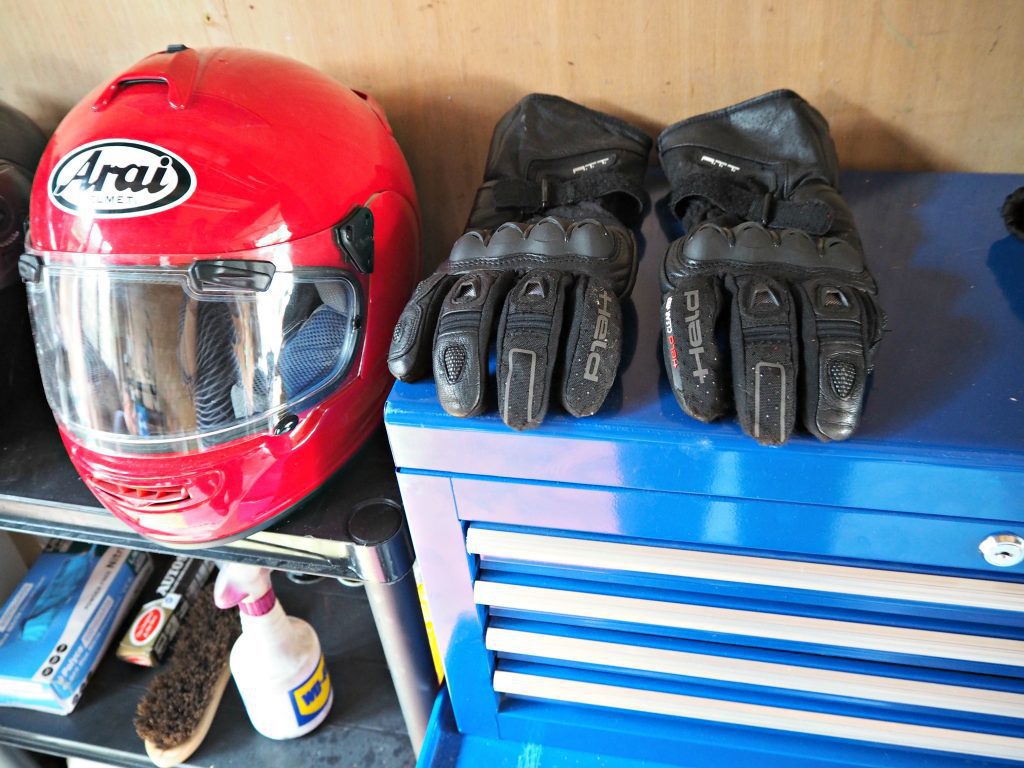 One4All gift cards are a great idea for a gift, as you can see because you can spend it in many different stores, so it enables people to buy a gift to suit their needs.