*Advertisement Feature
We're lucky to have worked with Jaques of London more than once, reviewing some lovely games – draughts and a magnetic fishing game before Christmas and their chess set also featured in my Christmas gift guide. Started in 1795, Jaques of London is the home of traditional toys. It is in fact the oldest toy and sports manufacturer in the world. Passed down from father to son for eight generations. Which is a pretty amazing legacy.
The best way I can describe their toys is beautiful well made toys that are made to last and meant to be passed down and treasured. They arrive in lovely packaging with bags and cases for the items to be stored in so they can be looked after properly. Which also makes them absolutely lovely gifts.
A very cool fact for you, John Jaques II introduced Croquet to the world in 1862, a game that went on to win two medals at The Great International Exhibition. Jaques also helped MI9 to help prisoners of war in the Second World War by hiding supplies in hollowed out chess pieces. I absolutely love the heritage of this brand and I hope that is one that continues to grow and be a place modern parents find toys that will find a special place in their children's hearts.
Jaques of London Kids Building Blocks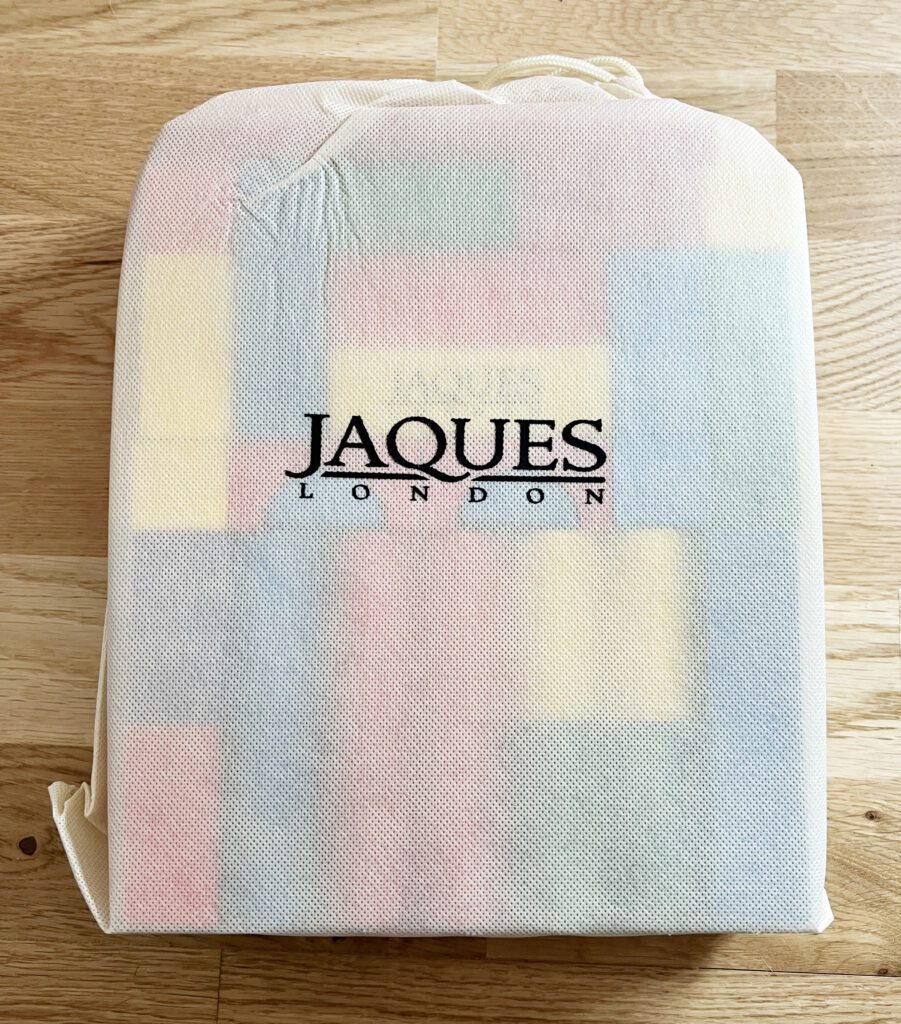 The first item we were sent to review are these colourful wooden building blocks. Painted in fun and bright colours, these blocks come in lots of different shapes and sizes and are great for inciting imagination and for building and construction. They came in a beautiful gift box, wrapped with a ribbon wrapped around it which made it feel extra special. Then a separate carry bag to keep them in, which I have found useful for storage and keeping them all together for playing with when I put them away each day.
For Montessori fans, these building blocks are great for free play and the different sizes and styles of blocks help your little one to build all sorts of different things. We have had houses, towers, a car and even a whole village. It teaches your child problem-solving skills too as they work out how to put everything together and what might be causing them to fall over.
While these building blocks make great toddler toys, I've actually found my older children have got into playing with them with my youngest too. Getting into competitions as to who can team up and build the best thing, the bigger the better. Since these blocks have arrived I think it's fair to say they have been played with every day.
These wooden building blocks are a great, classic children's toy that will be a favourite in your child's toy box and there's a reason why they have been popular for a very long time.
Buy Wooden Building Blocks at Jaques of London.
Giant Tumble Tower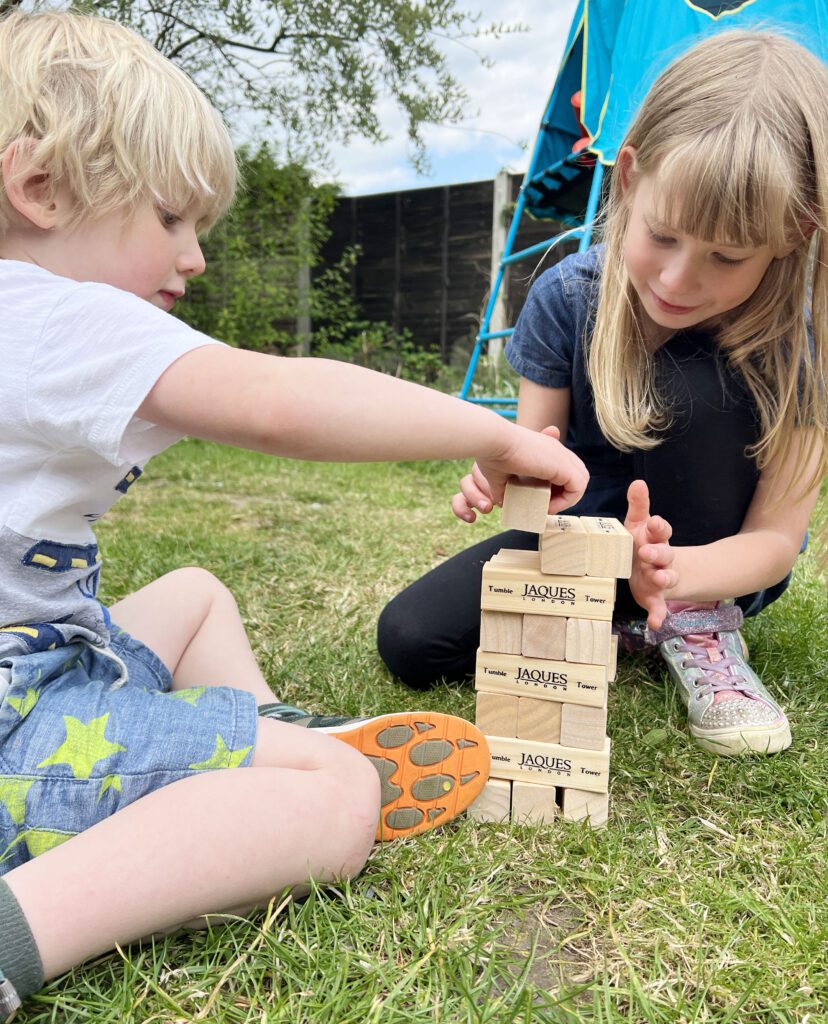 With the weather warming up, my children have really started getting into their garden games. The garden is one of their absolute favourite places to play. Where they can be free and run around. My children also love a good board game, so what is even better is being able to combine the two. The giant tumble tower from Jaques of London stands at 3 feet tall and is lots of fun. The bigger size adds a new dimension to the game itself.
As you can see the giant tumble tower comes with a robust canvas bag for storage. It also makes it really easy to carry it around or take it out for the day, for a picnic as an example, or a garden party where it would be lots of fun.
For those people who haven't played tumble tower before, the aim of the game is to take a block out and put it on the top of the tower without it falling down. The person that makes the tower fall, loses. My word of advice for playing it in the garden is to make sure you find a flat surface to build your tower on to make it less likely to fall. But as with the building blocks, this is a lovely traditional game that my children (and I) have had lots of playing with.
Buy Giant Tumble Tower at Jaques of London.