Welcome to a weekly feature on my blog – Ben's Zone. Written by husband… Ben. A foodie, coffee obsessed, ex-smoking, ex-drinking and Ridgeback loving Dad. Who is also seriously into his fitness.  You can find him on the blog (mostly) on Sundays. Enjoy!
Altra Lone Peak – Long Term Review
It might seem a bit excessive, 3 reviews of the same trail shoes but I feel I owe it to my humble Altra Lone Peak 3s. In July 2017 I reviewed them after 2 months of running and was pretty scathing. I'd already seen holes appear in the toe box and was annoyed that they'd started to come apart so early. 6 months and 1000km later I had chilled out a bit and praised the ground feel of the Lone Peaks but still felt the build quality was not up to my expectations.
So, it's January 2020 as I write and, after nearly three years and thousands of kilometers I'm about to throw my Lone Peaks away and I'm gutted. It was, in the end, the hole in the toe boxes that did for them. As time has gone on it widened until there is no real toe box on the left hand shoe and little on the right. So they are for the bin and I'm gutted.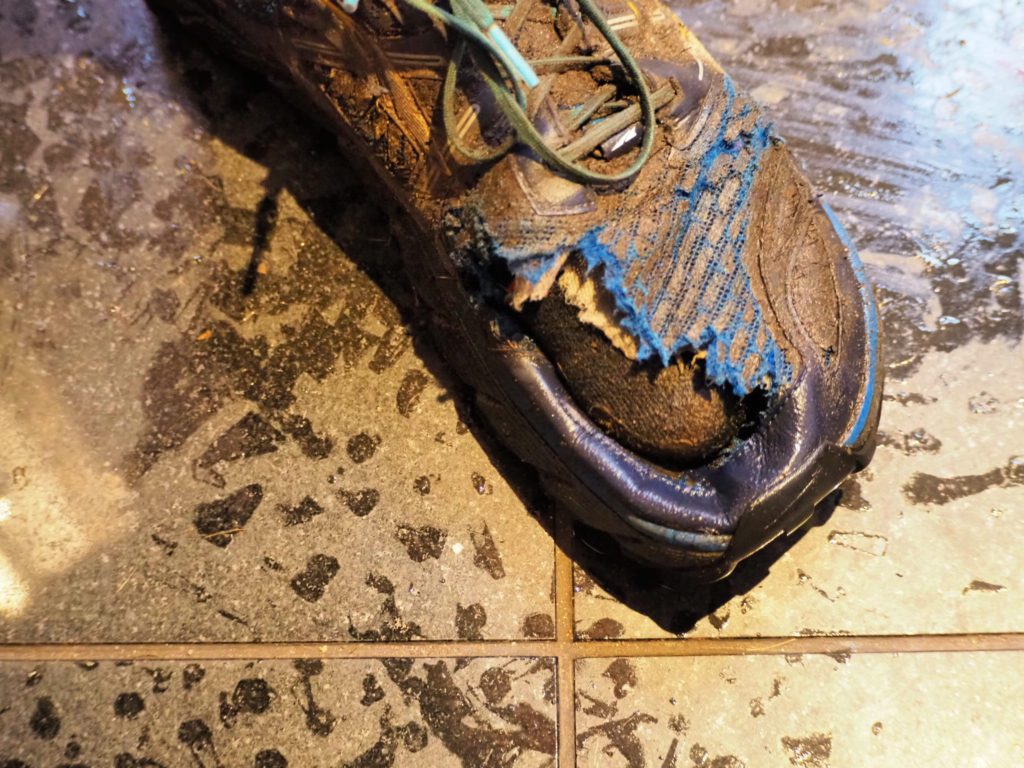 I was angry when I first reviewed the shoe. Two months seemed far too soon for major damage to appear and, in fairness it was, but I also hated what I felt were 'mediocre' levels of grip. As I have spent more time with the Lone Peaks I'll maintain that they are not the grippiest shoes but, at the same time, I am able to wear them year round with the running I do. I have even thought about racing in them. Yes, I know that they'll get overwhelmed in deep mud, but the comfort over distance and the ground feel are just better than anything else I've experienced.
As I've settled in to the shoe over time I've come to realise that there is just enough cushioning in the sole to protect the feet but not so much that you don't know exactly what's going on under your feet, regardless of condition. That's why I've kept running in these shoes year round. Previously I would switch to fell running shoes when the clag got heavy but when I've come to make that decision with the Altras I've shied away. The extra grip simply is not a sufficient trade off for what I lose in prioperception when I take the Altras off. There are a number of sections of my usual run that are pretty sketchy at the moment but I'm hitting them with complete confidence in the Altras because as the slide starts I can detect and correct before it starts to twist or sprain anything. The net effect is that I feel really fleet footed when wearing them. The lack of grip is offset by the ability to feel and react to the ground under your feet. It makes for a wonderfully fluid experience.
The downside to that is that, while your feet don't feel naked like in true barefoot shoes, they don't feel cosseted as in something like a Hoka either. I think this is my preference though. I love the zero drop aspect of the shoes and have found this transformative in terms of injury rate but I don't like having a sole through which I can feel every sharp rock, the Altra is perfect middle ground here.
In terms of build quality I should probably retract what I said. I was annoyed that the toe box tore so early but I have had nearly 3 years of hard use out of these shoes and the soles are still going strong. I do lament the fact that the shoes are ugly and there's no getting around this. The wide toe box that makes them so comfortable does also make them look like the sort of trainers old people wear to go to the shops. I don't care though as they're permanently covered in mud.
In conclusion, if you're a trail runner who likes to know what's happening on the ground and likes comfort over distance then I completely recommend whichever is the current model of the Altra Lone Peak. I would be gutted that mine are dead if I had not complained about the toe box problem to the vendor and received a replacement pair which have been sitting in my cupboard, pristine, waiting for this very moment.
Buy Altra Lone Peak Trail Shoes on Amazon (affiliate link)