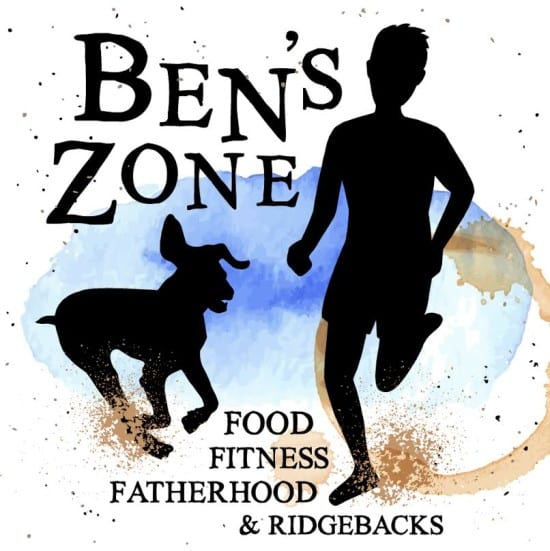 Welcome to a weekly feature on my blog – Ben's Zone. Written by husband… Ben. A foodie, coffee obsessed, ex-smoking, ex-drinking and Ridgeback loving Dad. Who is also seriously into his fitness.  You can find him on the blog (most) Sundays. Enjoy 🙂
---
Altra Lone Peak 3.0 Review
I was really excited when I found Altra Lone Peak 3.0s on offer at Athleteshop. My Hoka Speedgoats had given up the ghost and I needed a pair of new trail shoes. I'd considered the Altras long and hard last time I bought shoes. I'd been attracted to their strong reputation and the 0mm drop, but in the end went for the Hokas because they looked nice and I found them for cheaper.
This time round I found Lone Peaks for about £10 more than Speedgoats so I snapped them up. Here are the basics. The Lone Peaks are the third iteration of Altra's flagship trail shoe. They sell on having no drop between heel and toe and having a super wide toe box to allow feet to spread over long distances. As the proud owner of a pair of clown feet this was very attractive to me. The Lone Peak platform is not excessively high but they are cushioned and not a super minimal shoe. This, again, was something I was looking for. My experience with minimalist running had shown me that while I like the orientation (low or no difference between heel and toe height) I do like some degree of cushioning and so some degree of platform is inevitable. The tread pattern is hexagonal with no real variation across the sole. One nice feature is a velcro hook on the back of the shoe to attach to gaiters. I don't wear gaitors but if I did I am sure I'd be pleased as punch with this. I was very glad to see that Altra have done away with the weird rudder type thing they used to put on the back of the Lone Peak. I'd seen this previously and it had been one of the things that had put me off spending the extra cash. It looked like something that bridged the gap between useless and likely to fall off and make the trainers look rubbish.
So, all in all, looking good on first impressions, but how have they been to wear. I've done about 350 miles in the Lone Peaks and that has ranged from mid level mud (slippy, wet but not sucking as you run through) to dusty hard pack trails. The best way to describe the performance has been workmanlike. The shoes are not uncomfortable, but nor do my feet feel particularly cosseted. The sole itself is reasonable, it doesn't feel like it's adding any real spring to your step but by the same token it strikes a passable balance between torsional stiffness and flexibility. Prioperception, the ability to sense the ground from the inputs the shoe gives, is also ok. In terms of grip, once again, they were ok. I'm not sure if I have been spoilt here after having enjoyed the Vibram sole of the Speedgoats for the last year. I haven't yet slipped over in the Lone Peaks but I would not say they are particularly grippy either.
If the impression that I'm giving is that I am lukewarm on the performance of the Lone Peaks then that is pretty accurate. No aspect of the shoe really stands out in a positive way. The grip is ok but uninspiring, the comfort levels are adequate and they dry out reasonably quickly.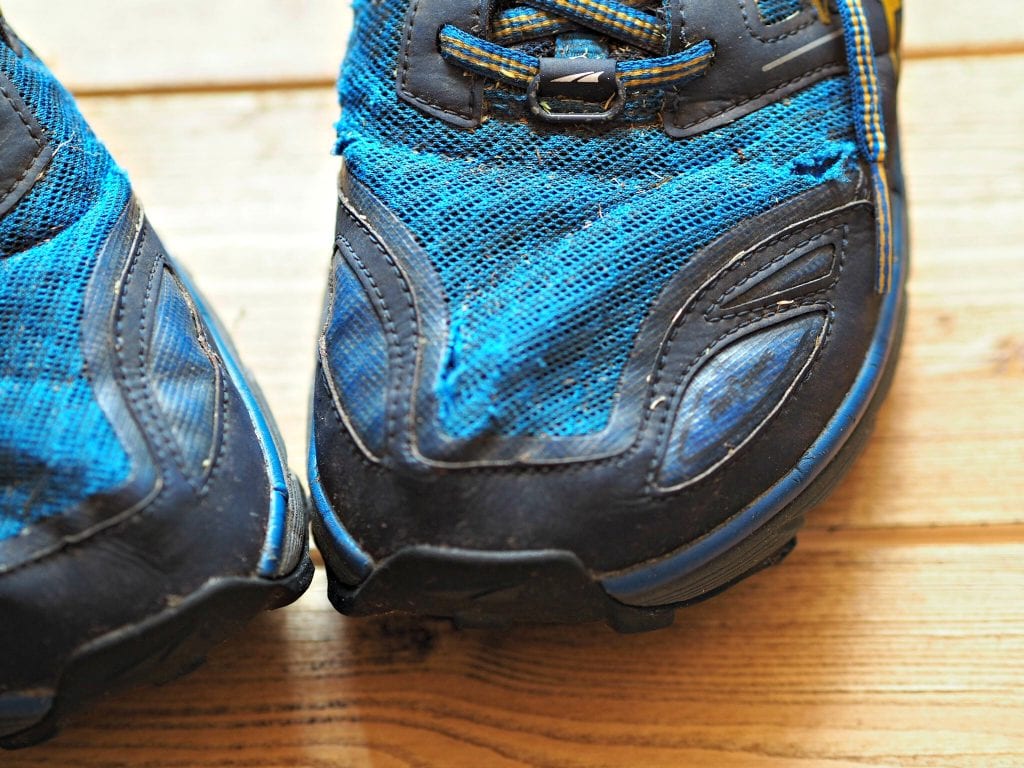 What has struck me is how poorly they have stood up to the rigours of my running regime. In under 2 months the toe box was showing signs of severe wear in a number of places. I reported this to the vendor, Athleteshop, who were excellent in sending out a replacement pair. I'm still wearing the original pair as I am too tight fisted to throw away a pair of shoes that are functionally effective. What I would say is that none of the running I have done is particularly tough going, no heather or gorse, at worst the odd thistly bit or bramble. So this level of damage from reasonably well travelled game trails is just not acceptable. As I said, no complaints about the vendor, I've used Athleteshop a number of times and they've always been great, but this is the last time I'll buy Altra.
In conclusion the performance of this shoe is mediocre and the wear resistance is simply not fit for purpose. When the ones I have are done I'm either going back to Speedgoats, or I might try some of those lovely Cloudventure shoes (if I can somehow obfuscate the cost from my lovely wife.)