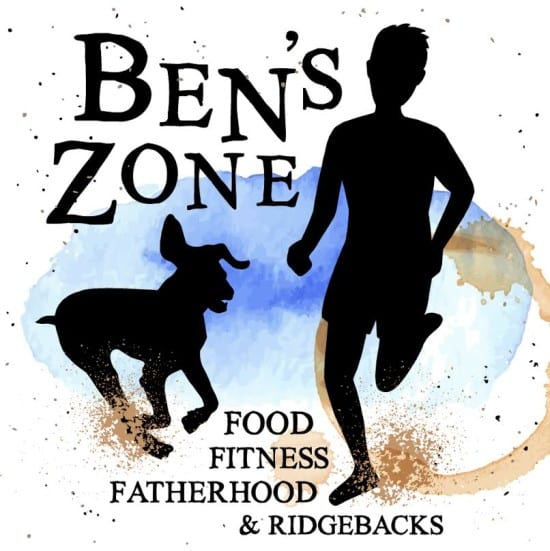 Welcome to a weekly feature on my blog – Ben's Zone. Written by husband… Ben. A foodie, coffee obsessed, ex-smoking, ex-drinking and Ridgeback loving Dad. Who is also seriously into his fitness.  You can find him on the blog (most) Sundays. Enjoy 🙂
---
Muscle Acre Mud Slog November 2017 Review
It does not seem like a year since I last turned up for the Muscle Acre Mud Slog with a very nervous Logan in tow for his first race but the time has come around quickly. Once again, it's the first week in September and I am in my favourite place in Surrey ready to race twice for a coveted Muscle Acre finisher's medal. As with the Summer Madness I signed up for the 15km distance and this time I was determined to do that; not lose my way and do the 10km on autopilot (fair play I qualified for the European Champs by that mistake though).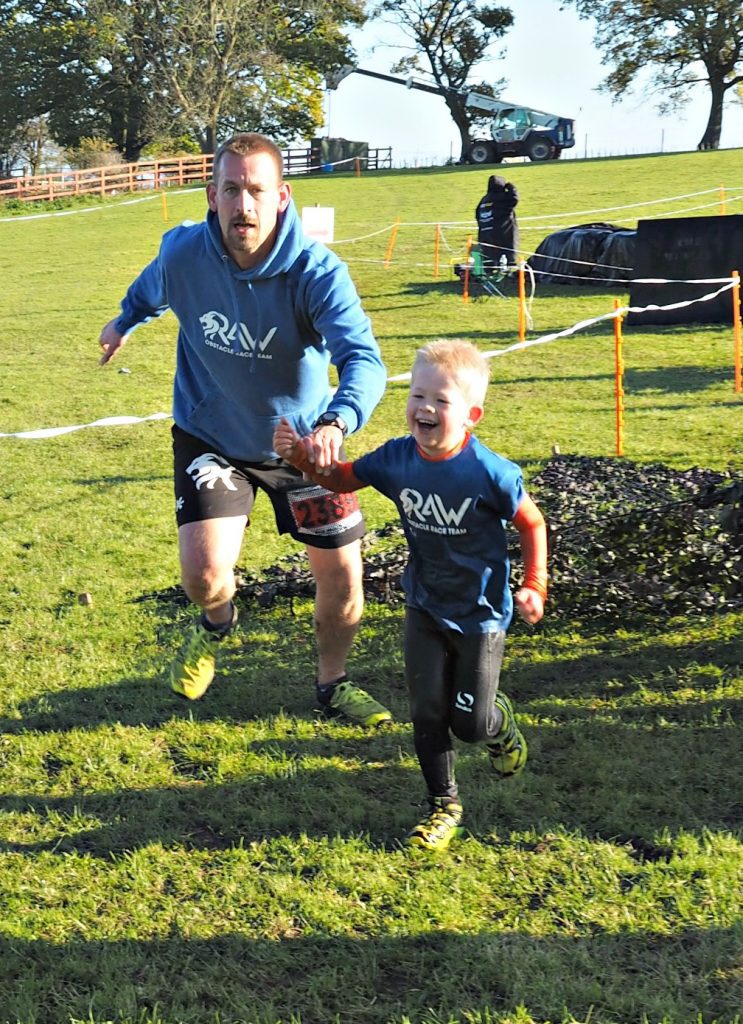 The first thing I noticed was that the weather was markedly colder than last year and as a result the field was thinner. I don't know why people don't get more into winter obstacle racing as the cold is basically another obstacle we're getting for free.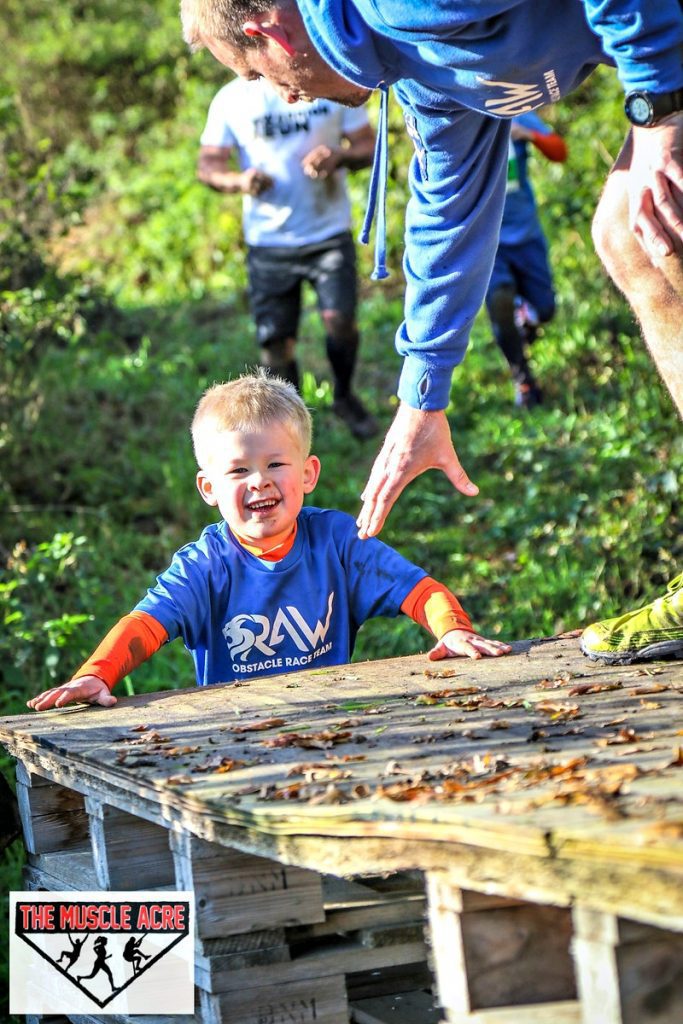 I'm happy to say I consider Muscle Acre my home race now. I do run all over the place but Muscle Acre is the race I really try not to miss. That's not to say it's a constant; the fact that it runs in winter, summer and autumn means the weather is always different and in addition the course and obstacles are always being changed and added to, so it stays really fresh.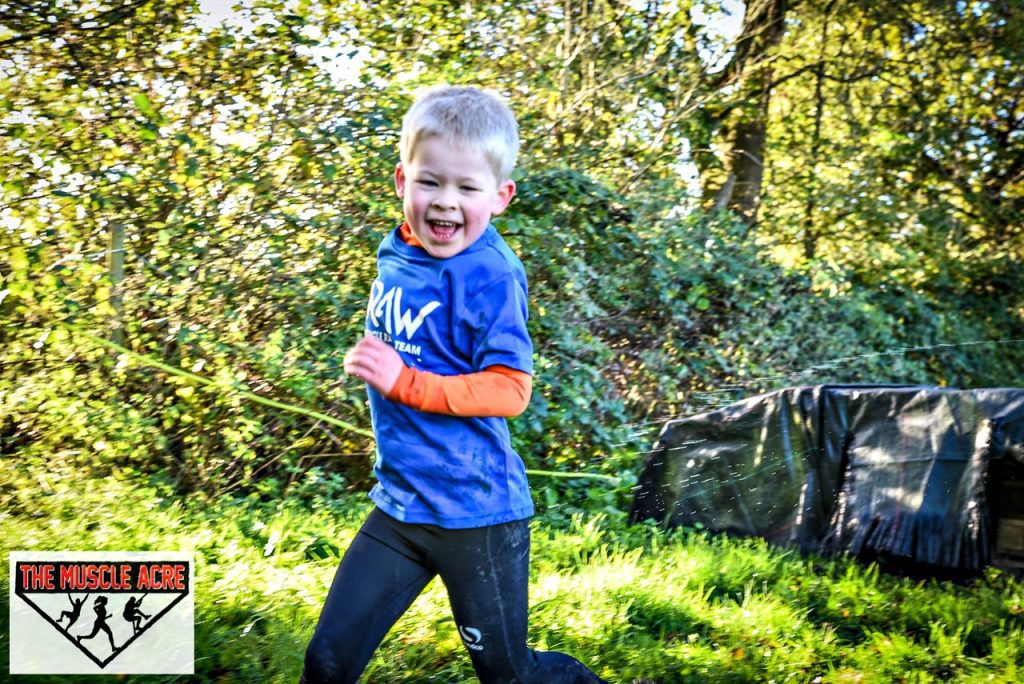 First thing I noticed this year was that the Mini Muscle Makers started from the same place as the adult race and included a proper warm up. This was a really smart move. First, it was fun for the kids as the warm-up was carried out by our usual PT in typically fun MA style, second, it gave the kids a chance to warm up before they hit the infamous Muscle Acre skips. It's sad really that so much thought goes into the obstacles (and it's loads) but the thing people remember about MA is the skips. They're skips, filled with water, simple but utterly brutal in January.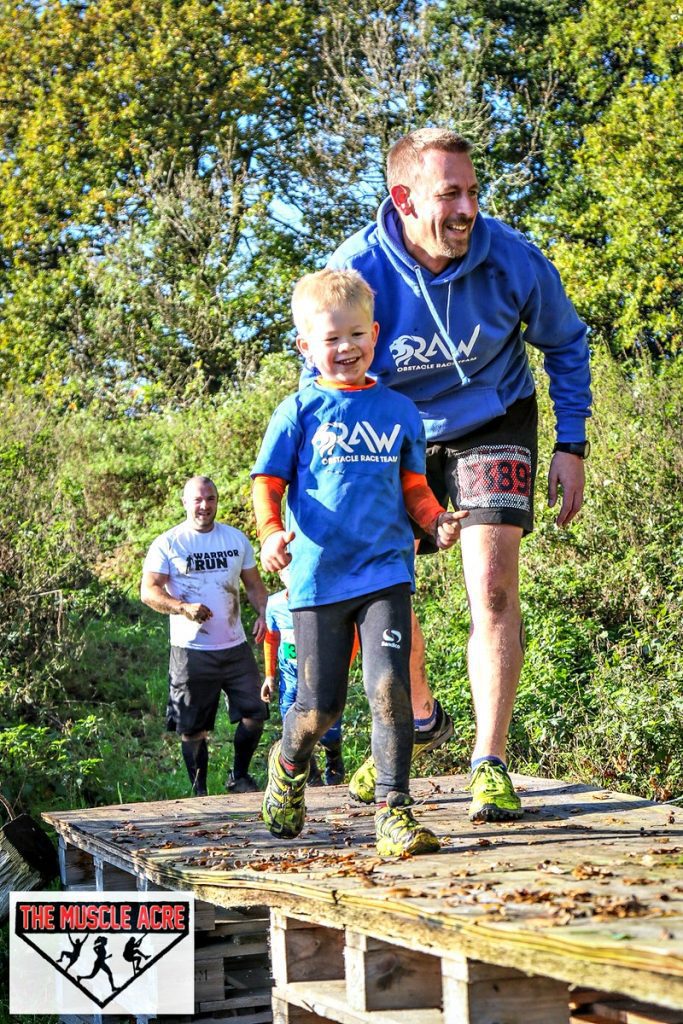 Anyway, I digress, after a warm-up and a spell running the kids were in much better shape to hit them than previous years. The kids' course takes in a fair bit of the adult course and gives a really nice flavour of the main event. One of the things I enjoy about the big race is a good amount of running sections and the kids get this too. Believe it or not, I even got a grudging agreement that including hill training in Logan and my weekend runs was worthwhile. The kids' race finishes on a massive high with the hill water slide which they all seemed to love. This year the kids even had their own special medals. The reason I liked this was because it's a no-brainer to keep building and developing the adult event but to put time and effort into the kids' race as well shows a real commitment to making Muscle Acre a family thing.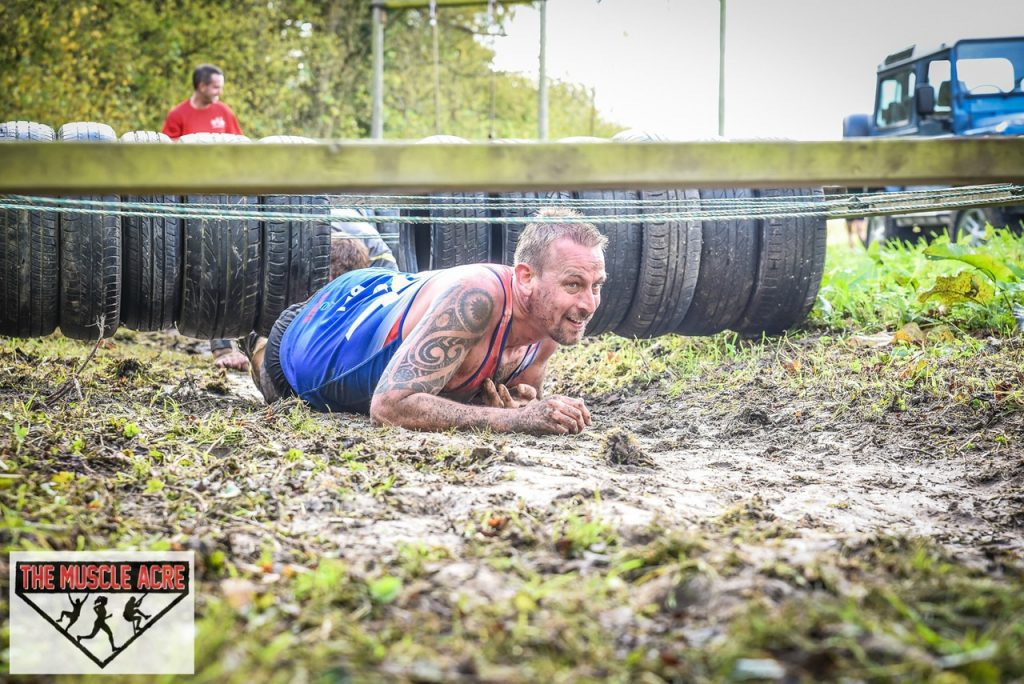 Once I was done with the boy it was time to get myself together and get ready for the 15km race. It was savage. I run Muscle Acre all the time and I run 10km most mornings so I thought an extra 5km with some obstacles was going to be alright. It was savage and it kicked my arse. Admittedly I am not at a training peak right now having had to take some weeks off through a sinus and ear infection but even still I was a broken man when I came off the course here.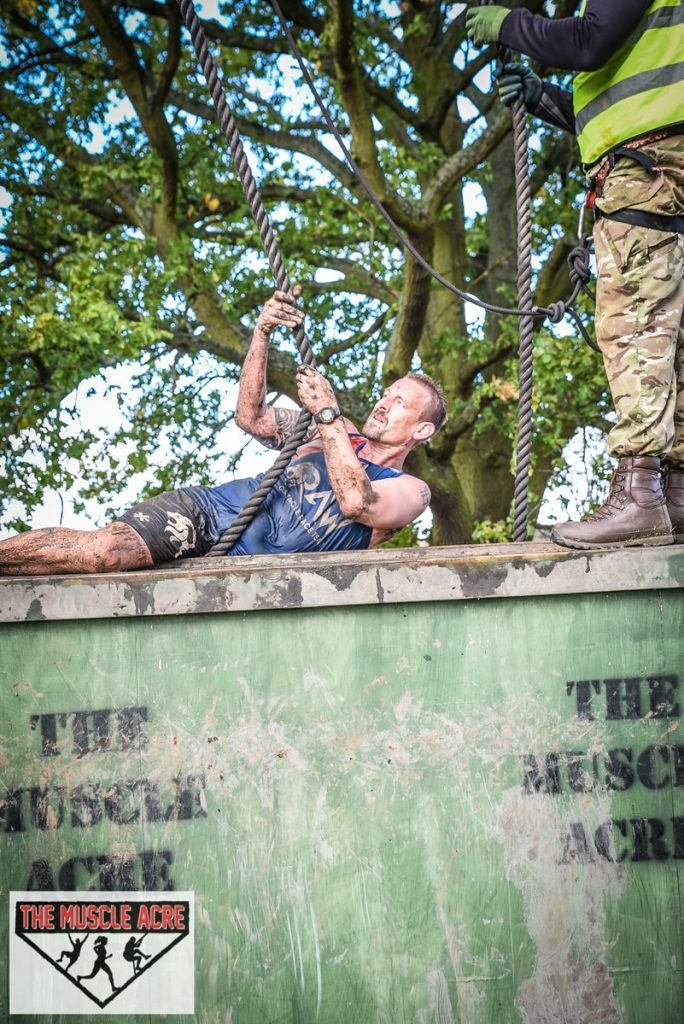 To cover the basics, the 15km is a 5km loop off the normal 10km race. I might be wrong but I don't think there were any new obstacles out on the 10km course (sorry MA team if there was like I say I was mashed by the end) but that's fine because there's a nice spread now. We have inclined walls (note plural), rope climbs, numerous tunnels and crawls, carries, A-frames and a pretty sweet rig. I thought that given how obstacle-laden the 10k was, the 5k would be some extra distance with some small-scale bits and bobs thrown in. Not so. There were a number of larger obstacles out there that you don't see on the 10km. It makes me wonder if this is why the Winter Warmer is back to a 1/2 lap format with a lap being 12km, to get more use out of the new stuff. My favourite obstacle was the new 'Destroyer' which was a wooden construction with some kind of fiendish inverted ladder thing going on. There were also a few really nasty walls to deal with out there as well.
By the time we looped back into the 10km route (near the fence post carry) I was really starting to feel pretty smashed. I was still running but normally I use the exit from the carry to motor past a few people and this time all I could really do was keep running. I'm not, for a minute, complaining. I love how the Muscle Acre team surprise and challenge with each race. A friend of mine, with whom I ran my first Tough Guy mentioned he was interested in doing another race and I had no hesitation in recommending Muscle Acre. The obstacles, atmosphere and fun spirit set it apart from the pack.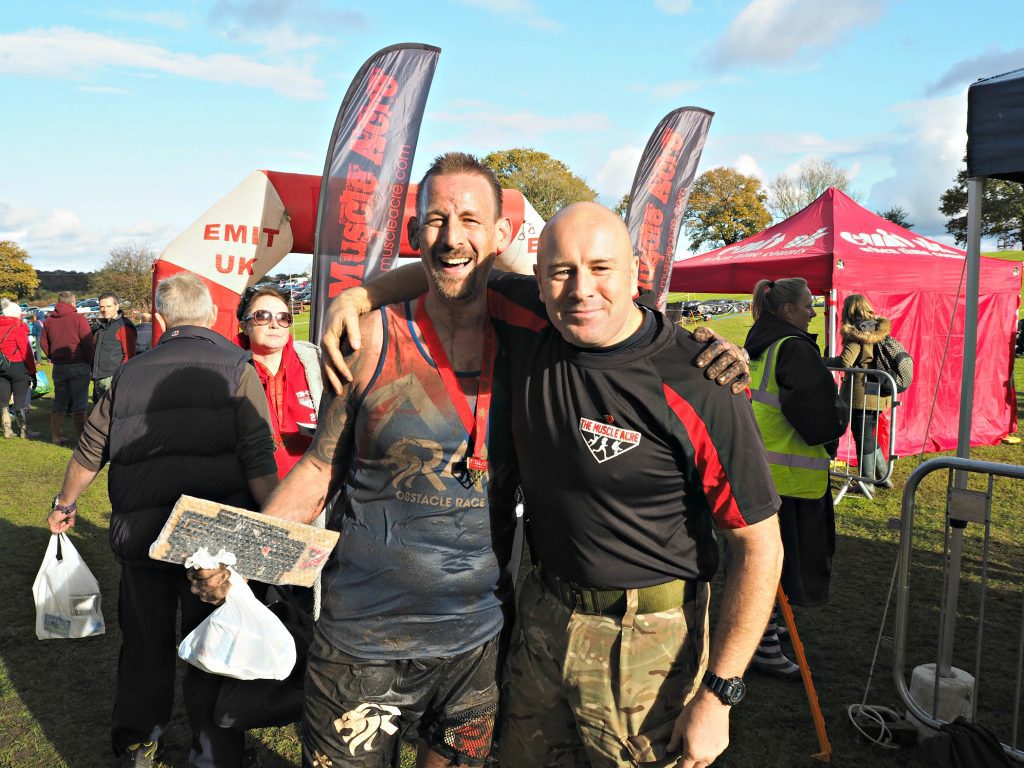 An extra cherry on top this time was a medal holder for completing the 'tri-event challenge' which is doing all 3 events in any given year. So all in all it was another brilliant event, super crowd, up for it team and marshals and a course that gave me a proper kicking. What more could you want?