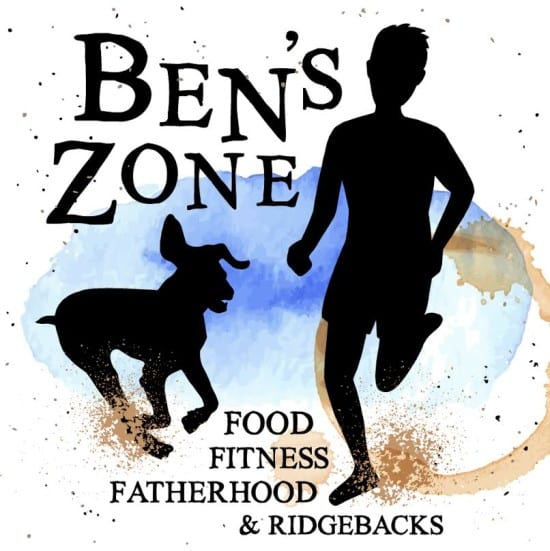 Welcome to a weekly feature on my blog – Ben's Zone. Written by husband… Ben. A foodie, coffee obsessed, ex-smoking, ex-drinking and Ridgeback loving Dad. Who is also seriously into his fitness.  You can find him on the blog (most) Sundays. Enjoy 🙂
---

Jord Watch Review
Until recently I have never been a great fan of watches. Working in IT I have never been far from a clock and so knowing the time was never an issue. That changed when I started wearing my Garmin Fenix 3 smartwatch regularly. I became used to the sheer convenience of having the time easily to hand without having to fumble in my pocket. I've recently started a new job and am working in an office scenario. While effective, the Garmin is not really suited to that environment in terms of style, it's a bit too chunky and functional. I needed something a bit more stylish and with that in mind I was very happy when I got the opportunity to review the Jord Dover watch.
The USP of Jord watches is that the casings are made from wood, which gives a natural yet stylish finish. They make both men's watches and women's wooden watches. The mechanism itself is a Seagull TY2807 using a jewel bearing, self winding mechanism. I liked the notion here as it conferred a chic yet natural edge, which I felt suits my personality well.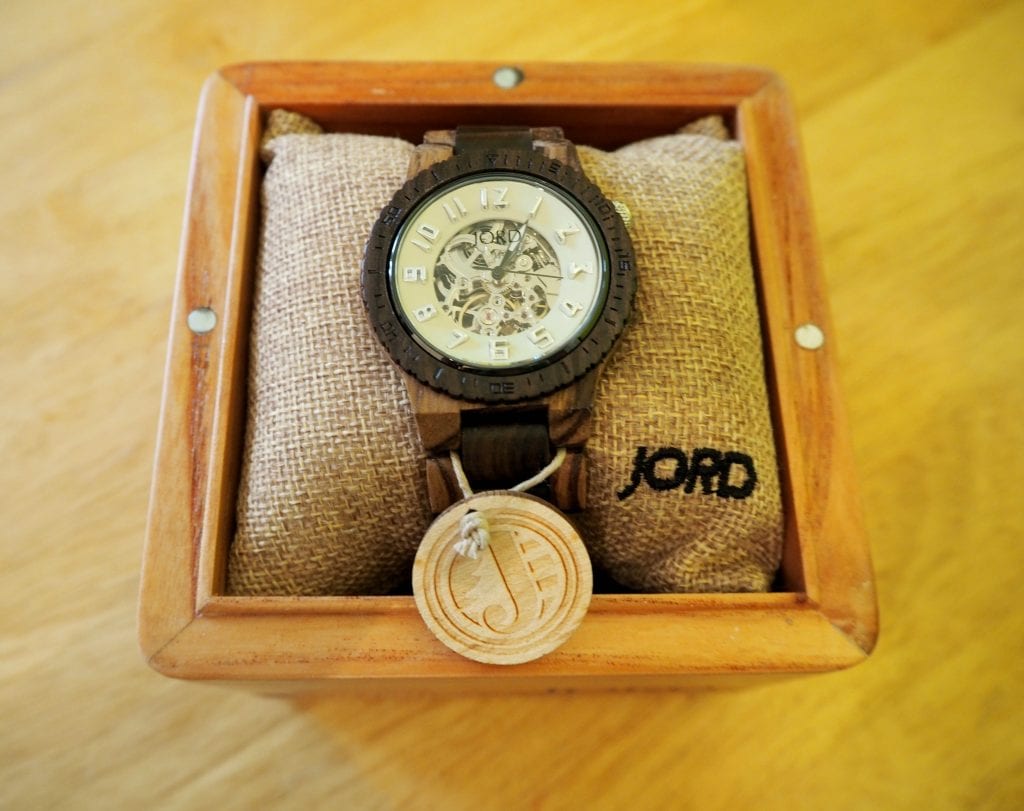 The watch arrived in a beautiful wooden box sitting on a hessian cushion. It's a nice enough box that I will use to keep items in, though not the watch as I'm lazy and that lives on my bedside table. Mine is a Zebrawood and Dark Sandlewood finish which looked quite loud on the website, but in reality is stylish in an understated way. I specifically chose one where the mechanism is visible as I love seeing clockwork. The engineer in me always swoons over the way in which the springs and gears achieve such elegant purpose. In addition to the front of the mechanism being visible, the winding mechanism is also visible from the rear, though, obviously, I rarely see this.
The rest of the face, as with the watch, is uncluttered. Single feature elements are used (the wood, the exposed mechanism) alongside well finished but understated details to focus attention without appearing gaudy.
The technical performance of the watch is what I would expect. The mechanism is accurate to +/- around 3 seconds per day, which I think is totally acceptable for a mechanical watch. The glass is sapphire meaning that it is extremely scratch resistant and clear, this is a big plus for me as it means I don't have to be concerned about scratching the watch while wearing it. Another nice touch is that that wood makes my wrist feel less sweaty than a plastic or metal strap, so it's much more comfortable to wear for longer periods of time. Weight wise, the wood is nice and light, so it does not feel too heavy on my wrist, it's the sort of watch I would have no problem wearing for a long flight, for instance.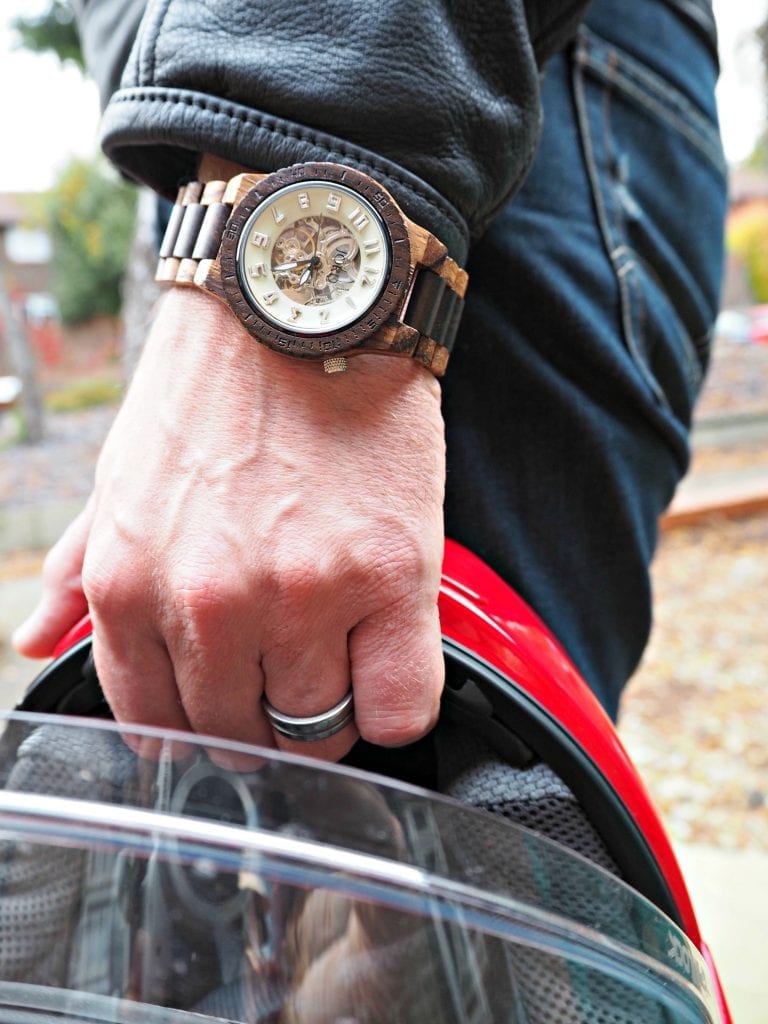 Jord offer tools to size the watch on their website and will send your watch ready to wear. They do also supply an extra link if you measure incorrectly and links can be removed by a jeweller if you need to. I was a bit over cautious and so will probably have a link removed in time but right now I am happy with the watch as it is.
The downside is that the wood itself is untreated so, while it is splash-proof, it could not be immersed in water. This is not something I would wear while running anyway though.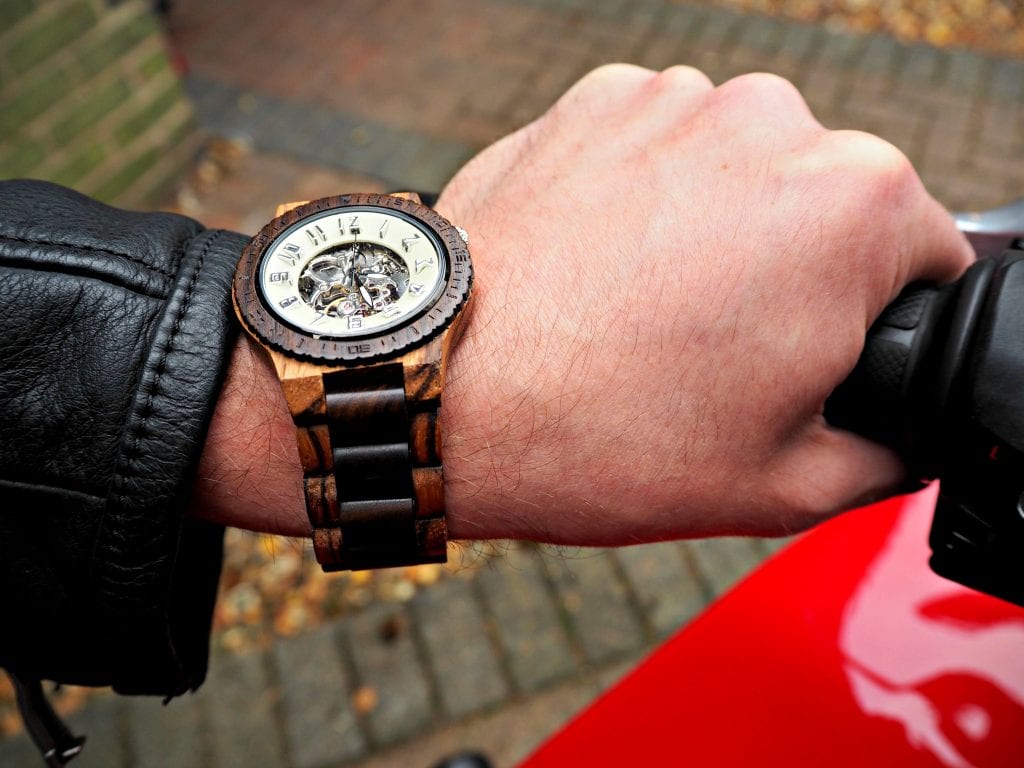 The versatility of this watch is what I really like. It's subtle enough to be worn with a suit at work and interesting enough to be work in a more casual setting. It even does not look out of place when I am wearing my motorcycle leathers. I really can't be bothered having a number of different watches for a number of different occasions. I also have a deep personal dislike of the identikit steel watches men seem to sport these days. It seems as though steel bracelet watches are the silver Audi of the timekeeping world. I'm not a Silver Audi type person, I ride a motorcycle.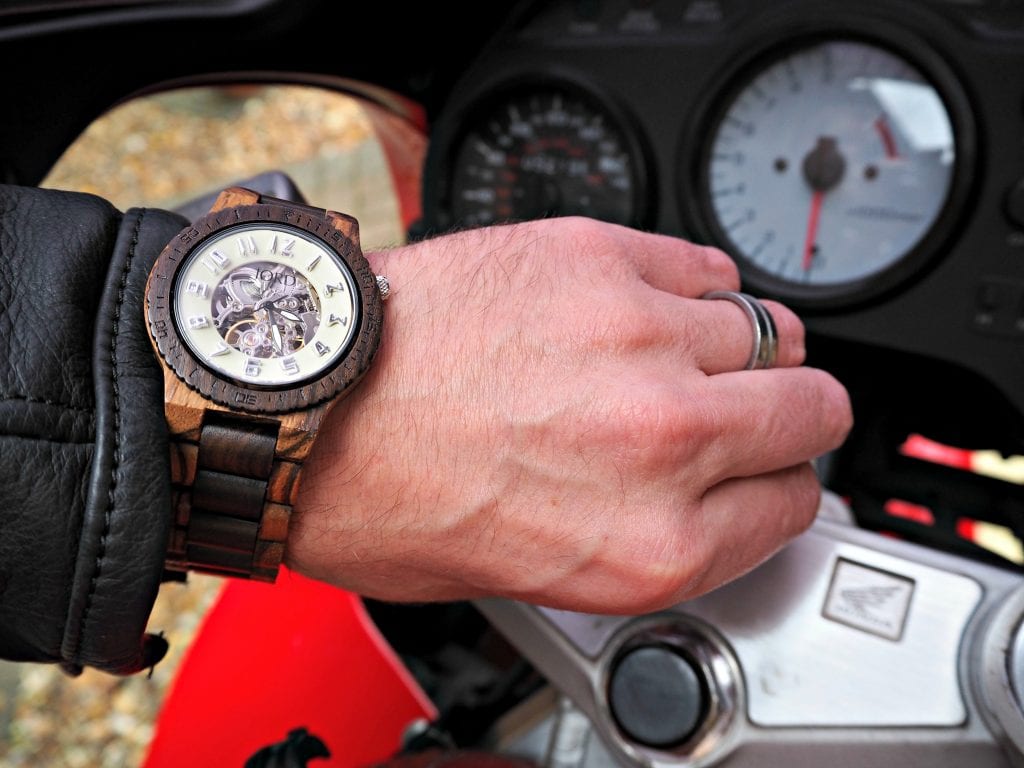 If you are looking for a watch that is a bit off the beaten track and is different without being painfully affected, then a Jord may well be what you're looking for. I
Giveaway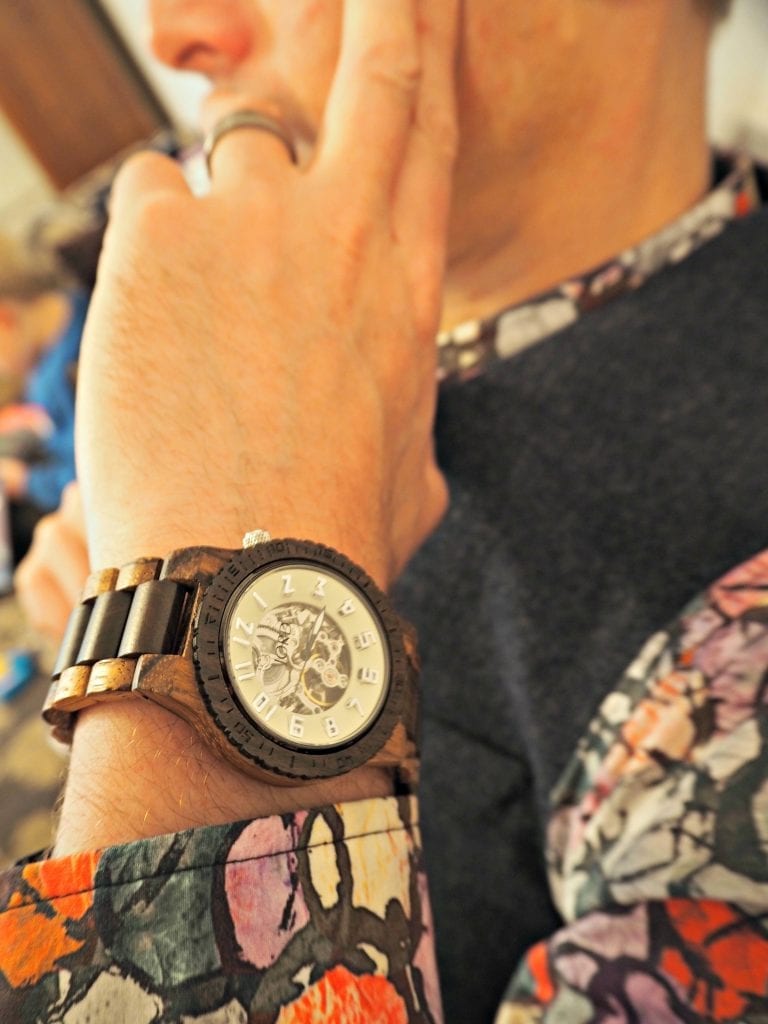 I also have a giveaway for everyone if you want to buy a Jord watch for yourself. The winner will win a $75 e-voucher and everyone who enters gets a $20.00 e-gift card excluding the winner. Good luck and enjoy!
*The giveaway will end Sunday 27/11/2016.The $75 voucher will expire on 31/31/2017, and the $20 e-gift cards will expire 31/3/2017.
*Disclosure: I was sent the Jord wooden watch for the purpose of this review, however, all opinions are my own.