Welcome to a weekly feature on my blog – Ben's Zone. Written by husband… Ben. A foodie, coffee obsessed, ex-smoking, ex-drinking and Ridgeback loving Dad. Who is also seriously into his fitness.  You can find him on the blog (most) Sundays. Enjoy 🙂
---
Muscle Acre Winter Warmer 2016 Review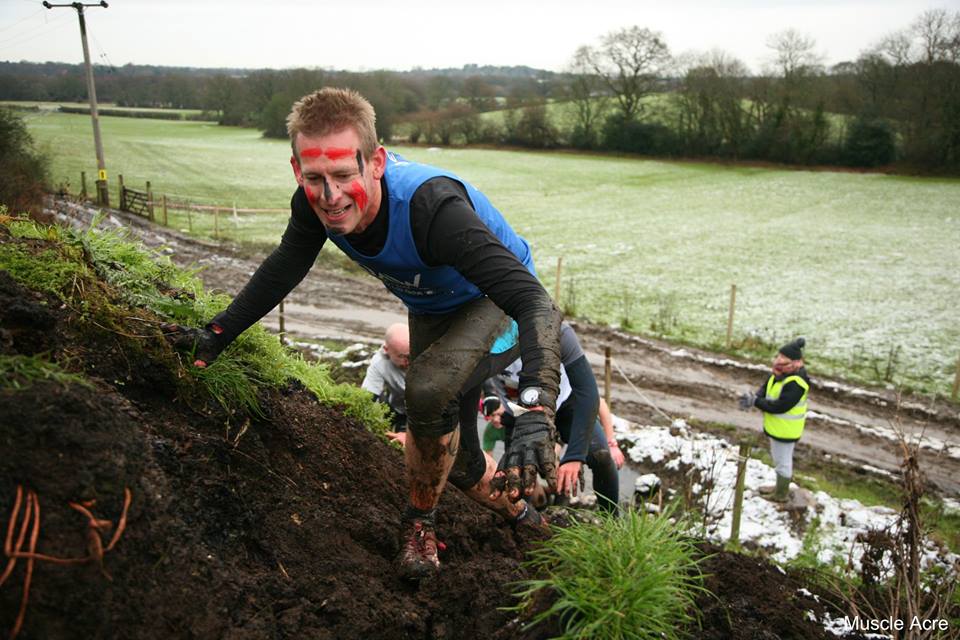 This weekend I had the pleasure of doing my 3rd Muscle Acre race. I reviewed the race back in July, an OCR (obstacle course race) I had done simply as it was local based in Surrey and because I needed a mid point between my previous race the the Autumn Wolf. I've now done all 3 of the Muscle Acre races (they run in July, November and January) and I have to say I am consistently impressed.
Muscle Acre races are chip timed (so they are a race, if you want them to be) and the front end of the field contains some pretty quick people. But, the field is evenly balanced between serious team runners and people who simply want to complete the challenge. The motto 'For Fun, For Friendship, For the Hell of It' holds true throughout the pack with front runners maintaining a happy, collaborative atmosphere. I have heard from other races, of elite runners ignoring obstacles for the sake of a better time, I have not seen any of this at Muscle Acre. So, the atmosphere is good, intimate, fun and there is a real potential to push yourself if you want to run for time.
This time round I brought a friend with me on his first OCR. I chose Muscle Acre as it is local to us and also because it is a particularly friendly event. In comparison to a lot of obstacle races it is also pretty cheap for the standard of race you get.
So what about the obstacles? Most of the Muscle Acre favourites were there (though not my personal favourite, the water filled skip) including some fairly tough walls. Some new additions really cranked up the tension. There had been mention on Facebook of new monkey bars and so I was prepared for a challenge. Thankfully they were not inclined as they were at the Wolf run, but they had been rebuilt using scaffold type poles which meant that getting a good grip was really tough. I have to be honest and say I did not make it across this time, some more practise needed there, but that's what we're paying for.
The course itself always varies from event to event and this time a notable exception was the forest that usually takes place about two thirds of the way in. It's a shame this is missing as it's a beautiful glade full of totally natural obstacles (fallen trees, streams, swamps) but on the other hand, clear efforts go in to varying the course between races. This is nice as regulars can get to know the general lay of the land but not without a few surprises too.
The weather added an element this year with a good amount of ice and snow across the course. There are a number of points on the course that involved getting down into the water, be that commando crawling through puddles or wading swamps and doing that with chunks of ice bumping into you is a fairly hard core experience. Again though, the bad weather works in favour of obstacle races, particularly ones where natural features and terrain are worked into the course.
If it's not been obvious up to this point, my opinion of Muscle Acre continues to get higher. The course is evolving all the time and clear thought goes into bringing new set piece obstacles into play as well as maximising the use of natural terrain. The difficulty level is pitched hard enough for it to challenge even regular obstacle racers, while being accessible to first timers and people simply looking for a fun experience. The upshot of that is a nice friendly crowd and excellent atmosphere. My aim this year (business travel permitting) is to do all 3 events and secure the tri-challenge hoody for doing so, it is the event I will prioritise after Winter Tough Guy. Finally, I could not review Muscle Acre without mentioning once again the marshals. The marshals are always great at every OCR event I have been to (other than the Colour Rush), but the ones at Muscle Acre really do shine in the level of support and encouragement they give to us runners. It's clear the organisers have been a team of people who share their 'Fun and Friendship' ethos and it shines through in every one you meet from bag drop to out on the course.
Conclusion, great event, good obstacles, tough course, brilliant atmosphere.