Welcome to a weekly feature on my blog – Ben's Zone. Written by husband… Ben. A foodie, coffee obsessed, ex-smoking, ex-drinking and Ridgeback loving Dad. Who is also seriously into his fitness.  You can find him on the blog (most) Sundays. Enjoy 🙂
---
---
Autumn Wolf Run Review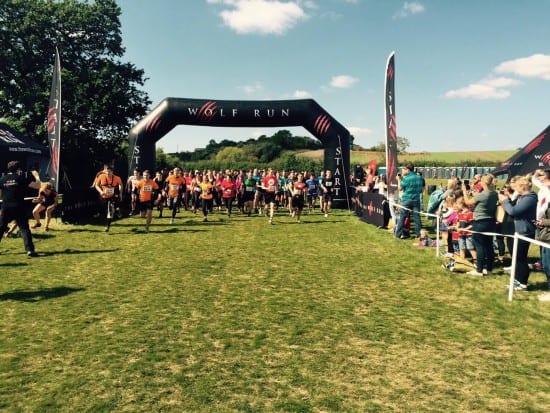 *Image taken from The Wolf Run's Facebook page
I've been wanting to get up to the Midlands for the famed Wolf Run for some time. The run was voted best OCR last year and everything I have heard has been overwhelmingly positive so I was stoked when some friends suggested we all do it together. As is often the case it took time for schedules to line up and so we found ourselves warming up for the 11.50 wave of the Autumn Wolf yesterday. Our 'pack' was a mixed bag, two of us had done OCRs before, two had not, only one of us had done the Wolf, so we were all buzzing as the trainers led us through the warm up.
From the moment we'd arrived on site the organisation was super slick. Arrival on site was calm and well managed and the car park was very good. Incidentally, when an event charges between £40 an £50 per ticket I think it's a cheek to charge a further £5 for parking, even Tough Guy don't charge competitors for parking! That gripe aside, it was clear where the money had been spent. The registration well managed, there were plenty of marshals around to help, lots of toilets (always a bonus) and a lot for spectators to do. I thought it was a really nice touch to have a big video screen so spectators could see what was going on during the running. There's always a burger van or two on site, but at the Wolf we were particularly well catered for with 4 vans selling various types of food along with a good selection of bouncy castles. It's clear that the organisers want spectators to have as much fun as runners, as one of our backup team was a 5 month old baby, it was nice to know this level of thought was there.
Anyway, back to the exciting bit, the run. I'm choosing words carefully here, the Wolf is a 'run' not a 'race' it's not timed unless you do so yourself so the emphasis is on getting round and having a good time. The warm up was good, nothing amazing, but it did the job and with no perceptible delay we were off with our 200 fellows. The lack of delay speaks of the professionalism. The Wolf has around 5000 runners and to keep an event like that running on time, you have to know what you're doing.
Now to the run, the running sections were lots of fun, minimal running round fields, lots of running through singletrack paths through forests. The notion of 'wild running' really carries through with logs and natural features comprising many ad-hoc obstacles. As a pack we were focused around having fun and finishing together so we weren't hammering it, but still the passage was easy. The routes were wide enough for the quickest of our following wave to pass without incident and for us not to get held up when we hit slower runners.
Likewise the obstacles didn't form choke points. Where they were purpose built they were made wide so many people could cross at once. Again, all obstacles were well staffed with really friendly marshals. A lot of the usual suspects were there in terms of obstacle type, crawls, mud wades, hay bales and without exception they were all done as well as I have ever seen. I'm not a huge fan of tyre crossings but even that managed to be a lot of fun. Then we have the standouts, there was stuff here that managed to be about as much fun as you can have legally with your clothes on. The mythical lake swim (it's a swim, across a lake at about 7km in) was epic, for me it encapsulated the whole ethos of 'wild running' and furthermore it cleaned some of the mud off which was welcome relief at that point. Another highlight was the waterslide, a massive polythene waterslide which sent you hammering down the side of a hill, I was laughing like a goon by the time I hit the bottom. The monkey bars were evil, I don't do well on them when they're horizontal, having them ascending was pure torture.
Throughout the race the focus was heavy on team work within the field and that enhanced the experience. There were times I wanted to run faster (notably when two try hards ran behind us talking loudly about how hard it was to run 'this slow' before running off only slightly more quickly), but doing this solo would have been less of an experience. The obstacles rewarded team work and also there were ample well marked photo points around the course, (I pulled some truly spectacular faces) and in conclusion it was all a hugely enjoyable experience.
In conclusion, the Wolf is an expensive day, the entry costs a fair bit and the travel is also an expense for me but I'm definitely going back. I like where my money was spent, nice event village, loads of staff and support, great obstacles. I like that no money was wasted on a silly medal (really, if it's not a horse brass I'm not interested) but instead I got a nice looking tech T shirt and a well needed Clif bar. I like the feel of the event, I like the cameraderie out on the course and I like that it's unashamedly about fun rather than elite racing. There's a time and a place for racing but I was glad to be somewhere else yesterday. Next year I'm aiming to do at least 2 more Wolf runs.