Welcome to a new feature on my blog – Ben's Zone. Written by husband… Ben. A foodie (he doesn't admit it, but he's a total food snob), coffee obsessed, ex-smoking, ex-drinking and Ridgeback loving father (our dog adores him – as does our son whose favourite toys are cooking related just like his Dad). Who is also seriously into his fitness. Be it bikes (he has far too many) or more recently muddy racing after completely Tough Guy (and getting hypothermia just for the fun of it) in January this year. Oh and he has a bit of a penchant for pink. He will blog pretty much about the above and you can find him on the blog (most) Sundays. Enjoy 🙂
---
A Review of Colour Rush at Windsor, Dorney Lake
As I mentioned in my post last week, last Saturday I took part in the Colour Obstacle Rush at Dorney Lake. I've done a few obstacle races before and blogged about it on this site. I started with the toughest race of all, Tough Guy but I've also done smaller local events such as the Chiltern Warrior and mud runs such as the Grim. I entered the Colour Obstacle Rush as it came up in my Facebook feed and it looked like fun. I wouldn't describe myself as an OCR fanatic but I do enjoy them and have some reasonable experience.
The Colour Rush promised a 5km run with 10 obstacles and 9 'colour stations'. A colour station is a tent through which you run where marshalls blast you with day-glo colour. The colour is cornstarch based and so comes off easily in the shower. The obstacles are made of a similar soft material to a children's soft play, so no splinters or grazes here. The run itself at the Windsor event I did was round Dorney lake on a nice tarmac path, this was handy as my trusty old Adidas Kanadias had given up the ghost that morning and I had to wear my road running shoes. The event isn't timed, you finish or you don't, but you're welcome to time yourself.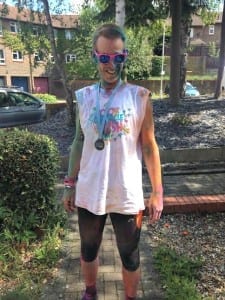 What struck me about the event was an enormous sense of fun and a great party atmosphere. The warm up was done to a DJ playing nice loud banging house music (I'm not calling it EDM, it's a stupid term) which was great and a lovely way to get into the spirit of things then we went off in waves of about 200 people. The course was obviously designed for people to be able to do even if they were on the armchair and doughnut side of fitness and that was a great aspect of it. One of the reasons I enjoy OCR is the inclusive nature and cameraderie within the field and this had that in spades. I if I had a friend who wanted to try an OCR but was worried about their fitness then this is the exact sort of thing I'd bring them along to. The marshalls were game for a laugh and liberal with the paint and the soft nature of the obstacles meant you could really throw yourself over them.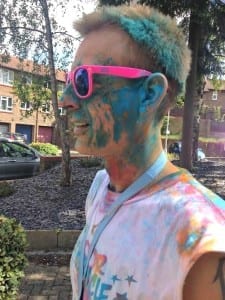 I don't mean to imply this is an event just for people new to OCR or who aren't that fit. I signed up to run solo and after Tough Guy I know I can hold my own at any OCR anywhere. No, this is about fun, chilling out and having a great time in the sun and the beauty of OCR is there's room for that too. A lot of people I know were up at Rockingham this weekend at 'The Suffering' and on another weekend I would have liked to have had a crack at that, but this morning at 10am there was nowhere I would rather have been than running my legs off round Dorney lake to the sounds of pumping dance music.
Stop Press!
One further, final benefit of the Colour Obstacle Rush was that I managed to snag a packet of colour to bring home. As I mentioned, as the colour was corn starch based and washable it meant that Logan and I could do our own 'Colour Run' when I got back. Pics are below. Stats wise, we managed to do a shade under 2km with him chattering the whole way, for a 3 year old, that's not bad going. Yes, I'm a proud dad ;-).