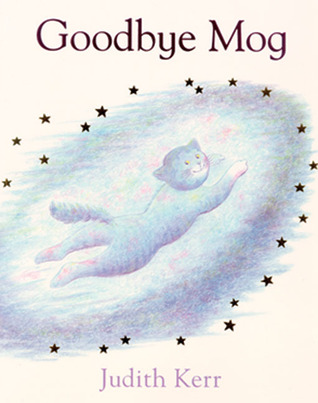 Goodbye Bye Mog by Judith Kerr
Illustrated by Judith Kerr
32 Pages
Children's Stories
Published by HarperCollins Children's Books
Age range: 2.5+
Sadly before Christmas our beloved family cat died. Death is something that is hard enough for an adult to understand, let alone a 4 year old child. As is the case when things happen and I want to help my son process or learn something, I turn to books to help me.
Goodbye Mog, written by Judith Kerr, is a great book to help children understand the loss of a family pet. Most of us will have come across the fab Mog books, who made a come back this Christmas with a little help from Sainsburys and Mog's Christmas Calamity. I also reviewed one of Kerr's other fab books The Tiger Who Came To Tea a couple of months back. I love her books and it's fair to say my children do too.
Goodbye Mog is a gentle book and introduces the concept of death kindly to children.
Mog was tired. She was dead tired. Her head was dead tired. Her paws were dead tired. Even her tail was dead tired. Mog thought, 'I want to sleep for ever.' And so she did. But a little bit of her stayed awake to see what would happen next.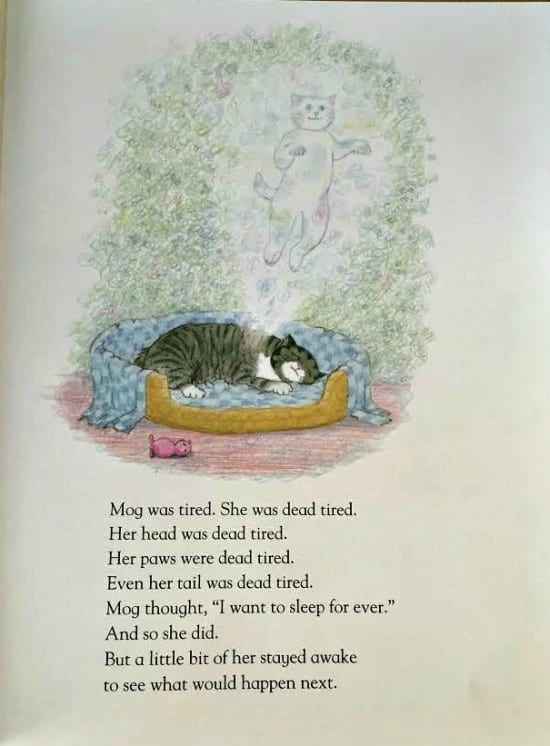 We see Mog deciding one day that she wants to sleep forever and she drifts off, but watches over her family to see what happens. The concept of death is cleverly articulated, in such a simple, but lovely way.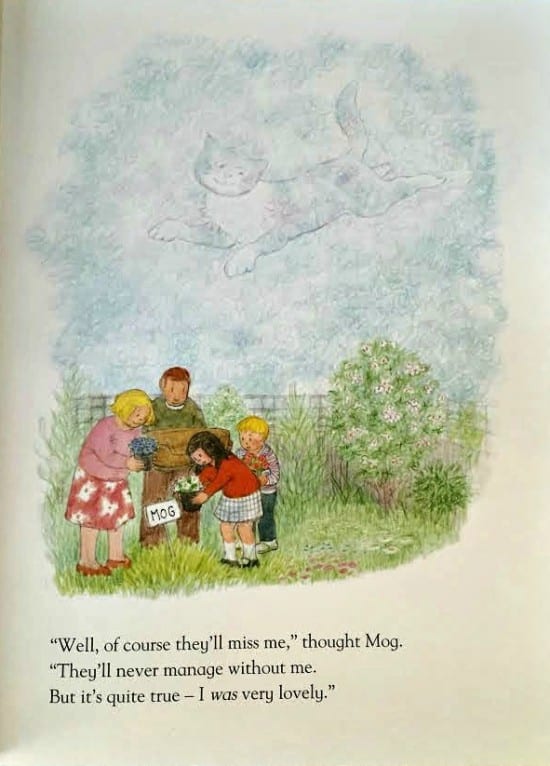 The sadness and crying is explained as the family talk about Mog and how much they miss her. They also hold a little funeral for her. But the sadness is interspersed with humour as Mog watches her family mourn, to make sure the tone isn't too heavy and sad for children. For example: ' "Well, of course they'll miss me," thought Mog. […] But it's quite true – I was very lovely." '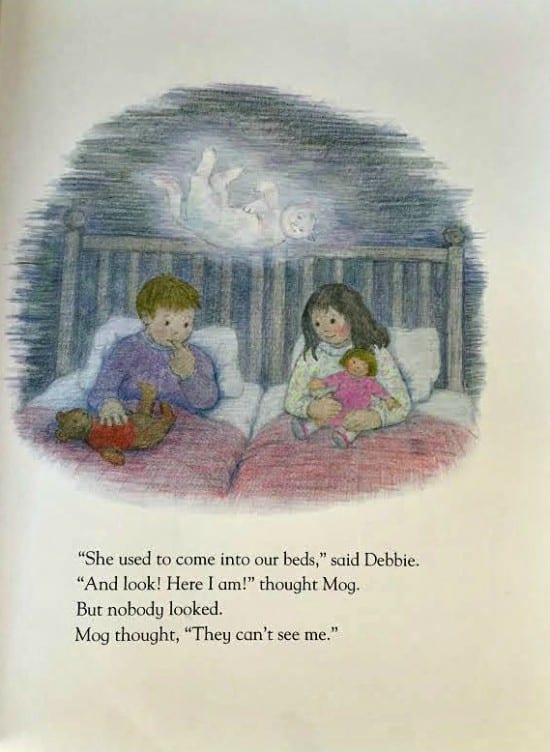 Then it comes time for the family to get a new cat. There is lots of fun antics as the kitten arrives. Mog expresses her opinion of the kitten, before deciding to help it settle in with the family. My son giggled away at some of the kitten's silliness and really enjoyed hearing Mog's commentary on what was going on.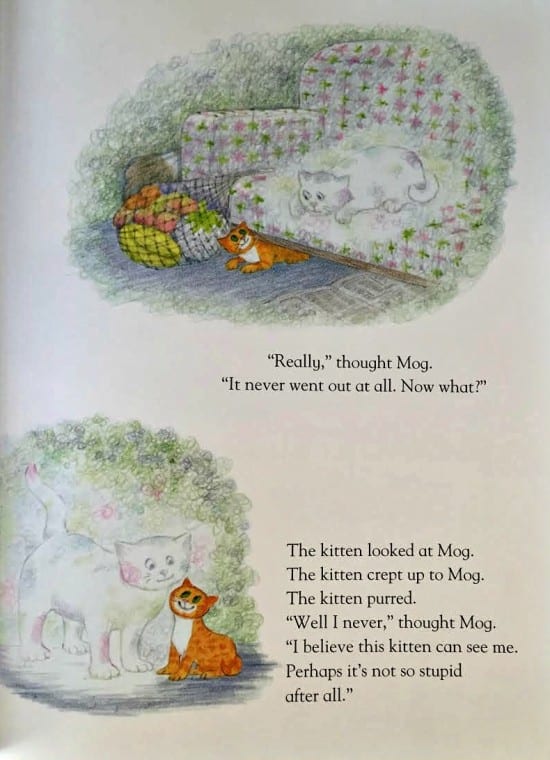 The ending is equally as gentle and wonderfully articulated, when the kitten is finally settled in and her family is happy Mog finally decides it is time to move on.
'And she flew up and up and up and up right into the sun.'
We have actually since got her own kitten, and my son and I chat about what our old cat would think of the kitten and whether he is watching and helping like Mog did in the book.
Verdict:
If you sadly lose a family pet like we did, this is really a great book to help your child understand what has happened. My son is 4, but I think this would still be helpful to older children too. It is sad, humorous and beautifully expressed.
Rating: 4/5
Buy the book on Amazon.