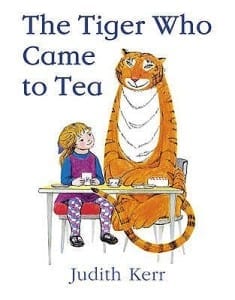 The Tiger Who Came To Tea By Judith Kerr
Illustrated by Judith Kerr
32 Pages
Children's Stories
Published by HarperCollins Children's Books
Age range: 2.5+
The Tiger Who Came To Tea is a wonderful traditional children's story. First published in 1968, it is written by Judith Kerr of the Mog stories fame.
It tells the story of Sophie and her Mummy who one afternoon get a knock at the door at tea time from a hungry tiger who wants to know if they wouldn't mind him joining them. But of course a very hungry tiger can eat a lot of food!
This book is a regular favourite of my son's and he delights at the tiger's antics. We play a game as we read the story now and I will say 'But the tiger didn't eat all the sandwiches on the plate did he Logan?' and he will grin and say spreading his arms 'No! He ate all of them Mummy' and this game goes on throughout the story. I think his particular favourite is when the tiger drinks all of the water in the taps.
As it was written in 1968, this story is slightly old fashioned. For example:
'Sophie's Mummy said, "I don't know what to do. I've got nothing for Daddy's supper, the tiger has eaten it all."'
Which I guess may bother some, it's slightly 1950s or perhaps more accurately 1960s housewife. But, but I think that all goes over my son's head and he just loves the story about a cheeky tiger who came to tea.
Judith Kerr is one talented lady and has also beautifully illustrated the book herself.  They are fun and colourful.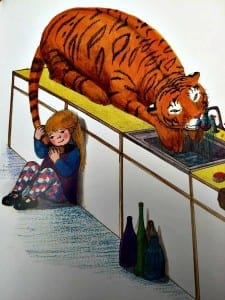 Verdict:
A total classic, there is a reason why this book has sold by the millions. It is one every child should have on their bookshelf. A delightful fun filled story with fabulous illustrations.
Rating: 4/5
Buy the book on Amazon.