A Letter To My Son On His 4th Birthday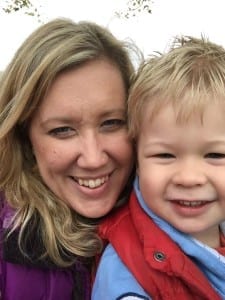 I wrote a letter to my daughter back in May on her first birthday and at the time wished I had done the same for my son for every year of his life. It's his fourth birthday today and I have some time to make up for, but here it is. My amazing son, whose arrival transformed my life.
Dear Logan,
Or little man or my dude as I often call you. I have never written you a letter on your birthday before, I wish I had, but I never thought of it. Which means I have a lot of time to make up for.
I waited to have you for so long. There were times when I wasn't sure we were ever going to have a child, your Daddy and I. Your aunty Helen had one baby and fell pregnant with another in the time we were trying. The week before I found out I was pregnant, your uncle and other aunty found out they were pregnant with your cousin Charlie and I balled my eyes out. Little did I know at the time you were actually already inside my tummy.
But you see, life is more clever than me, because I now know we had to wait because you came at the exact perfect time. You came when you were meant to. When I was pregnant I had a notion of what I thought being a parent would be like, however, nothing could ever prepare me for the all consuming, crushing love. Nothing. I love you so much some days I feel like I might burst.
Your birth was a very difficult experience for me and took me a long time to recover from. But if someone had given me a contract to sign and told me what I would need to do in order to hold you in my arms, I would do it again. In a heartbeat.
There are so many amazing memories I could share, it's hard to know where to start. You have such an amazing personality, you never stop speaking. Chattering away about all the things that interest you and the millions of questions the fill you mind as you soak up all the knowledge around you. Even at your two year review, the health visitor was astounded at your speech. She couldn't get over as you sat down and started nattering to her and I remember her saying – he knows what over and under is? Already? And that precedent has continued. At your last review at pre-school your speech was classed as a year ahead. My lovely little chatterbox. Like your Mummy and Daddy, you love books and are just happy to sit down and flick through them if we are not able to read them to you.
I remember your first steps so distinctly. I had been so poorly with reactive arthritis. I had come home early from work on the day of the Christmas party after nearly ending up in tears I was in so much pain at work. I had a hotel room booked for the Christmas party that I had so been looking forward to, but I just couldn't manage it. I was curled up on the sofa feeling so miserable. Your Daddy and I were bickering about something inconsequential (I think it may have been what take-away to get, ridiculous stuff) and then you suddenly got up and silenced us with your steps and made me cry (again). I was so glad then that I hadn't gone to the Christmas party after all. After those first steps, you didn't looks back and two weeks later, you were walking everywhere.
This last year has been a big year for you. Your first year of pre-school, I should have known you'd love it. You have learnt to ride a bike without stabilisers and swim unaided – for an important and whole 7 seconds. You have started learning phonics and can write your own name. Your love of diggers has grown – who knew that the roadworks and the town centre redevelopment could be the best thing since sliced bread? And that driving around the town centre so we can digger and crane spot could be so much fun? As has your love of dinosaurs. You know even more dino names than Mummy and Daddy do and have a fast growing collection to go with them.
I love that you are so affectionate and throw yourself into my arms for hugs. I love our little bedtime routine:
'Don't let the bed bugs bite'
'I won't Mummy'
'Dream could dreams'
'Dream good dreams'
'I love you'
'I love you more'
'I love you even more'
'I love you the mostest'
Or perhaps my most favourite phrase of all 'I love you Mummy/Daddy. I want to keep you forever!'.
I love how you like to sing along to the theme songs of your favourite to shows. How you love to build things with Lego, even if it is a replacement for something that may or may not have been confiscated. Our day trips to Legoland, your cooking experiments and how you pretend to be a chef on TV when you play. Everyone who knows you knows of your love of your 'noise' (your toy Kenwood chef for the un-initiated) and vacuum cleaners. There was a time you would ask to see the vacuum cleaner of at whatever house we visited. You love nothing more than to cook with your Daddy and cuddle your beloved Jemima. You are so funny and regularly make us laugh with your questions and quirky personality.
Becoming a brother was a challenge for you at first. Which is perfectly understandable, you had had Mummy and Daddy all to yourself for two and a half years, it was quite a lot to get used to. But you are sweet and often run to get Aria a toy when she cries, or like to be the first to go into her after her nap. I adore seeing you both giving each other cuddles and kisses. Even if you do squabble over toys.
There is so much I am proud of I could write for hours and hours, even the simple things like morning hugs in bed make me happy. Becoming your mummy changed me. Made me a better person. Made me reevaluate and appreciate what is really important in life. You are such a blessing in our life, such a joy and I am so, so proud of you. Happy birthday my awesome Logan and I cannot wait to see what the next year brings.
Love Mummy xxxx
---