A Letter To My Daughter on Her 1st Birthday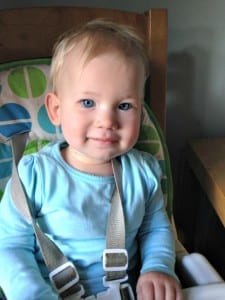 I have seen other bloggers do write letters to their children on their birthdays and I think it is such a lovely idea. I wish I had done it the last three years for my son. I hope it will help me remember the little things we always seem to forget as our children grow. And when they are older will give them something to look back on, to learn and know how much they are loved and what they achieved.
Dearest Aria,
I always wanted a girl. I was convinced in my first pregnancy I was having one and then the 20 week scan proved me wrong. When your brother was born, he was totally perfect and if someone had offered me the chance to swap him for a girl, I would have told them where to go.
We expected it to take me longer to get pregnant, your brother made us wait 2.5 years you see, but you happened in an amazing four months. I felt so much sicker with you and had cravings for apples. Lots and lots of apples, even once in the middle of the night. Your Daddy was totally bewildered to wake up to me crunching one in bed next to him.
So many people were convinced I was having a girl, adamant in fact and you decided to keep your legs firmly crossed at your 20 week scan, so you were a surprise. Until two weeks before you were born you were going to be called Isla if you were a girl. I had my heart set on it. Then, in your Daddy's way he had a chat with his hairdresser who told him how popular Isla was and then just like that, he changed his mind. We really struggled to come up with an alternative name we both loved that wasn't very popular, and then settled on Aria because of both of our love of music. Your Daddy wasn't sure at first, but I know he loves it now.
This past year has been tough at times, it wasn't your fault of course. Silent reflux and cow's milk protein allergy have not been your friends, and for a while Daddy and I couldn't work out why you cried all the time and were so sad. But after we found the right medication and changed your diet you were so much happier.
It does mean that you don't like to be parted from Mummy very much, you used to nurse for pain relief and even now associate me with comfort. But that's ok, because that is what Mummies are here for. It's my job to put you first, although if you could let me escape a little bit more, maybe go back to my singing lessons soon I would be grateful ;-). I'm glad I chose to give up work when I was pregnant with you, I'm not sure you would cope very well with childcare. Actually I think it would make you very unhappy, some girls just need their Mums.
As you reach one year's old it's lovely to see your personality develop. You are such a force of nature so determined and strong willed and passionate about things that make you happy. You are going to have a stunning career ahead of you with that determination, I can see it already.
You love your food, which after the feeding aversion you had when you were tiny is fantastic. Your favourites at the moment are pasta, meat, grapes, sandwiches and you adore rich tea biscuits.
Your favourite game is peek-a-boo and your brother regularly makes you laugh – he's taught you how to blow raspberries the little monkey and Logan was one of your first words. Even as I write this and you play by feet you are shouting 'Logan' for him to come back and play with you. I absolutely love watching you two start to play together and really hope that this continues. He's a fab big brother and I am proud of how much he helps you and loves you.
I can see a cheeky little sense of humour emerging too. When I come to pick you up at sometimes, you like to crawl away really fast to get me to catch you. Giggling the whole time. When I tickle you, you throw your head back and laugh with your whole body. You're also a bit of a dare-devil and love being thrown up high or spun around and around. You've also recently discovered swings with glee.
At one, you're not really standing, only very tentatively if I hold you and only in the past couple of weeks or so have you started crawling on your knees. Your favourite mode of transport for the past few weeks has been the zombie crawl as I call it. You've pulled yourself up onto your knees, but not your feet. But have done a rather fab Bambi style impression on all fours hands and feet style.
Do you know what, through all the hard times and I have to admit I never knew what sleep deprivation was until you were born. Do you know, your Daddy cycled to work one day after a particularly bad night and was so tired he cycled into a bush! Through the tears, because I have shed plenty for you, not knowing why you were crying, why you weren't sleeping, why you were so sad, why you wanted to feed so much, why you refused to feed, because I was so tired I struggled to put one foot in front of another and on some days I refused to drive because I didn't think I was safe. Through all of this, my wonderful Aria, I wouldn't swap it for the world. Because you are a funny, sweet, giggly, cuddly bundle of mischief and have filled our house with your sunny smiles.
I can't wait to see what you do in your second year.
Love Mummy xxxx
---