Weigh, Lose or Stay
Week One
Welcome to my very first Weigh, Lose or Stay. As I embark on my post natal weight loss journey, I invite you to join with me. Each week I will share with you my weight and measurement loss, my goals and motivation. I am following the Cambridge Weight Plan, as I am a CWP Consultant, but anyone can join in no matter what diet they are on.
Today is my first week, so I haven't got any weight loss stats to share with you yet (but I will next week). This week I am going to be focusing on increasing my water consumption and going into ketosis. But before any of my weight loss clients start I always encourage them to write down reasons why they want to lose weight to keep them motivated. So here are mine, they are quite personal, so please be kind.
Why I Want To Lose Weight
Reasons why I want to lose weight:
To be a healthy example for my children
To no longer be embarrassed by my own body
To look great in a pair of jeans (one of my favourite items of clothing) – goodbye to muffin tops!
Reasons why I hate being overweight:
My stomach is gross and huge and it gets in the way. I honestly still think I look like I'm still pregnant.
I hate my thighs rubbing together in the heat
I no longer feel I look good in good much all of my wardrobe and feel uncomfortable in my own skin
Goals
My first goal will be a stone. After which I will treat myself to some new make up :-).  My first non-scales goal will be to get my wedding rings to fit back on my wedding finger.
Linky Rules
I must stress this is open to anyone, you do not have to join in the Linky if you just want to share your weight loss or maintenance stats in the comments, this is totally fine. But if you want to link up that is also fab.
This is a feature that everyone can join in with (including my own clients!). Not every body is on a diet, but they do like to keep an eye on their weight for maintenance purposes. So this is a weekly weigh-in whether you want to lose weight or stay the same.
The more the merrier please join in. It doesn't matter what diet you are following, dieting is hard whatever route you take this is just about supporting one another.
Grab the Weigh, Lose or Stay badge and pop it in your post
You can link up any weight-loss or fitness and maintenance related blog posts each week
Use the #weighloseorstay hashtag on Twitter and Instagram
Share the love – try and read & comment on 3 other blogs listed on the Linky
Tweet me (@laurasummers) with your Link up and & I will retweet it to my followers
Linky will be open every Tuesday for one week
Grab the Badge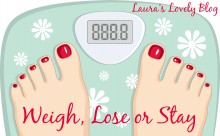 Loading InLinkz ...