Breastfeeding Dairy Free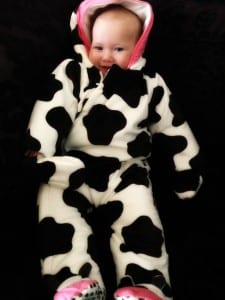 When my daughter was diagnosed with suspected Cow's Milk Protein Allergy (you can read more about that here), and as I was breastfeeding the first thing the doctor suggested was that I go dairy free.
With a 5 week old baby and being immensely sleep deprived at the time, it seemed like a huge and really daunting prospect. My Mum is lactose intolerant so she was my first port of call for advice. However, Aria is allergic to milk protein and not lactose, so even lactose free choices were not an option for me. I started researching and came up with a plan of how I was going to change my diet and do some straight swaps for the diary in my life. Once I got into the swing of things it was easier than I thought and it really helped with I saw what a difference my changes were making to my daughter.
Swaps
Milk – I swapped for coconut milk or oat milk. I prefer coconut milk on my cereal, but you can make some mean Yorkshire puddings with oat milk.
Butter – swap for Vitalite
Cheese – this is a tough one, because if I'm honest more of the substitutes do not really taste like cheese and some of them are down right awful. The best option I have been able to come up with is Violife. I wouldn't make a cheese sandwich with it, but it works in sauces – for example if you wanted to make a lasagne.
Chocolate – again this is a tough one if you're a milk chocolate fan. If you're a dark chocolate fan, then the good news is that a lot of dark chocolate is dairy free – although you have to check the ingredients – Hotel Chocolat have a good range, quite a few of Green and Blacks is fine, sadly none of Lindt's are. If you're a milk chocolate fan then the best option that I came across was Moo Free Chocolate – they're not cheap at £2.60 for a 100g bar, but it did help me feel like I was getting my milk chocolate fix.
Yogurt – I really struggled with fruit soya yogurts because I thought they just tasted wrong. In the end I found soya deserts (vanilla or chocolate) were the best alternative. There other options – coconut for example, but they are very expensive.
Surprising Things That Are Dairy Free
Some of these things I didn't find out about until quite late into my dairy free journey. But they're really handy to know. I will also caveat this with my daughter has been ok with products that say 'may contain milk' as this is usually a factory issue, but if you're not you will need to double check some of the labels on these products.
Hobnobs
Just-Roll Puff Pastry
Own Brand (Tesco/Sainsburys) Jaffa Cakes (not Jaffa Cake branded)
Peanut Butter
Cooking
If you're a cook, the best and cheapest way around eating things you normally would, but dairy free is to make it yourself. The Free Form selections in supermarkets are pretty pricey. If you take Cherry Bakewells as an example – normally 6 for £1, Free From 4 for £2. Gives you a feel for the step up in prices you're looking at.
But if you cook you can make easy substitutions – cakes are easy you just swap butter for Vitalite. Yorkshires and pancakes can be made with oat milk, currys with coconut milk or coconut cream. If you get a bit creative, you can make it happen. Vegan recipes are a really useful tool, even if I was a bad person and often added meat!
If you are a chocoholic I must admit that this recipe become one of my favourite items during my dairy free journey and got me through many a tricky day.
Vegan Cherry and Almond Brownies
Eating Out
Eating out is tricky, but new legislation that came in in September 14 has meant that things are a lot more transparent. I have found chatting to the waiters is the best option. Chefs have often been really kind and made things for me either without sauces or swapping certain elements of a dish. The hardest thing is desert, it is very rare you can find a dairy free desert on the menu. So if you have a sweet tooth like me, you unfortunately do have to grit your teeth.
I hope this was helpful, if I can help with anything, or you have any better suggestions for me to add to these lists – please comment or message me.
Also, If your child is allergic to dairy, you might find my post Ten Dairy Free Sandwich Fillings for Weaning handy.
---