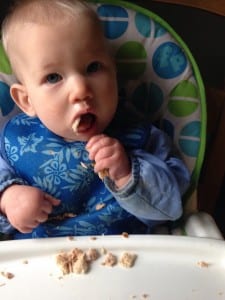 Sandwiches are always my go to lunch. Both my children love them, my son sometimes more than hot dinners. However, when you have a child who is dairy free my go to choices for weaning of Dairy Lee and cheese were out the window.
If your baby is like mine, she can't seem to manage meat and can't chew it – so things like ham etc. weren't really an option. She's not even very good at cucumber, pepper or vegetable slices at the moment either, although we keep trying them as finger foods. They get sucked, but not really eaten. I'm also quite anti sweet things in sandwiches such as jam and Nutella other than for a treat and never for a baby. My son didn't have chocolate until he was nearly two. I know meanie ;-).
So here are ten dairy free options for sandwiches for weaning babies. That are also good for babies that aren't keen on meat too.
Humus – also yummy on toast
Egg mayo – make sure to check the brand you're using as annoyingly some add milk or lactose
Tuna mayo – add a little malt vinegar to sweeten it slightly
Mashed banana – try with a touch of cinnamon
Avocado – you can also try mixing with a little fish
Fish fingers – this will probably end up as an open sandwich but still fun
Salmon (tinned) – again with a bit of mayo
Dairy free cheese spread – I'm not a fan myself as I think dairy free cheese just smells wrong, but baby doesn't know any better
Taramasalata – also good with pitta bread
Chicken, mango and mayo – you may need to grate or put the chicken in the food processor to make it easier for baby to eat
Have you got any suggestions to add to my list?
---
I am taking part in the following Linkys: