Welcome to a weekly feature on my blog – Ben's Zone. Written by husband… Ben. A foodie, coffee obsessed, ex-smoking, ex-drinking and Ridgeback loving Dad. Who is also seriously into his fitness.  You can find him on the blog (mostly) on Sundays. Enjoy!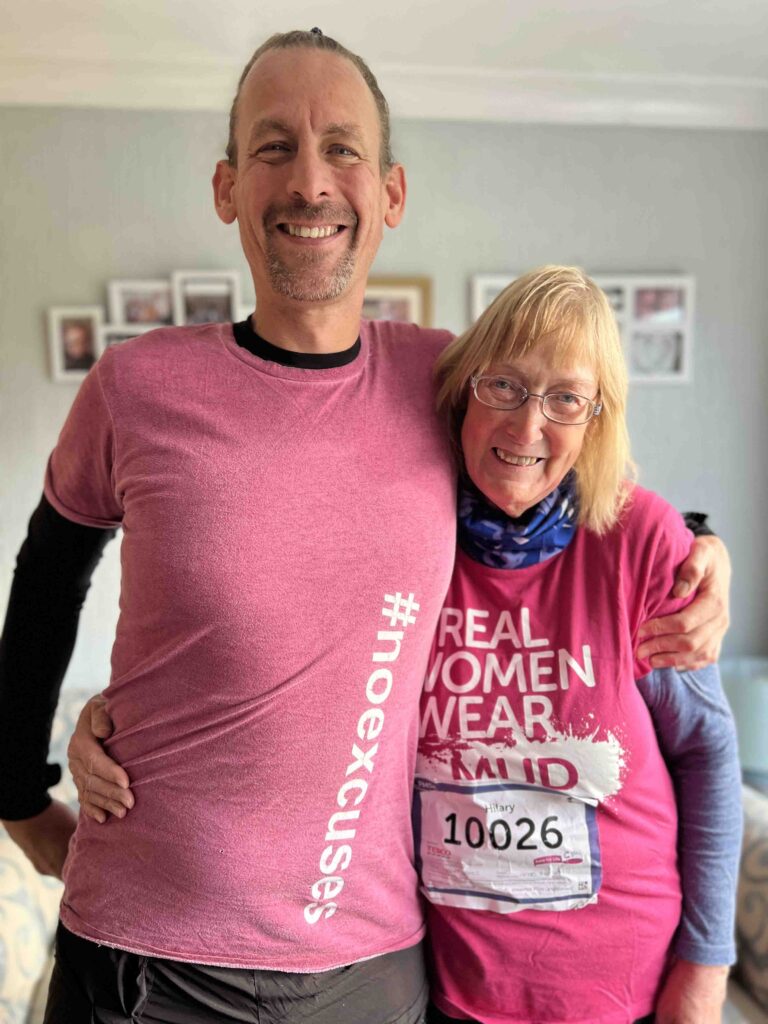 Race for Life: Pretty Muddy Review
I think I can say without bragging that I have now done a fair few obstacle runs, however, there has been one that I've been wanting to try for a few years. The Race for Life started out as a ladies-only run in memoriam for those women lost to breast cancer.  My mum has run it for a number of years now.  3 or 4 years back the Race for Life expanded to include 'Pretty Muddy' which is the same 5km run but includes obstacles.  As mum has seen me do Tough Guy a few times she signed up straight away.  The first time she did it I went to support as it was a girls-only gig.  They recently changed that rule to make it open entry and so, without hesitation, I signed up with mum.
I'm not entirely sure how I feel about men being allowed to compete.  Yes, it's super that I get to run with mum but there was also something special about it being a girls-only thing.  That being said, I was not going to pass up on an opportunity for a family outing.  
Covid intervened, of course, and so it seemed like a long gap between our booking and actually turning up in the grounds of Weston Park, a stately home near my parents' house in Staffordshire.
One of the cool things about the Race for Life is that you wear pink, it's my favourite colour but I have to be honest it was a bit of a mission to dig out a pink shirt in my team livery. I managed it though.
The race atmosphere was super, lots of happy bouncy people there to have a good time. The focus is not on competition, it's not timed, but raising money for charity. With her wide network of friends, my mum raised well over £150.
What struck me about Pretty Muddy was how many people were there who perhaps might not normally be doing stuff like this. I enjoy running events and, as I've said, have been to a few, but this was definitely not the normal crowd. While I like the people who do OCR events, the wider bunch here was very refreshing.
It was great to see people out having a walk or a run in the sunshine who may not have been to something like this before but who might decide to do a few more in the future.
With that in mind, the course was not super intense. It was clear that the idea was to have fun, not to intimidate people and I enjoyed that. I'd go so far as to say that more races should have space hopper sections.
The location was beautiful.  I know Weston Park quite well but it always impresses with breathtaking views of rural Staffordshire.  Unsurprisingly the event did live up to its name and was indeed pretty muddy.  Where the ground was not already muddy (it had been raining that morning) the mud was helped along by cheerful marshals with water guns.
There was a solemnity too to the course. At regular intervals, there were commemorative boards for people who had lost the fight to cancer and most people had stickers on their shirts remembering loved ones who had fought or were still fighting. This might sound serious, and it is, but it added to, rather than detracted from the positivity of the event.
Overall I had a brilliant time at Pretty Muddy, running with mum at an event that was overwhelmingly upbeat was a very special experience.  No, it's not Tough Guy or Spartan in terms of obstacles but that's not what it is trying to be.  It was a super fun event with a nice crowd and I would recommend it to all, from first-time runners to old guard OCR folks.