*AD – we were gifted tickets for the purpose of this review, but all views are my own
Just over a week ago we went for a trip to Marwell Zoo. Situated just off the M3, in Winchester, it was about a 50-minute drive from where we live in Bracknell, it was well signposted and easy to find. There was plenty of free parking, as well as Covid-safe measures in place. From social distancing to hand sanitisers throughout the park. With the current restrictions, all tickets need to be booked in advance and we were given a designated time to arrive. I actually prefer this as I find there is less car park congestion and queueing on arrival and I hope that places keep this measure in place when things return to normal.
Marwell Zoo Review
We had a lovely day visiting Marwell Zoo, it was a great family day out. The park was well-laid out and designed to let you see as many of the animals as is possible. Which let's face it is probably the most important thing when visiting a zoo, no one wants to visit the zoo and then not see any animals. With multiple viewing points and perspex screens where it was safe to do so. You could get pretty close to the animals which was fantastic.
The first attraction – the penguins, was so open it felt like you could almost touch them and see them so close when they were swimming through the water. It was really amazing.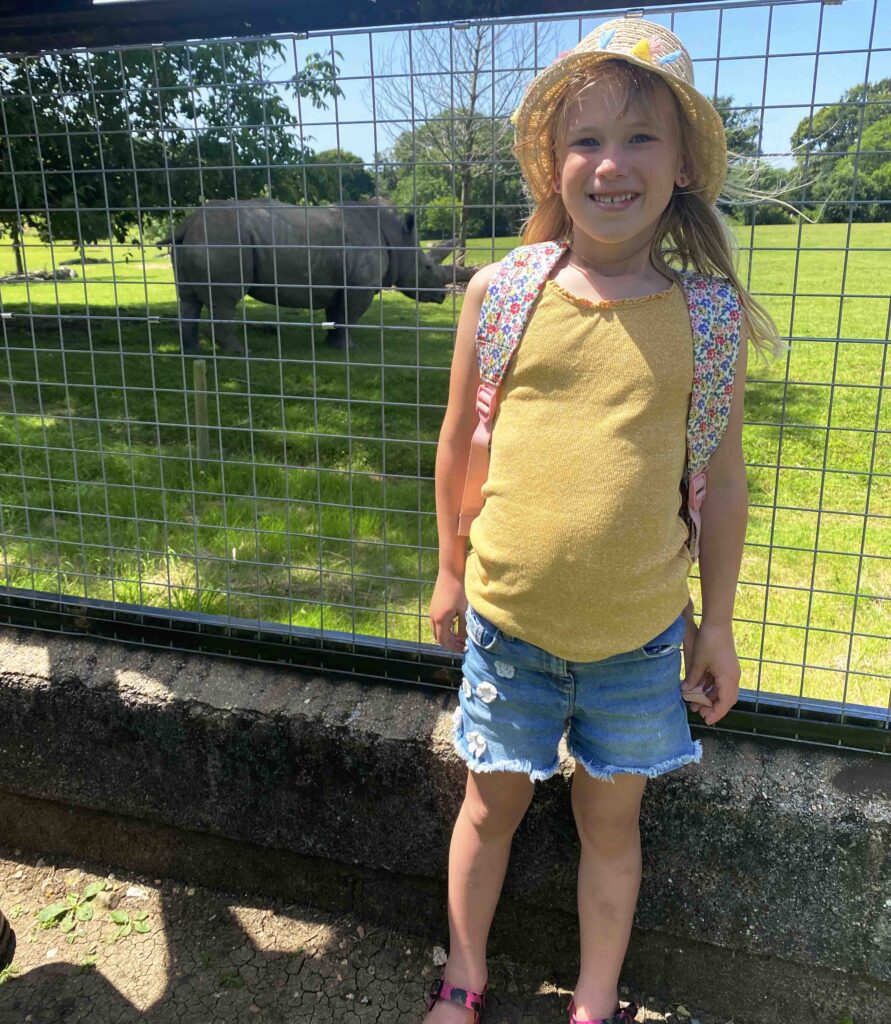 We were very lucky with the weather during our visit, it was warm with lots of glorious sunshine. But in general, the zoo was quite open, so make sure you dress for the weather – lots of suncream for the heat and waterproofs if it's going to rain. Set across 140 acres I would also recommend packing your comfy shoes. We also took a pram for our 3-year-old and I was glad I did as it was just a little bit too much walking for him, but with the pram, he could jump in and out and walk as much as he was able.
The Animals at Marwell Zoo
Now for the important bit – what animals do they have at Marwell Zoo?
Big cats, I think they have to be the favourite in my family and Marwell Zoo was a winner here with both a tiger and snow leopards. There were zebras, lots of monkeys (Bodhi's favourite) including lemurs, a gibbon and a white-faced saki. I loved the white rhinoceros and the pygmy hippo. There were also meerkats, giraffes, a crocodile, oryx (which are sadly extinct in the natural world), penguins and a tropical house. Obviously, this was correct at the time we visited, so if there is a specific animal you want to see, do the website before you go.
Facilities at Marwell Zoo
The zoo was well laid out with lots of free parking, as mentioned above – I hate paying for parking when you have bought tickets so I was pleased to see that. There were plenty of toilets with minimal queuing too. There were lots of picnic benches for picnics as well as a cafe if you prefer to order food. A big win for me was the water bottle refilling stations, especially as it was so hot when we visited. It meant we could fill up our water bottles as many times as we needed and so much better for the environment without having to buy plastic bottles when we ran out. All attractions should have them.
As well as lots of animals, there were also play parks around the grounds for children to play in. At each park there were places to sanitise as you came in and out and there was play equipment for different age groups. My children loved them so much they actually didn't want to leave.
Verdict
Marwell Zoo is a fab family day out in Hampshire. With lots of animals to see, play parks and great facilities. Marwell Zoo is also a charity and does lots of work for the conservation of endangered species. So not only do you have a super day out you also support an important and valuable charity too.