Welcome to a weekly feature on my blog – Ben's Zone. Written by husband… Ben. A foodie, coffee obsessed, ex-smoking, ex-drinking and Ridgeback loving Dad. Who is also seriously into his fitness.  You can find him on the blog (mostly) on Sundays. Enjoy!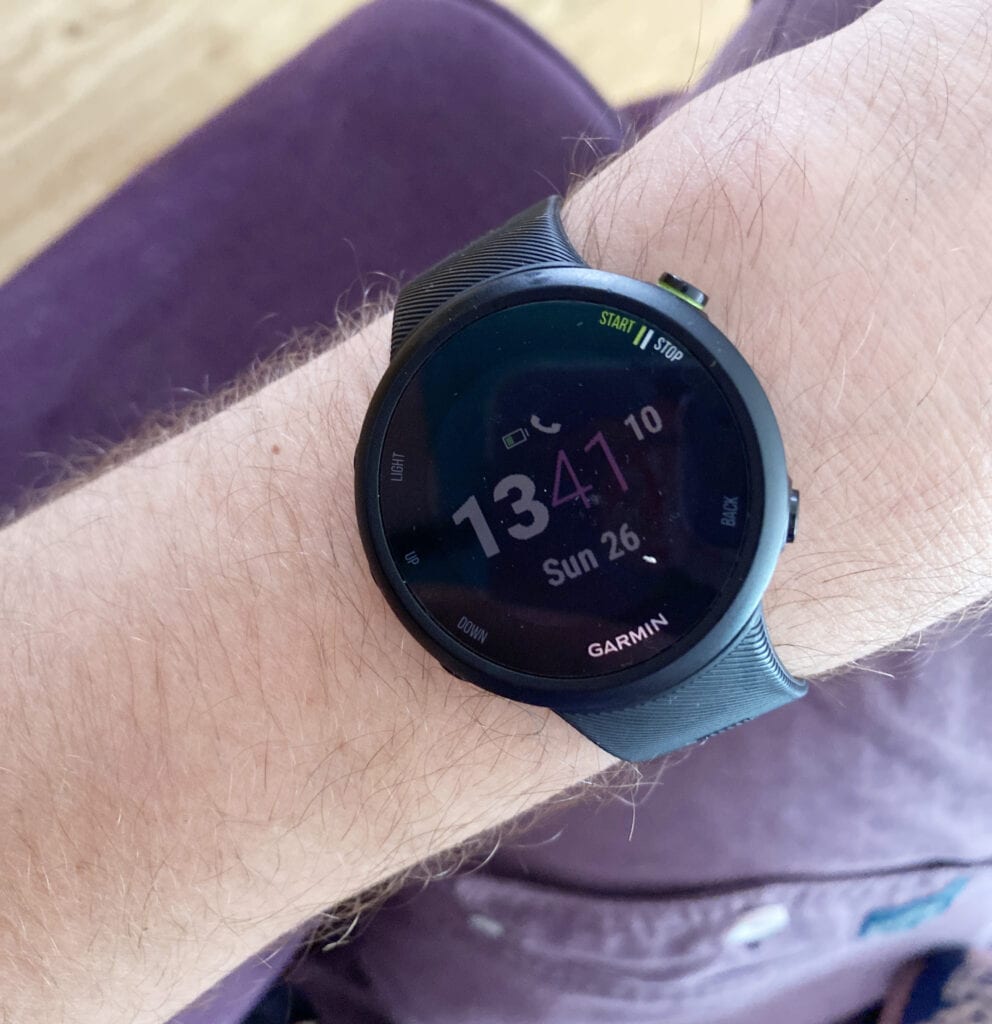 Garmin 45 – Initial Review
This year the heart rate monitor on my venerable Garmin Fenix finally gave up the ghost. The Fenix itself was, and is, a cracking running watch however I had got it just before the optical wrist based heart rate monitors went mainstream and so it was still the chest strap type. When I checked out prices it soon became clear that there wasn't a huge gap between the price of a new monitor and a new watch, added to that I didn't know if the monitor had broken or connectivity between the monitor and the watch. With a heavy heart I decided to retire the Fenix and look around for a replacement running watch.
My requirements were simple, heart rate monitoring, GPS reception and also the ability to use the Russian GLONASS system (Russian GPS basically) for when GPS is flaking out. I had a look at various models and in the end went for the Garmin Forerunner 45. I managed to get it on a deal for around £130 in the black colour (it has different strap colours). I chose it for 2 reasons, it's not a lot more than the Forerunner 35 and offers more modern technology and more than that it's round whereas the 35 is a rectangular shape which I didn't like on a purely aesthetic basis.
My previous watch had been squarely in the middle of the 'multisport' category offering tracking of sports as diverse as hiking and triathlons and I used nothing other than running. The Forerunner 45 is a running watch first and foremost. It will track other activities such as 'cardio' and cycling, but the main focus is on running. For me this is great, it's compact and the streamlined interface means I can fire it up quickly and get on with what I am doing. Speed in fact was the first thing I noticed when using the watch. My Fenix would usually (but not always) lock onto GPS by the time I got to the woods if it had cached the satellites. The FR45 has locked by the time I have crossed the road. I have not been able to see how quickly it locks in alternate locations because of lockdown but I've been impressed so far with how quickly it gets a lock. There's nothing worse than standing in the cold before a run waiting for your GPS to get a lock and I have not experienced that yet.
The data produced by the watch is equally impressive. It uses the data from the optical heart rate monitor to good effect to do everything from tracking your sleep to your stress level. One particularly nice feature is the 'body battery' readout which gives you an idea of how well rested you are and what activities drain your battery. The stress level readout is also handy for knowing when it's time to take a 5 minute break from work. My favourite data though is the resting heart rate. In the short term resting heart rate gives a great indication of oncoming illness and overtraining, in the longer term a lower resting heart rate has been linked to better longevity so tracking it is a good idea. It also has a step counter onboard in a clear move to jump into the Fitbit arena as a wearable activity tracker.
The 'wearability' is one of the areas I have been surprised by. I don't usually wear watches day to day, particularly chunky ones like the Fenix however the form factor on the FR45 is really small and so I've found that I've kept it on constantly to continue tracking my heart rate throughout the day. It's actually nice to have access to the time without having to look at my phone. The watch is comfortable though utilitarian in look.
Another thing adding to the day to day utility is the smart phone notifications which allows the display of anything my phone notifies on without allowing me to respond (I think it will allow me to answer calls but I have no idea how to do that). That's fine as I wouldn't want to be trying to send texts on a watch anyway. One thing to be aware of when using the notifications is the impact on battery life. If my work Slack (instant messenger) is going nuts, as it does from time to time, then it can have a pronounced effect on battery life.
As we're talking about it, battery life is pretty good. If I run for 20 minutes in the morning I get what I consider good battery life for a semi smart watch. I usually charge on Wednesday and Saturday morning. One small gripe here is that the battery icon shown on the watch face is really small and not easy to read and there is not a pre-built battery widget to see on another screen. That's a bit annoying but not the end of the world. Another gripe, and this is not Garmin specific, is yet another proprietary power / data connection. Come on people, just fit a micro USB already, or even USB C if it works for phones and Macbook Pros then there's really no need to have some stupid one off connector for my watch that I can only replace via Garmin.
When running the data screens are clean and to the point and the display resolution is great. Some nice functionality is the live track which emails my wife when I start a run with updates as long as a phone is connected. This means if I am not back when I am supposed to be she knows where I am. Adding to this there is a motion sensor within the watch that detects if I have fallen and not got back up and started moving. I have not had to test this yet but it's nice peace of mind for my wife when I am out on my own.
As with all Garmin devices, the excellent Garmin Connect is used to consolidate and display the data. Data can also be sent to other systems like Strava but I don't use those so will not comment. Garmin Connect is pretty good. Information is available in the browser and also via a phone app and is clear and well presented. There are small niggles such as having to go more –> health stats –> heart rate to get historical heart rate data rather than being able to get there from the heart rate widget on the main screen but they really are small concerns. I would still say Garmin Connect is the best app of this type I have used and was a definite factor in me choosing the FR45 as my new device (I actually only looked at Garmins on the strength of connect).
In conclusion, if you want a basic running focused watch with the facility to do activity tracking functionality in your daily life I would recommend the FR45 without question. It's streamlined and simple and with this focus it does everything it sets out to do extremely well. If I had to call out down points these would be the relatively minimal choice of alternate faces and, for some, the utilitarian aesthetics. Neither of these phased me in the least and my experience of the watch so far has been that it has impressed at every turn. I'll come back in a year or so with a long term review to report on how well it is holding up.
Buy the Garmin Forerunner 45 on Amazon (affiliate link)