Welcome to a weekly feature on my blog – Ben's Zone. Written by husband… Ben. A foodie, coffee obsessed, ex-smoking, ex-drinking and Ridgeback loving Dad. Who is also seriously into his fitness.  You can find him on the blog (mostly) on Sundays. Enjoy!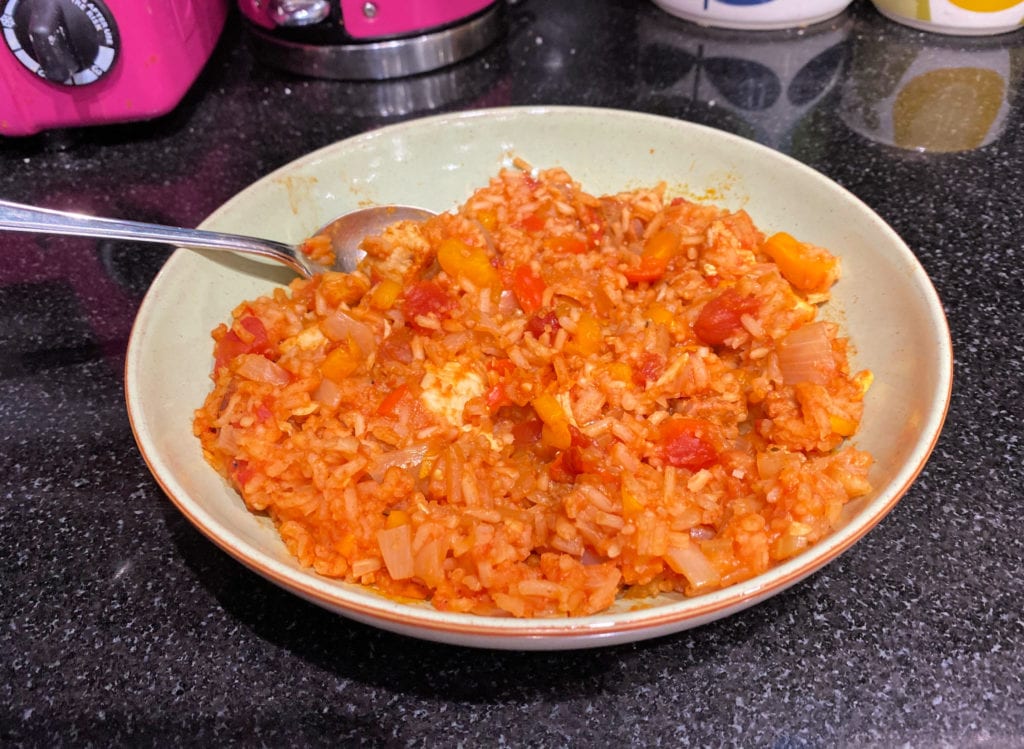 Easy Cook Jambalaya Recipe
Another of my favourite comfort foods this week and one that ties in nicely to what I was saying last week about batch cooking. This is a household favourite and is my version of the cajun classic Jambalaya. On one hand it could be thought of like a prehistoric risotto but that would be doing this great dish a vast disservice. This is a lovely sticky rice dish that can keep you warm in the winter but is equally nice when enjoyed al-fresco in the summer for an evening summer. Best of all it's really easy to make (at least the way I do).
Like all great dishes there are variations on what to put in, but here are the musts. You must have a nice punchy sausage, I use chorizo but anything mostly meaty will do, a British banger, much as I love em, will not hit the mark. Second, you need the holy trinity of cajun cooking, bell peppers, celery and onions. Past that, there's room for experimentation. I tend to use a pre-made cajun spice mix but do feel free to come up with your own blend. If you do that then make sure there's a paprika base, both black and cayenne pepper for heat and a good dash of celery salt, some brown sugar won't go amiss either. A big challenge we have is that Laura is not a fan of spice and I really am, I get round this by dumping a healthy dollop of US style hot sauce or even tabasco into my portions and leaving hers milder. This recipe is going to make 4 massive portions, so a great one for the dinner table and freezer alike.
Ingredients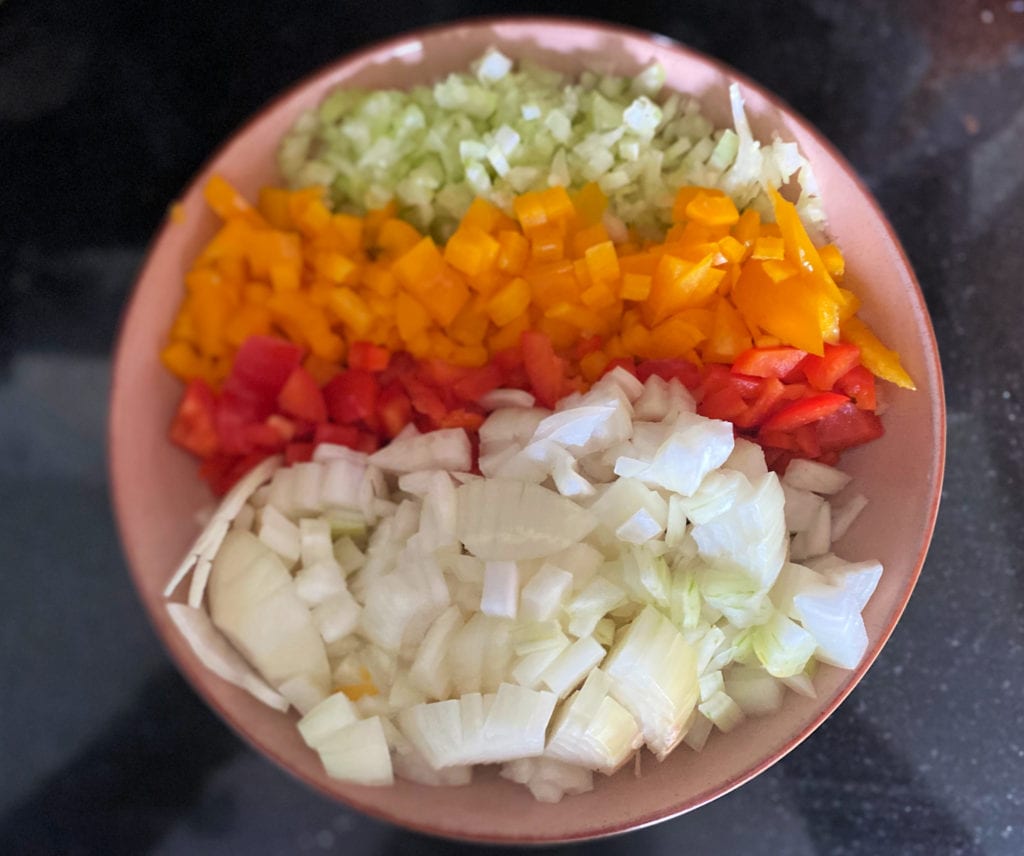 2 cups American long grain rice
1 pint chicken stock
1 can chopped tomatoes
3 medium onions- finely chopped
2 peppers – finely chopped
2 celery stalks – finely chopped
4 cloves garlic – finely chopped
3 tablespoons tomato puree
100g cooking chorizo – chopped (add more if you're not worried about waistline, more is better)
2 chicken breasts – chopped (can substitute uncooked prawns)
3 tsp cajun spice mix
1 tsp black pepper
2 tsp sea salt
Hot sauce to taste
Method
1. Heat your heavy bottomed big pan to medium / high and whack in the sausage. You want the sausage to brown and release its oil.
2. If necessary add a little extra oil to the pan and add the chicken, brown.
3. When the chicken is browned add all the veg and reduce heat, the aim is to reduce and soften the veg and get it to let out its liquid.
4. Once the veg has reduced put in the tomato puree and all the spices, cook out for a few minutes.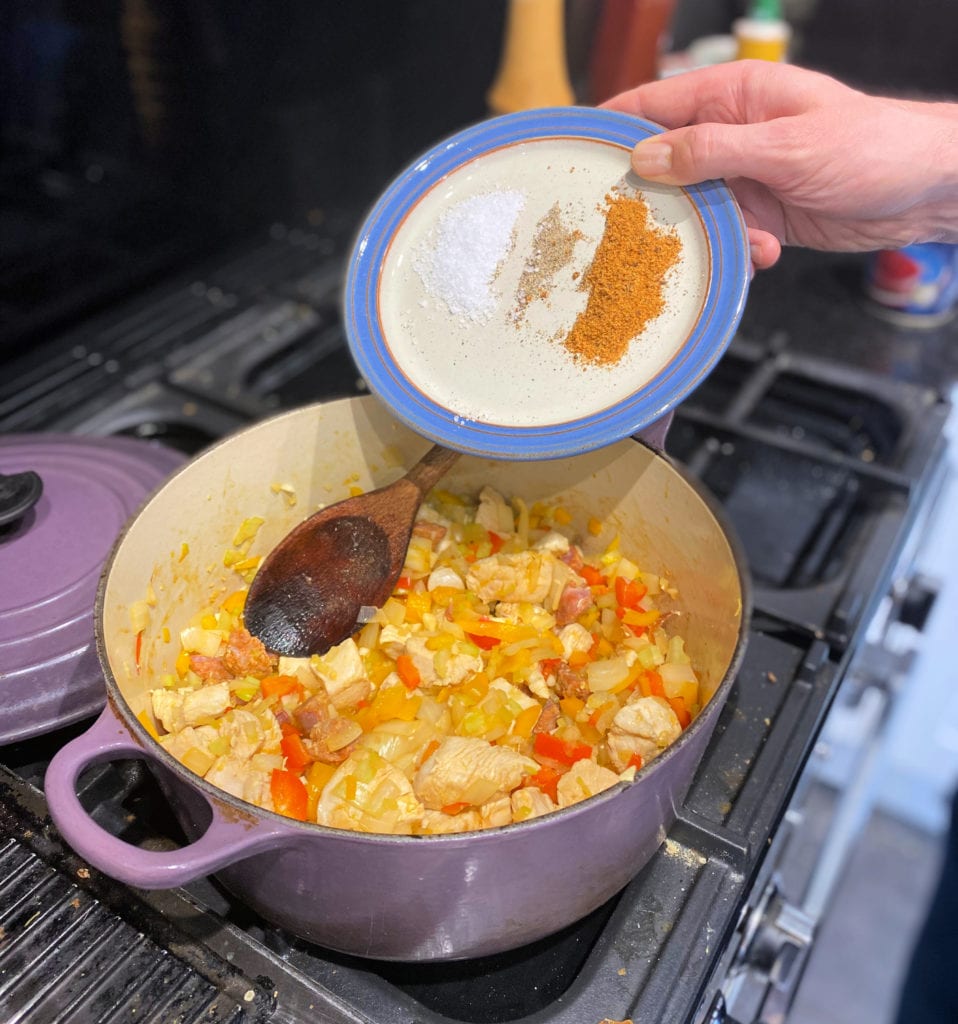 5. Add the rice and stir round, cook again for a couple of minutes.
6. When the rice is covered in all the lovely flavour add in the tomatoes and then pour the stock into the tin they came in.
7. Swish the stock around and get all the remaining tomato juice before dumping it all in the pan.
8. Mix through well and increase heat.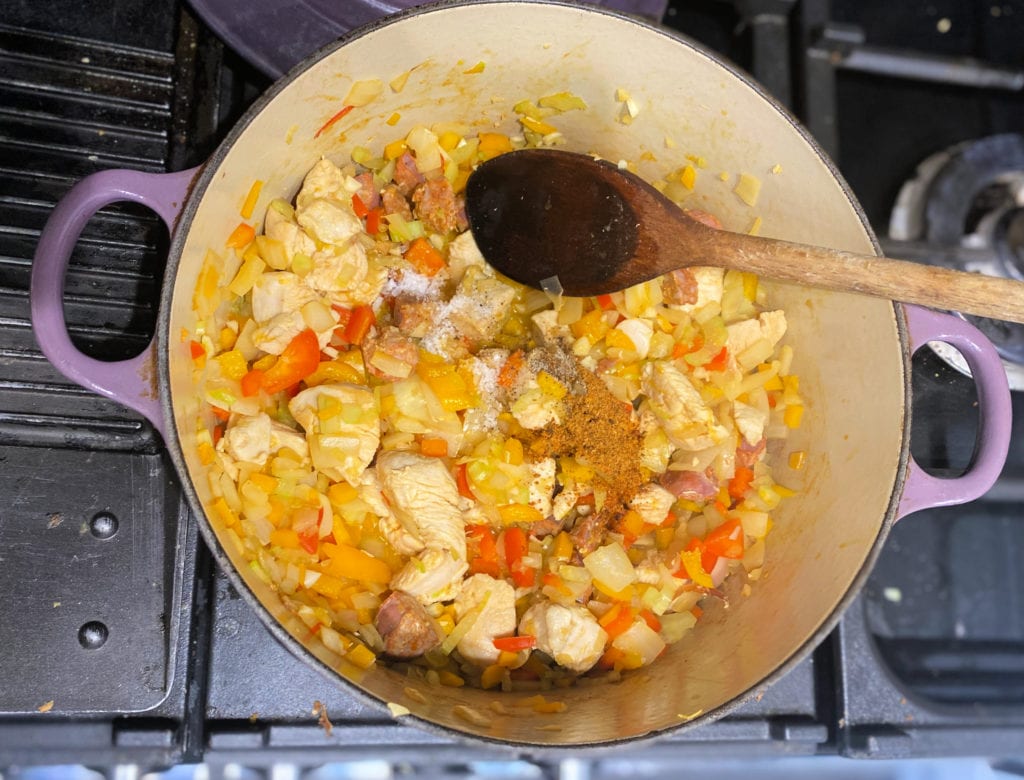 9. Bring to the boil and then cover before putting onto the smallest heat.
10. Stir frequently to stop rice sticking until it has absorbed all the liquid.
11. Serve in nice wide bowls adding hot sauce if you choose.
Please do read up on food hygiene with rice and follow guidelines according to your own judgement when freezing this.