Welcome to a weekly feature on my blog – Ben's Zone. Written by husband… Ben. A foodie, coffee obsessed, ex-smoking, ex-drinking and Ridgeback loving Dad. Who is also seriously into his fitness.  You can find him on the blog (mostly) on Sundays. Enjoy!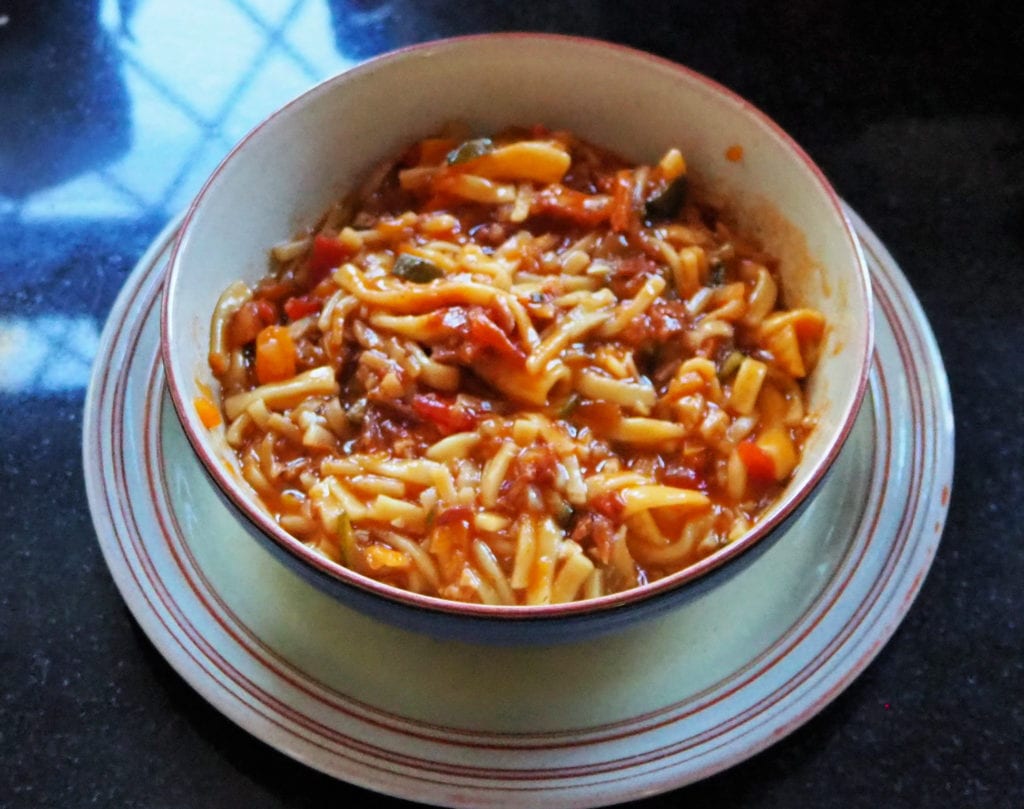 My Top Tips for Batch Cooking
So, right now we're all stuck indoors which sucks. One upside though is that as people are home we all have a little more time to cook which means more batch cooking. I like batch cooking as it's flexible, it's stuff I can freeze and have options when I can't be bothered to cook and, although it takes a long time, the bit where I'm actually doing stuff is usually quick.
So, what do I use? There are a number of options for batch cooking, the instant pot is fine, slow cookers are also fine but, if I am honest, my favourite is an old enamelled cast iron casserole (affiliate link). It's pretty beat up and I have to be careful as it's not really 100% non-stick any more but I love it. Past that, all I need is a decent wooden spoon, a sharp cooking knife and stuff to cook. Without further ado, here are my batch cooking favourites.
My Favourite Batch Cooking Recipes
1. Bolognese
The number 1 of all time has to be the bolognese. It may be the first thing every student learns to cook but there's a good reason for that, it makes a nice dish out of cheap ingredients. My go to recipe is still my basic red ragu and little has changed there. You can add bits to it such as mushrooms and wine should you wish but that combination of tomato, sofrito and mince is a winner. I cook a ton of this in one go (1 kg of mince usually) and then store the sauce in family size portions. When I come to defrost I can then serve with pasta if I want, make up a beschamel and do a lasagne or put under mash for a cottage pie. You could even make a massive yorkshire pudding and serve it in that.
2. Soup
I like soup for lunch and so I often cook this up en-masse, it's not only a nice filling lunch, it's great for using up stuff that's coming close on date. The basic method is also super simple. You get your veg and fry it off, fry off any raw meat here too. Once that's all nice and soft pour over a ton of stock (anything you have to hand) and boil it all up for a bit. Nice additions are any pulses you might have like pearl barley and any beans you've got. Remember to soak any dried beans overnight and wash before putting them in the soup. Feel free to substitute in chopped tomatos and use a bit less stock, chuck in any bits of pasta you have kicking around, it's all good. You can either blend smooth or alternately leave it chunky. My rule of thumb is that I leave it chunky if it has meat in. General tips are, tomato, dried herbs, veg and pasta takes you in a nice Italian direction; coconut milk, hot chilli, turmeric and loads of veg take you into the South of India and beans blended smooth, a bit of chilli and garnished with a basic salsa gives you a nice lunchtime in Mexico, but experiment.
3. Stews and Casseroles
Stews and casseroles are also perfect to make a ton of and then freeze. Again, the basic process is easy. In your pan fry meat in small batches. Once that is done use some white wine vinegar (or white wine) to deglaze the bottom of the pan, put in a bit more oil and then fry whatever veg you have. When the veg is soft, put the meat back and put a few tablespoons of plain flour in. It's really important to let this cook out for a few minutes, then add in stock or stock and tomatoes and let it bubble in the oven or on the hob until the meat is tender and the sauce is thick.
It doesn't need to be obvious stuff like stew that you batch. If you're ok with freezing cooked rice (I am not advocating this, do your own research, make your own decision) then stuff like Jambalaya works well in the freezer. I'll share my jambalaya recipe next week on the blog as it's a current family favourite.
4. Not Just Savoury
Finally, you'd don't need to stick to the savoury, there are plenty of sweet options that work with batch cooking. Simple sponges like treacle sponge can be made, frozen and then cooked well enough in the microwave. Probably my favourite is stewed fruit. Like bolognese, it can be done from cheap ingredients and frozen such that it can be used in pies, crumbles or (personal favourite) in a bowl on its own. I have a recipe for stewed apples here (LINK) but it's the same for most fruit and you can mix and match if you want (excluding citrus).
There you have it, it's not ideal to be stuck inside it but the upside is we get time to do cooking that we may not be able to in a normal routine, so while it's not the nicest of situations, at least we get to eat nice food.