Welcome to a weekly feature on my blog – Ben's Zone. Written by husband… Ben. A foodie, coffee obsessed, ex-smoking, ex-drinking and Ridgeback loving Dad. Who is also seriously into his fitness.  You can find him on the blog (most) Sundays. Enjoy 🙂
---
My Everyday Red Ragu Pasta Sauce
So, I'm not Italian, I don't claim to be and I've no interest in creating authentic Italian food. I've read several interviews where chefs make withering comments about humble red ragu and I don't know why. It's a great meal for having lots of veg and relatively cheap meat (no meat is cheap) and it is very practical in a family setting. I've not yet met a kid that doesn't like it, it's easy to make in large quantities, can be used in a variety of dishes and it actually gets better over time (even if frozen).
The variant I am making here is for spaghetti with meatballs, but I'll indicate what I would change to make this spaghetti bolognese and of course, you can layer that with lasagne and a simple bechamel to make a lovely lasagne. It's always worth having a couple of portions of this in your freezer just in case you have unexpected guests one evening.
Nothing here is hard to get hold of and you don't need any special tools.
Ingredients
(4 adult or kids portions)
Dried basil
Dried oregano
Salt
Pepper
6 onions (of the smaller kind)
2 sticks of celery
2 carrots
6 -8 cloves of garlic (man up)
2 tins of chopped tomatoes / 1 500g container of passata
2 rashers smoked streaky bacon
Meat options
500g beef mince (for bolognese / lasagne)
200g pork mince and 200g beef mince (for meatballs)
No meat (if that's your fancy, there's flavour enough in the sauce)
Recipe
1. Do your prep by hand, that means chopping all vegetables into a fine dice. Make the process quicker using a julienne peeler if that helps. A sharp knife and practise are what is needed here. Do not use a food processor, even a good one will only pulverise the veg, the texture will be wrong and vital, flavoursome liquid will be lost. If making meatballs reserve a small amount of garlic.
2. Chop your bacon very finely. Bacon is not an element of this dish, it's seasoning, there's a difference. I want smokey salty notes in the base of the dish, not chunks of pancetta. And don't use pancetta, use nice smoked streaky (streaky melts better).
3. In a large pan or cast iron casserole heat some oil, it does not have to be olive oil, definitely do not use extra virgin (it's a waste and it has a low smoke point so becomes unhealthy at low temperatures).
4. Fry off the bacon with a good pinch of oregano.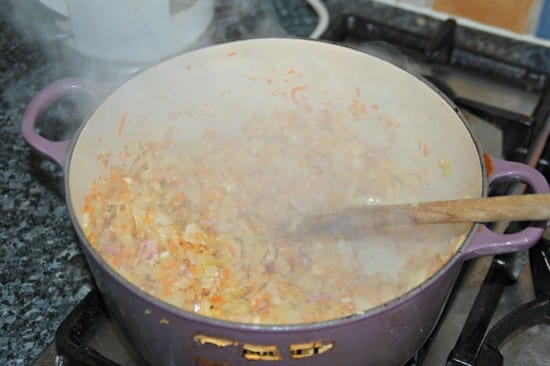 5. When that is done, dump in all the veg and fry until it has softened right down. Keep stirring it here, some residue on the pan is ok, this will lift with the liquid, black stuff is not, it means you need to turn the heat down.
6. If you are making bolognese now is the time to put in your mince. Stir gently and use a wooden spoon to break the chunks down. I like to leave some smaller chunks in as I think it's great when you eat it and come across a nice big meaty hunk nestled in the pasta.
7. Add the tomatoes or passata and about the same volume of tap water. Season well.
8. Bring to the boil, cover and simmer for about an hour at least. Don't be tempted to chuck it in a slow cooker, while it produces a pleasant result, it will be homogenised and you'll lose the individual flavours. At this stage I add a load of basil, some more oregano and a bay leaf if I can be bothered to go to the garden. I added thyme once, it was a mistake.
9. Check the flavour every 15 minutes and give it a stir, add more seasoning if need be. Do not add a stock cube, it's cheating and you're better off gauging the salt correctly.
10. Once the flavour is good, take the lid off and increase the temperature a little. Let the liquid evaporate until it's at your desired consistency (a note, runny red ragu is to be avoided).
11. When you are done, put into either the fridge or the freezer or both. I never serve this straight away, I make it on a Sunday morning for dinner in the week.
Note 1: Making meatballs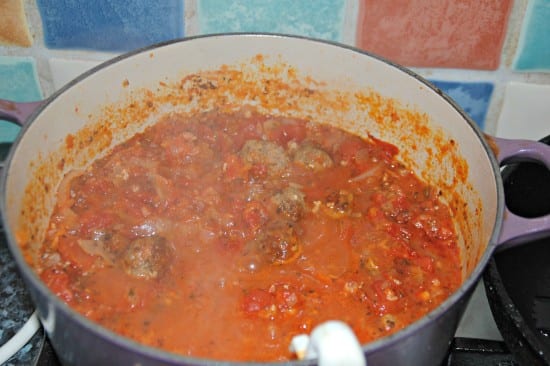 Hats off to Jamie Oliver on this, once again his meatball tips are spot on. He suggests an equal mix of pork and beef mince and I agree totally. The pork adds a velvety softness to the meaty punch of the beef which takes them to the next level. Only add seasoning, a little herbs and garlic if you like and nothing more. You do not need breadcrumbs and you do not need egg. The trick to getting them to hold together is to make them smooth (roll with wet hands) and to refrigerate for a few hours before browning. I brown them in a pan in batches before putting into the sauce. 400g meat makes 20 marble sized meatballs.
Note 2: If making lasagne
Either make a bechamel or use condensed mushroom soup if pushed for time. A bechamel is milk brought to the boil with flavourings. Some recipes call for mace etc but you'll be fine with a roughly chopped onion and some garlic. Non-dairy (oat) milk works just as well.
If you can, allow the milk to cool after bringing to the boil.
Weight out 50g plain flour and 50g butter or non dairy alternative.
In a heavy bottomed saucepan melt the fat and then mix in the flour, allow this to cook out for a couple of minutes, this gets rid of the floury taste, expect it to turn into a small doughy ball, this is ok.
Add the milk in stages bringing to the boil slowly whisking out lumps as you go (don't worry, diligent whisking will remove even stubborn lumps).
Now to assembly. In an ovenproof dish, put a layer of red ragu (thin) and then a layer of dried lasagne and repeat.
End with a layer of lasagne on top, ideally I'd try and get 4 pasta layers in there.
Pour on the bechamel.
Put a final layer of breadcrumbs and then cheese on top, bake for a couple of hours in a low oven (gas mark 3 or 4).
Ready for the freezer