Welcome to a weekly feature on my blog – Ben's Zone. Written by husband… Ben. A foodie, coffee obsessed, ex-smoking, ex-drinking and Ridgeback loving Dad. Who is also seriously into his fitness.  You can find him on the blog (mostly) on Sundays. Enjoy!
Windsor Spartan Sprint Review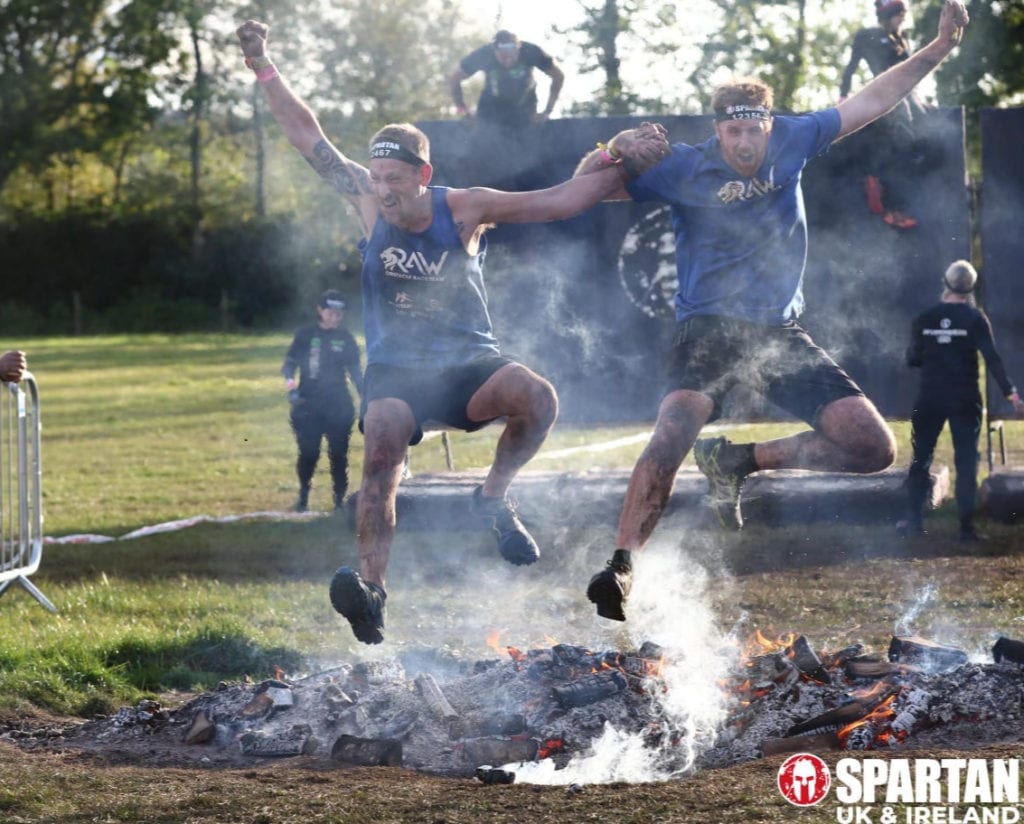 It seems like ages since I did an OCR review and the truth of the matter is that I have not been racing much over the summer.  A lovely holiday and some business trips have kept me pretty tied up.  I'd almost forgotten that some time ago I agreed to run the Spartan Sprint at the Windsor Trifecta weekend with my friend and RAW team mate Andy.  I have to be honest, my previous experience of Spartan races was not positive and so I only really did this as I like racing with Andy and it's literally on my doorstep.  For whatever reason you see, the Windsor Spartan Trifecta weekend is in my local woods, Swinley Forest.
All this added up to me feeling a bit sketchy and not hugely stoked for the race. I couldn't have been further wrong though. The Sprint is the shortest race offered by Spartan and comprises a 6km distance with around 20 obstacles. In the middle is the Super which is what I did a couple of years back in the US and the mighty Beast. There is also an Ultra distance but that only takes place once a year.
Organisation wise the whole experience was very slick. We didn't drive as we live so close but the festival area itself was nice and well run. Waiting times for bag drop and registration were minimal considering the massive amount of people involved. I was a little put out that a bag drop was £5 but then I suppose this is down to the sheer cost of organising the event. Registration was easy and we changed to a later wave with no hassle, which was handy given that one of us had got the start time wrong and was 2 hours later for his wave.
The course was perfect for me. I love this forest and the course got a lot of the best features in, from tight and twisty single track, through proper marshes and into my favourite bit, the rooty hillsides where the thin root covered floor made it feel like we were running on a sprung dancefloor. I adore running in these woods and I feel like the Spartan team really managed to get all the highlights in there.
Obstacles were tough. A couple of hard carries and a fair amount of climbing and walls added up to some really sore arms by the end of the day. I do seem to remember that much of these obstacles were in the one I did in the US a couple of years back. I don't care. I'm not one for a constant arms race in terms of obstacle creation. Simple obstacles, well timed and well executed trump a load of showy nonsense any day of the week. There were some big set piece obstacles in the festival area and they were a lot of fun. It's probably that the obstacles were right first time and don't need a lot of continued tinkering. My favourites were the spear throw, which I remember liking from last time and the inclined wall (never thought I'd ever say that) and, of course, the fire jump, which is a Spartan stalwart with good reason.
So, what was bad.  Cost is the first one that springs to mind.  Even with a discount I paid £55, which is a lot for a 6km race but it was all very well executed so I can forgive that.  As Andy said 'A Spartan is never going to be a cheap race' it was tons of fun though.  I had not enjoyed the first one I did in the US as I felt it was very under-marshalled and had a weird, aggressive atmosphere.  This was the opposite.  There were marshals everywhere and they were all super friendly, even when it was time to do burpees (the traditional Spartan punishment for failing an obstacle).
So, the Swinley Spartan, as I shall refer to it, has shown me why Spartan races are such a popular brand in the UK. It's hard, the obstacles are hard and the race directors clearly know how to get the very best out of the terrain. Worth the money.