*Advertisement Feature
Healthy Halloween: Making Pumpkin and Coconut Noodle Soup with Aldi
Halloween and pumpkin season is upon us, my children are currently debating whether it will be best to stay in and hand out sweets or go out trick or treating next week. I'm pretty sure I can guess which one will win!
We've carved a pumpkin for several years now, but we've never made anything with the pumpkin insides before, which is quite a waste really if you think about it. So the children and I, in collaboration with Aldi have set up this year of carving a pumpkin and then cooking something with the pumpkin flesh afterwards.
Aldi set us the challenge of making something healthy that the children would eat too. They have a selection of recipes on their website, but after asking the children we decided to make the Thai pumpkin and coconut soup.
Pumpkin Carving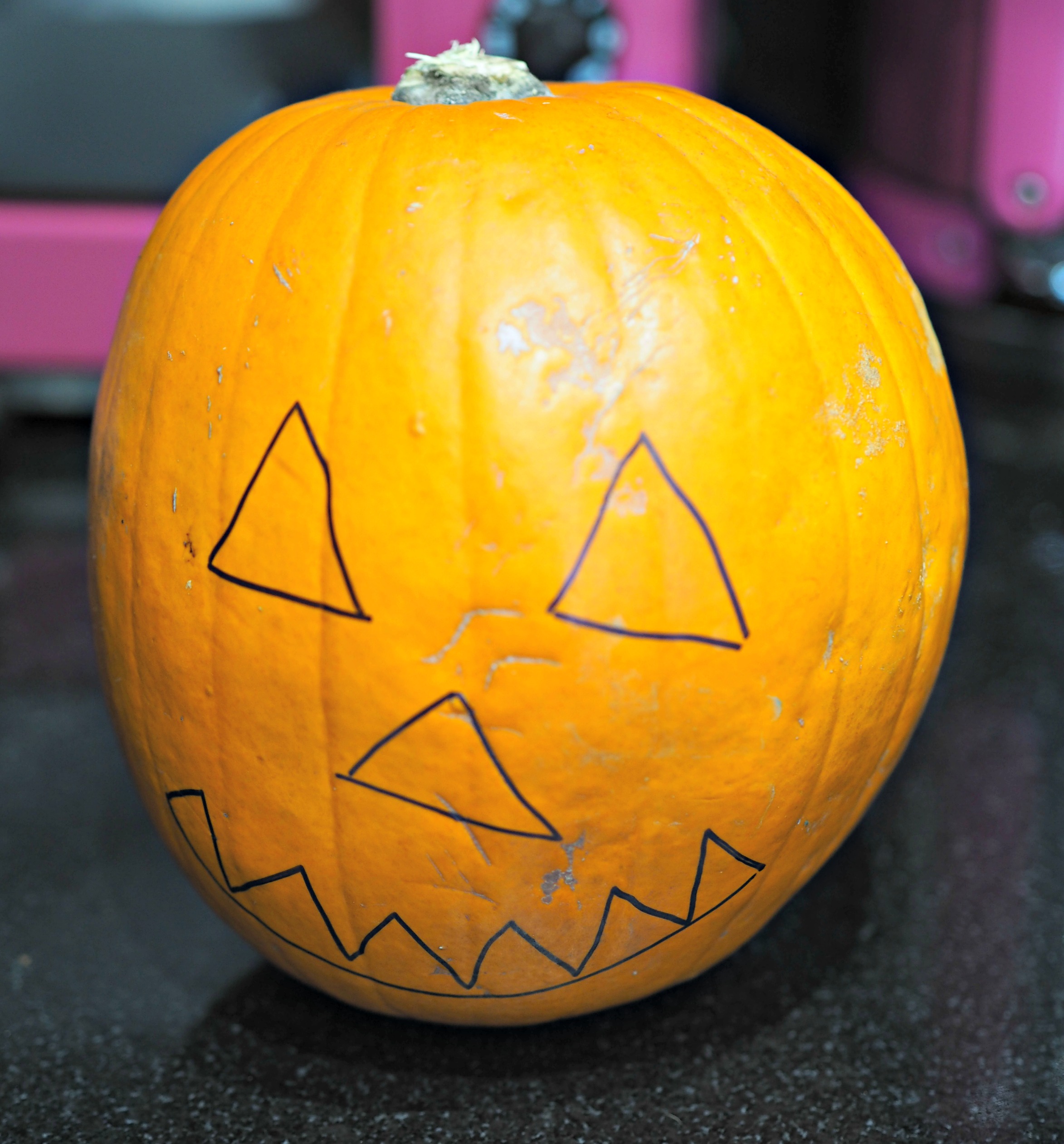 First things first, pumpkin carving. I started by drawing a face on with a sharpie pen. I went totally old school and basic, but if you look on Pinterest that are some super cool pumpkin ideas out there if you want to get adventurous. Then I took a sharp knife, cut a whole in the top and carved along the drawn lines to make the face. this bit I did entirely on my own, as I didn't think it was safe for the children to do.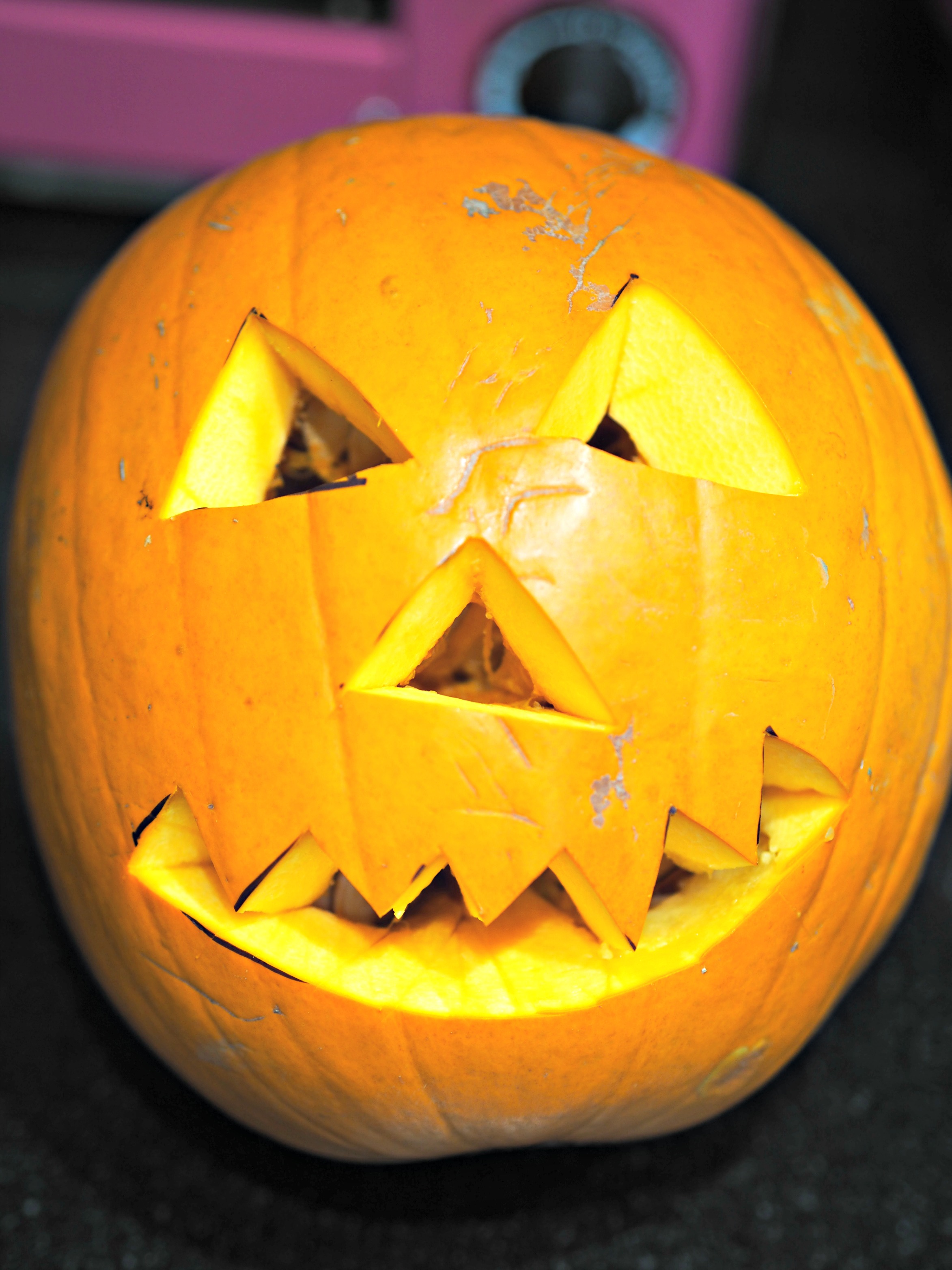 After the dangerous pumpkin carving part was done, the children helped me scoop out the pumpkin seeds. We did this using metal spoons and our hands, the children proclaimed this part rather slimy and disgusting. The part of the pumpkin we needed to the recipe was the flesh, the part the lies next to the pumpkin skin which needed to be carved out with a knife. Again, I did this part. I've never carved pumpkin flesh out before myself and it's not particularly easy when you want to keep your carved pumpkin in tact, it would be much easier if you could cut it open and carve the flesh out, But of course that would defeat the object wouldn't it?
Pumpkin and Coconut Noodle Soup Recipe
As I mentioned above, we decided to make the Aldi Thai pumpkin and coconut soup recipe, but we tweaked it a little bit. For example we took out the chilli as there is no way my children would eat if it they knew it was in there, but also since my stomach ulcer rupture I have found my stomach can't really tolerate it. We also decided to add some noodles to the recipe too. As Aria is allergic to cow's milk I also switched out the butter for a dairy free alternative. I also took a couple of short cuts to try and save time, see my tweaked recipe below.
In order to get my children engaged with the recipe as I was really quite nervous as to whether they would eat it. I took them to Aldi with my to choose the ingredients, they got to choose which pumpkin we bought, helped me look for the ingredients on the shelves and pack them. Then they also helped me to cook the soup. From making the stock, operating the food processor and crushing the garlic, while I did the hot things on the stove, anything else I thought was age appropriate I got them to do.
Ingredients
500g Pumpkin flesh
1 x Large Onion
1 x stalk Fresh Lemongrass
1 x clove Garlic
30g dairy free butter
1 x Quixo Vegetable Stock Cube
200ml Boiling Water
1 x 400ml Asia Coconut Milk
150g Fresh egg noodles
Salt and Black Pepper
Fresh Basil Leaves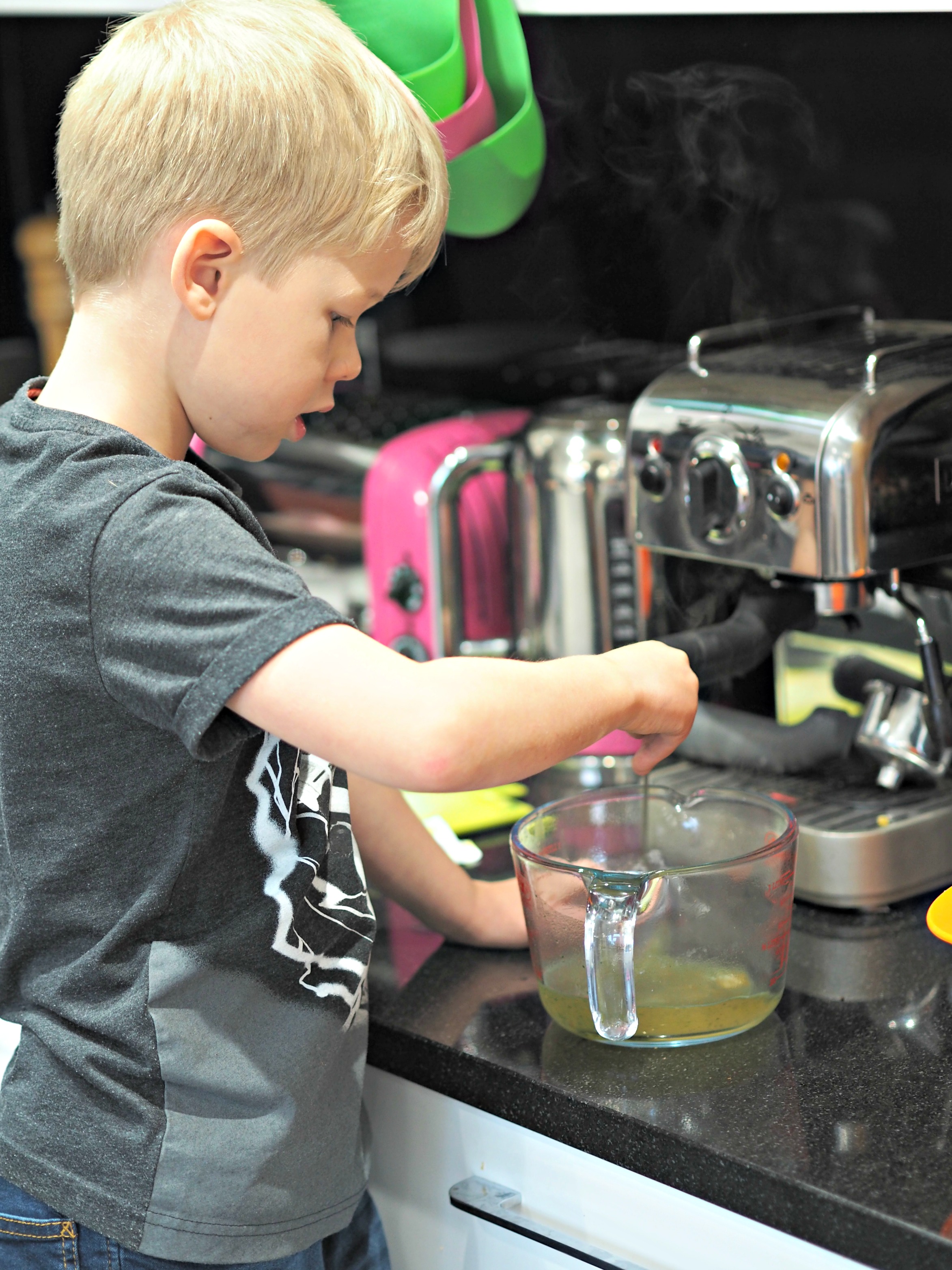 Recipe
Peel and chop the onion into quarters.
Peel the first piece of skin off the lemongrass. Cut in half lengthways and then chop into quarter.
Place the onions, pumpkin and lemongrass to a food processor and blitz.
In a large saucepan, melt the butter, then add the onion, pumpkin and lemongrass mixture and sauté for a few minutes on a low heat.
Dissolve the stock cube in the boiling water and add this to the saucepan.
Peel the garlic and chop finely and add to the pan.
Open the coconut milk and pour this into the pan, season with a little salt and black pepper. Bring to the boil then cover and simmer for about 20 minutes, until the pumpkin is soft.
Add the cooked soup back to the food processor and blitz again.
Boil the kettle and soak the noodles in the hot water until they soften. Then add to the pumpkin mixture, add a little of the water if you think the soup is a little too dense. Reheat gently.
Serve topped with some fresh chopped basil.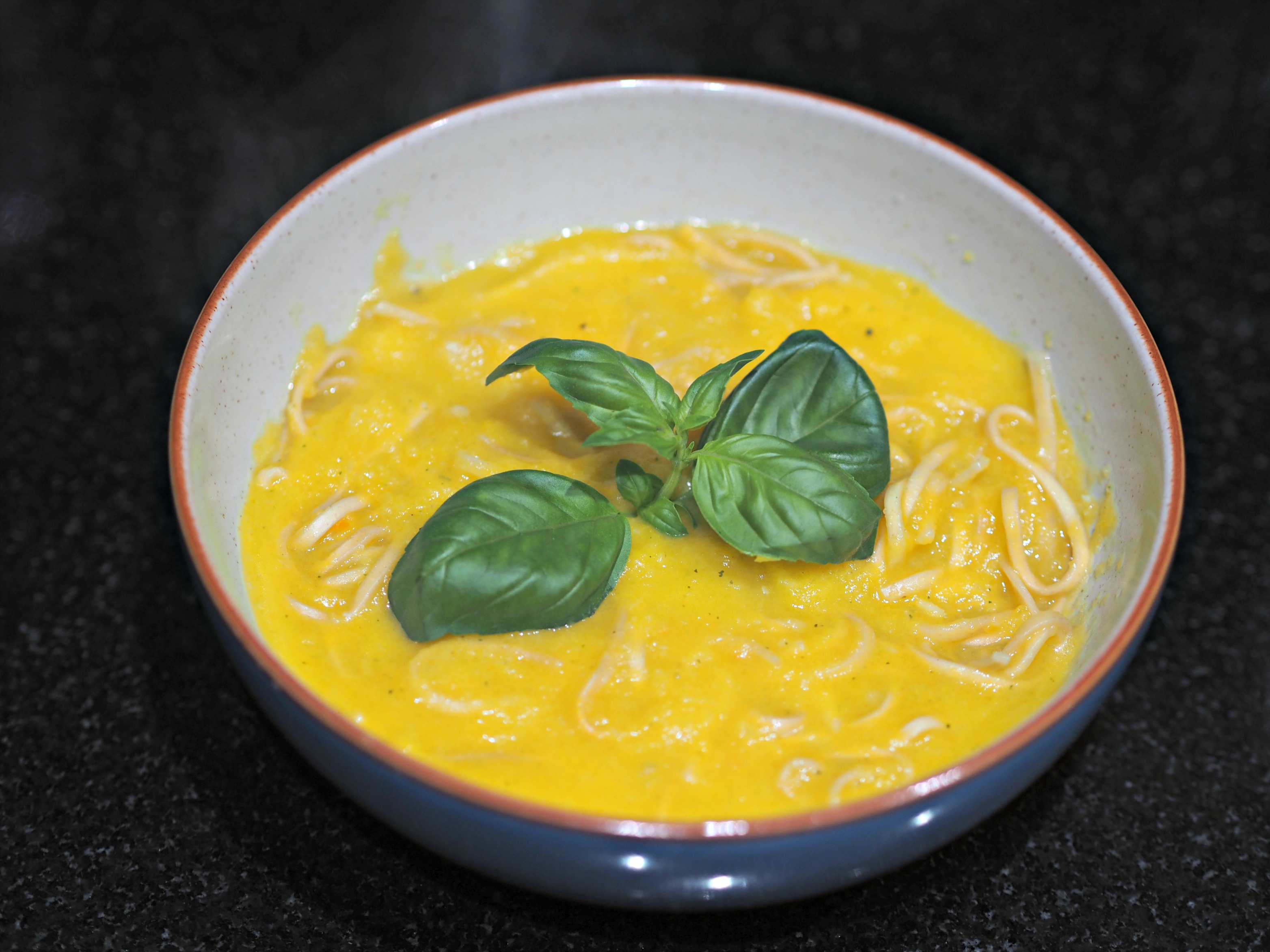 The Cost
This recipe was actually really cheap to make. I already had the onions and dairy free butter in at home and the rest of the ingredients came in at £3.48. We bought a large pumpkin which cost 79p and we would have bought this for Halloween anyway, so without that cost you're looking at an extra £2.69 to make this dish which fed a family of four. Plus I had plenty of vegetable stock and noodles left over for another meal.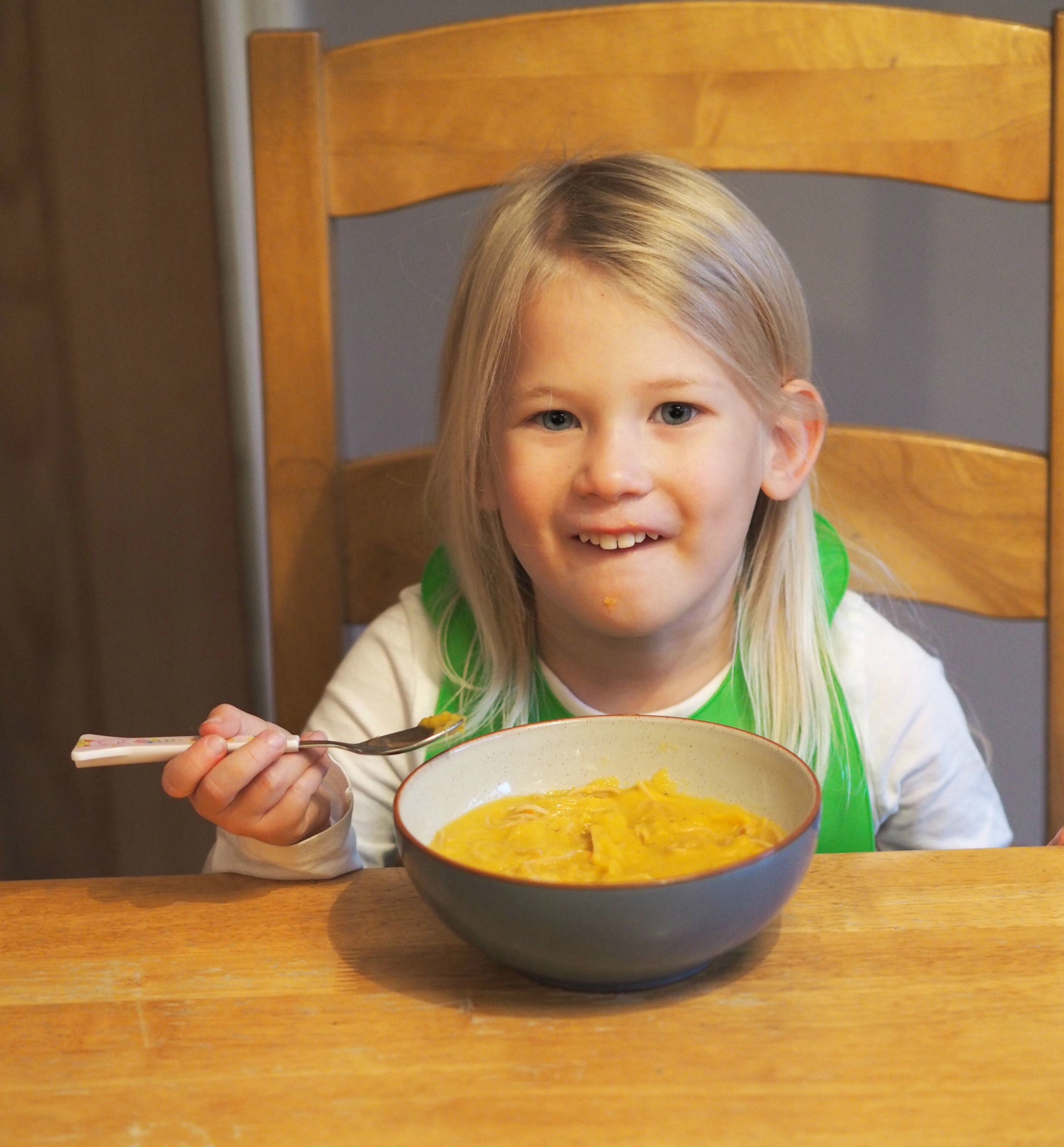 The Results
I thought the recipe was delicious and was really pleased with it. But, of course the golden question is did my children eat it? I knew it would be touch and go, Logan in general really enjoys vegetables and often asks for them, for Aria on the other-hand it can be a bit of a battle and I tend to try and hide vegetables in dishes where I can. She would live on baked beans if I let her!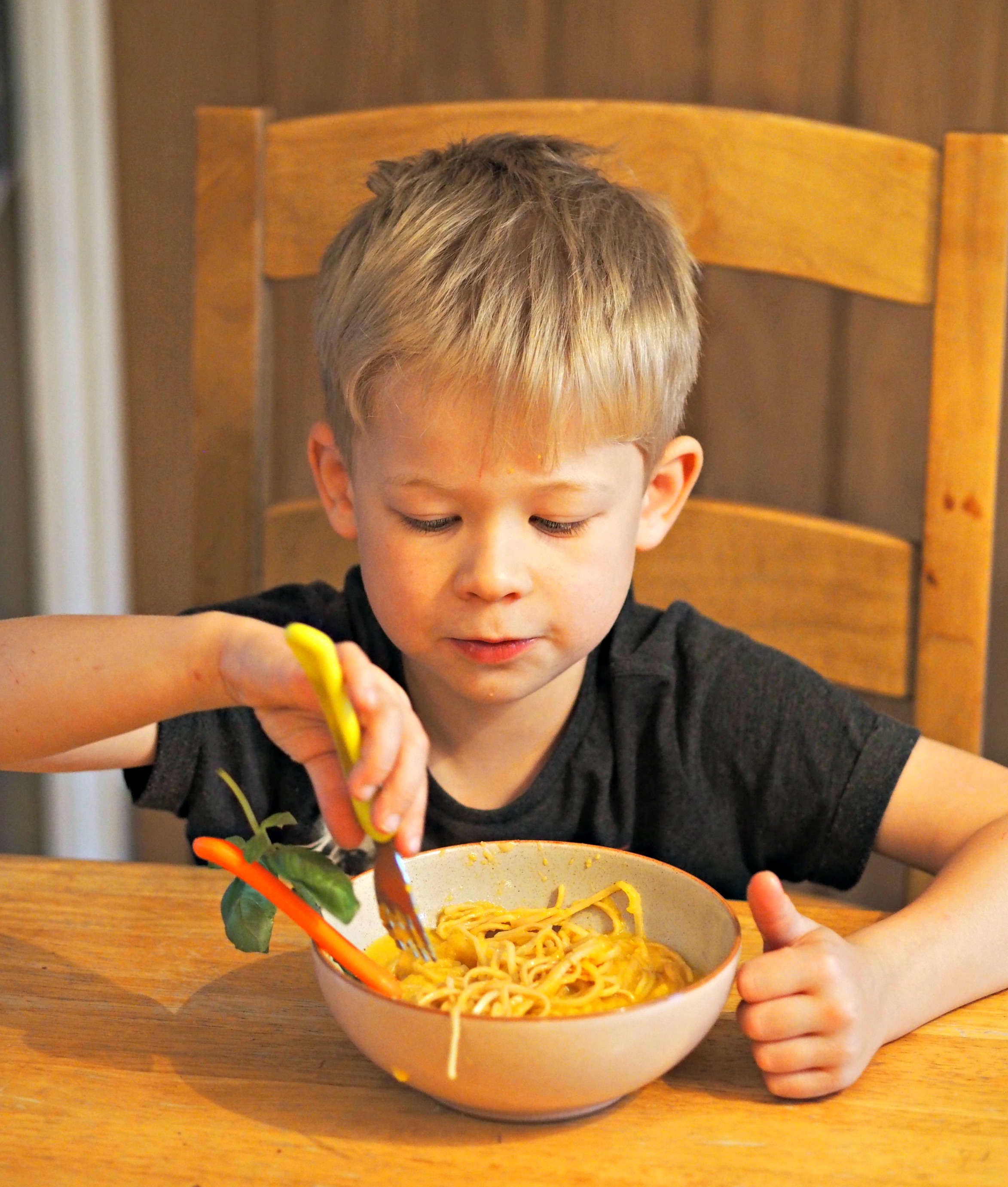 My children were excited about the soup while we were making it and very much enjoyed the process, commenting on the colour of it and the ingredients we were putting in it. But sadly (and because I like to be honest with you) when it came to dinner time they didn't eat it. Which was quite frustrating, but I guess such is life with children. I think it is one of those dishes we can try again as I do find with my children that sometimes it takes them a while to a new dish and I stand by my comments that this is a great way to make a family dinner out of something you would normally throw away.