*This is a collaborative post
Updating our Front Room with Sofology
Updating our Front Room
Just over a week ago I was invited to the opening of the new Sofology store in Farnborough. I got to look through some of their gorgeous sofa collections, but it also got me thinking about updating our front room.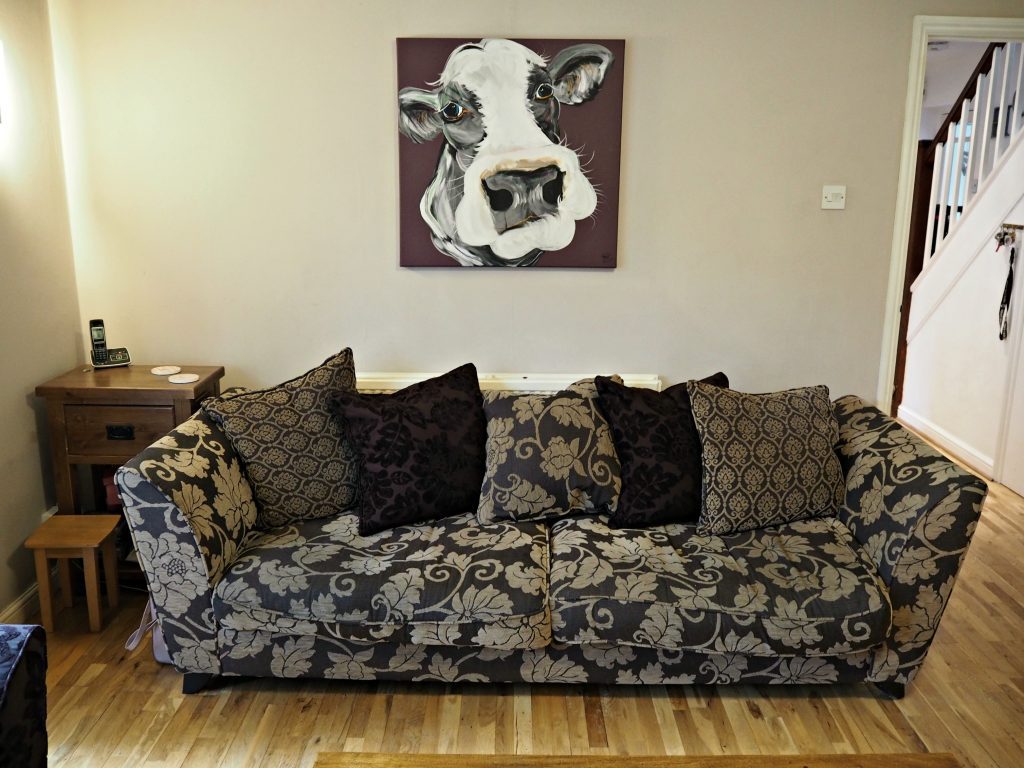 If you've been following my blog for a little while, you will know that we moved house just over two months ago. After we moved, it's funny how furniture looks ok in your old home, but as soon as you place it in a new room and a new home you can see how tired it's looking. After we moved that's pretty much what I thought of my sofa and it was pretty clear we needed a new one. I also worked out that it is nearly ten years old too, so it has given us a decent service!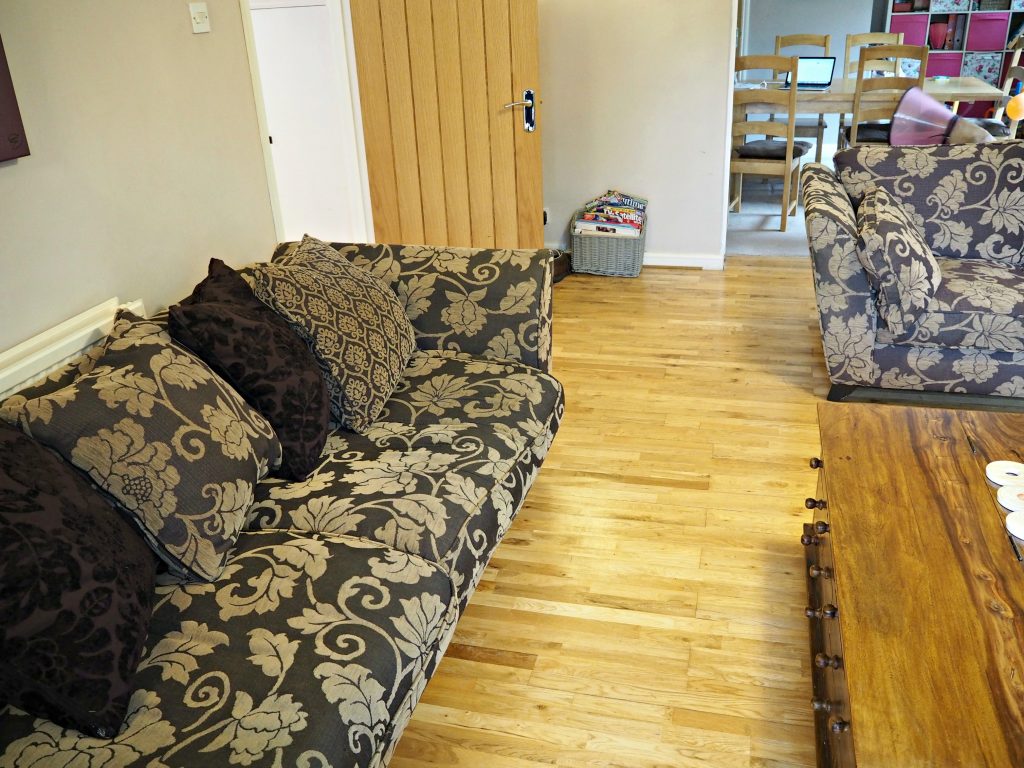 Our front room needs a bit of TLC and in the long run, we have some big plans for it. But I have been thinking about some small changes I can make just to give it a bit of a lift for now. As the bigger work we want to have done would involve builders and we just don't have the funds for it at the moment. Especially as we have found a few unexpected things wrong with the house.
How our Front Room Looks Now
First of all, let me talk you through it. The biggest feature is the red pillar in the middle. This has been built out by the previous owners and is actually made of MDF. They have built it out to incorporate the large TV which they left behind as they were unable to put the wall right without doing so (hence why the astute may notice two TVs currently in our front room). I like to refer to it as the red pillar of doom, simply because I hate it, it's just not to my taste.  The ideal aim is to rip it out and see what's behind it. Remove the TV from the wall and restore a more classy fireplace with a stripped oak mantle. But at present, that's just not possible. We have no idea what we're going to find behind it more than anything. So, for now, we are just going to repaint it, so the room doesn't just scream RED!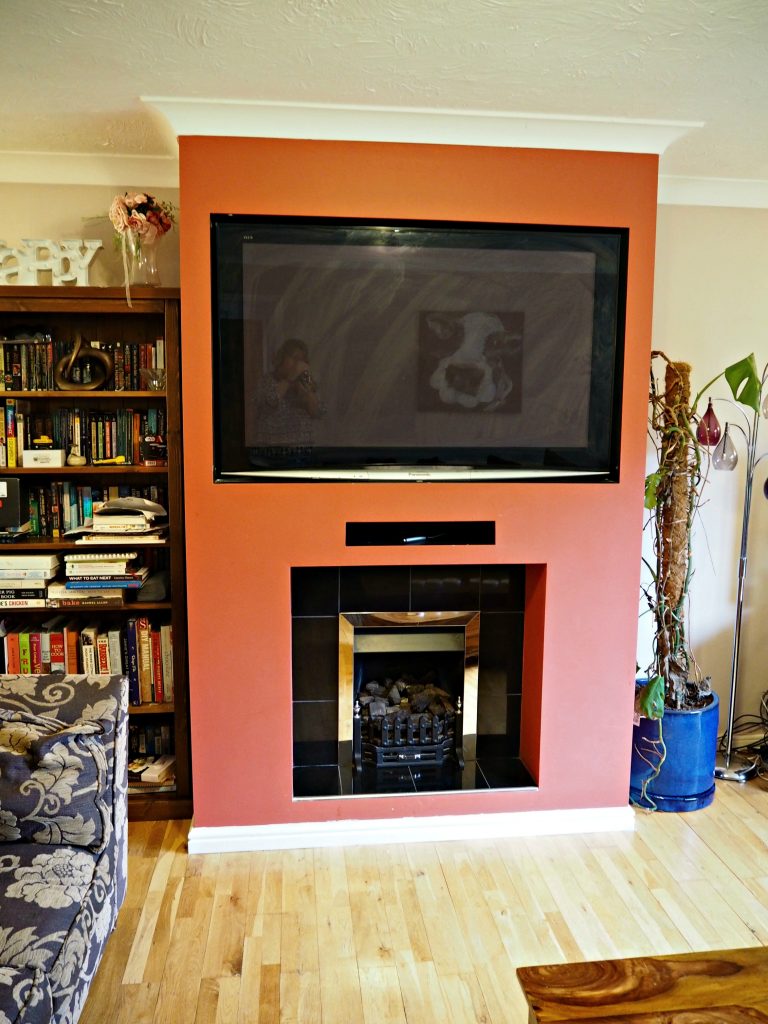 Another thing I want to update is the main light in the room. It's a dodgy uplighter thing – seriously what is going on with that light? It also doesn't put out a great light, so I think a change in the main light at least will make a big difference.
Next up is the curtains, we're currently using the curtains left behind. But I have brought my old curtains with me which I think will suit the room better. Mine are much lighter in cream with purple flowers on them and the current curtains are quite dark so I think is another thing that will lighten up the room. As well as a bit of a de-clutter on the bookshelves as everything was kind of dumped on them when we unpacked and not really sorted in a nice way.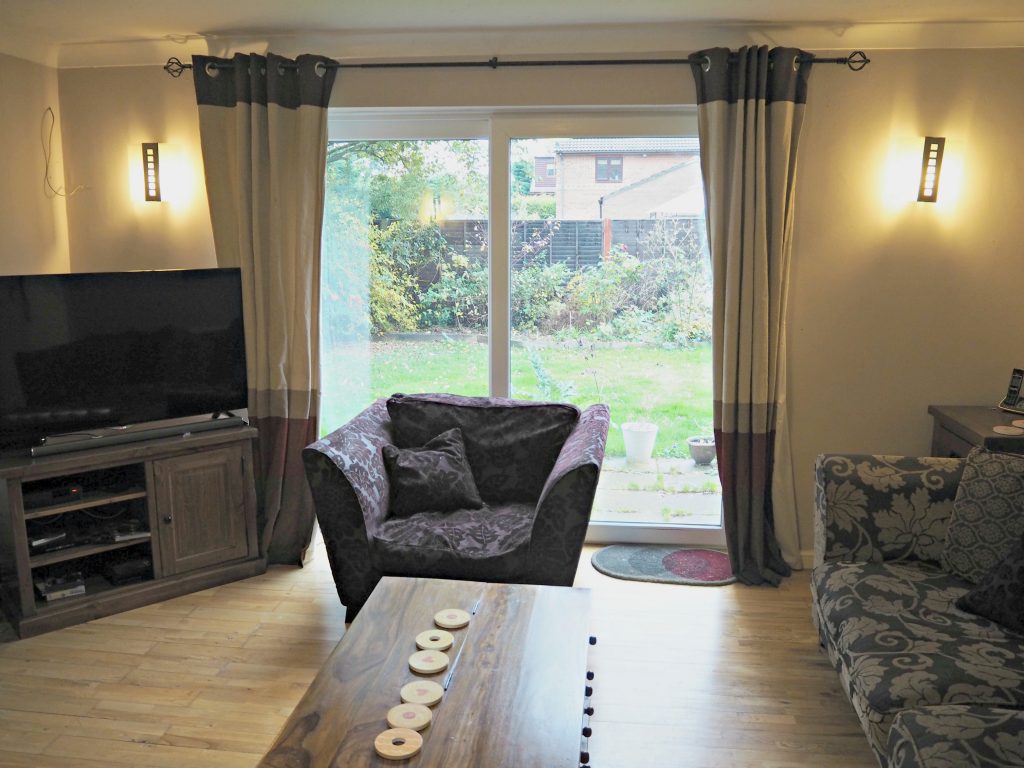 Sofology Sofa Decision
So the final element that I think will really make a difference is new sofas. Before I went to the new store opening in Farnborough I have a look through their website and choose five sofas that I thought would look great in our front room.
My favourite colour is purple and I want to bring that colour into the front room. As you can see from my photos above I also have a dark purple Caroline Walker painting which I love and want to match in too. Ideally, I am looking for a dark purple sofa, but I did think about maybe a silver or grey that might help lighten up the room and blend well with purples too.
Before going into store, the five sofas I selected that I like – The Bergen in mauve, The Liberte in a mixture of pinks and purples, Palmerston in Purple/Cranberry, The Lille Lennon in silver, and the Marseille in charcoal and grey.
When I went into store they didn't have the Bergen and Palmerston in store, so I did look at some alternatives, simply because I found that the sofas look different in real life to what you see online. Because of this, the advice I would give to anyone looking at sofa would definitely be to go and look at them in store before you buy.
Here are my four favourite from my store visit.
The Liberte
This is such a beautiful suite and I think it has to be my absolute favourite. I liked it when I saw it on-line, but I thought it was even more stunning when I saw it in real life. When I saw it online I had thought I would like an all purple suite, but actually seeing the fab combination of pinks and purple in-store really changed my mind as I thought it looked so colourful and vibrant.
The Lille
This is quite a delicate suite, but I really like the quirkiness of it. In-store it was showcased in the Teal which was a beautiful colour, but wouldn't really fit with my current accessories. So I would be looking to get this in silver. While I think it is a really beautiful sofa, I worry that it might be too light a colour with two small children.
The Marseille
I think this is probably the most practical choice. The greys are really a good neutral colour and I think it would stand up to family life with two small children well.
The Etienne
The Etienne was a suite I didn't really appreciate until I saw it in the flesh in-store. As with the Lille it was showcased in-store in a different colour than I would purchase myself in the midnight blue. But it also comes in a gorgeous Damson colour which I really like, although it is quite dark.
So tell me which sofa would you go for? At the moment I think the Liberte is my favourite, but I will keep you updated on my decision and decorating. Don't forget to follow me on Instagram too, where you can see lots of mini updates on my Insta stories.