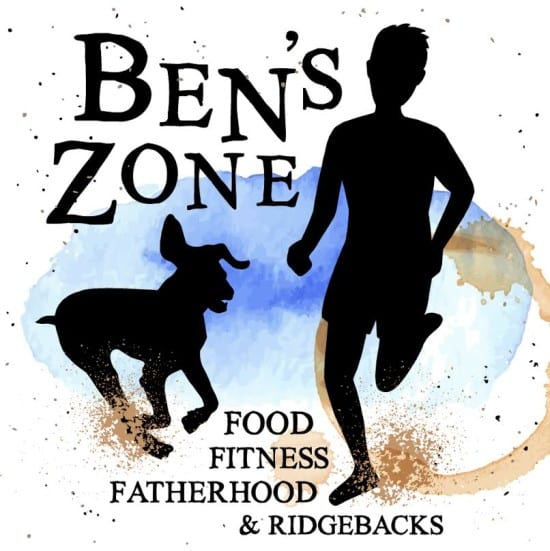 Welcome to a weekly feature on my blog – Ben's Zone. Written by husband… Ben. A foodie, coffee obsessed, ex-smoking, ex-drinking and Ridgeback loving Dad. Who is also seriously into his fitness.  You can find him on the blog (most) Sundays. Enjoy 🙂
---
1000 Mile Challenge – 500 mile Update
This week I'm celebrating as I have blown through mile 500 of my 1000 mile running challenge in 2017. The background is simple, in my obstacle race team (RAW) we take part in virtual challenges to bring us together and keep us training. This year it's simple, run 1000 miles. When I first blogged about this I think it was fairly clear I had the fear. It was January, I'd realised it meant running every day and it was super dark, the fear was looming.
As the days have got lighter the running has got easier and I've got more into the groove of being out every day and I'm pretty much loving it. The dog is looking like an absolute weapon and I am looking, well, a little bit porky, no idea how that works, but nonetheless I'm happy. I don't hugely enjoy getting up at 5.20 in the morning to go running but I cannot remember a run where I have not been glad to be out once I am five minutes in. To make hay while the sun shines, I have brought back the start time so that I can get a full 10km in before I leave for work. Now that's been going on a few weeks I am quite used to that as well.
The downside is that I'm not really resting which means that aches and creaks in the joints are not getting any better and I'm not getting any faster, I suspect due to lack of a rest day but it's ok. The value for me is less about the training effect and more about the fact that I'm out enjoying the forest every morning. This morning it was hammering down with rain and there was a cold wind but I was still glad to be out there and enjoying nature.
The solstice is approaching and I am not sure how I will feel once the days start getting noticeably shorter again but I'll deal with that when the time comes. The fact that I have upped my daily distance distance a significant amount means that I can see that I'm gaining about 1 1/2 weeks 'extra' with every month I run. I've already made back enough to not run at all on holiday (though I will) and stay on target so it's quite plausible that I may not have to run too far into winter. I will though because despite the tiredness, lacklustre times and achy joints each morning reminds me of a basic truth. I love to run.