*This is a collaborative post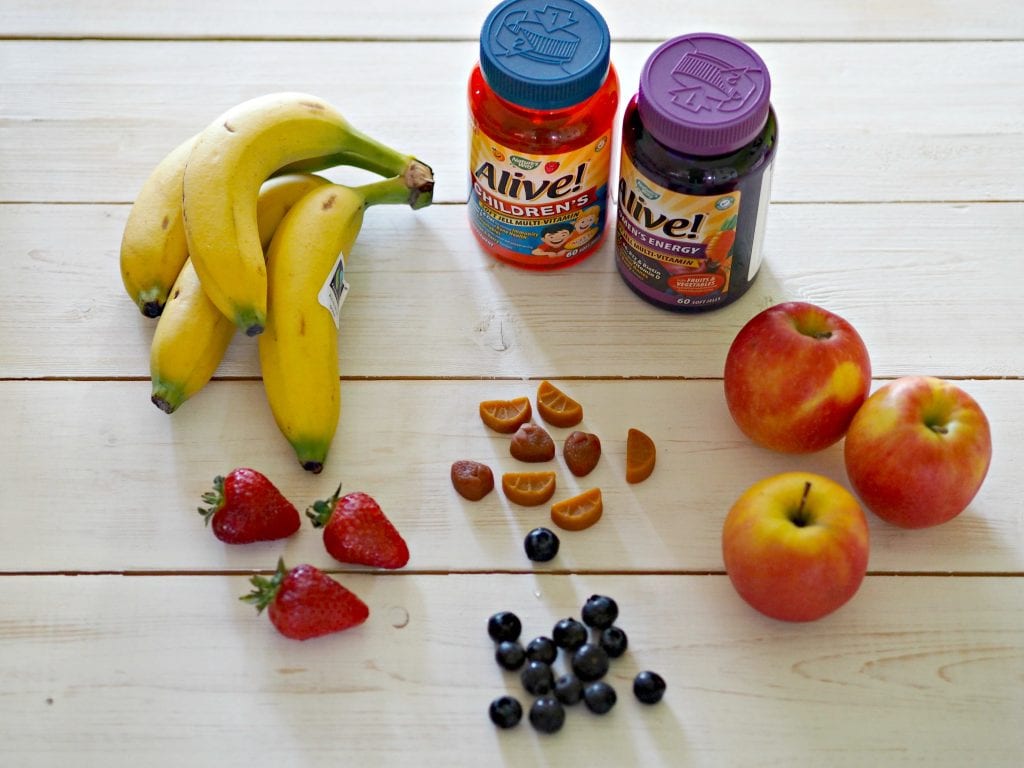 Are You and Your Children Getting Enough Vitamins in Your Diet?
Earlier this year, the government came back with a change in advice about the amount of fruit and vegetables we should all eat in a day. Changing the advice from 5 to 10 a day. With eating more fruit and veg in a day cutting the risk of stroke and heart disease, the evidence is quite compelling.
On reading the advice, the first thought that came to me was how the hell do I manage that? A National Diet and Nutrition Survey in September last year showed that only 8% of 11-18 years were getting 5 portions of fruit or veg a day, which shows that for parents the struggle is real! But even for parents the struggle is hard with only 27% of 19-64 year olds getting 5 a day too. It seems that most of us struggle with 5 a day, let alone 10.
What Makes a Portion of Fruit or Veg?
A portion of fruit or vegetables is classed as 80g or dried fruit 30g.
As well as your standard fruit and veg, the following items are also included in your portion for the day:
Tablespoon of tomato puree
Glass of fruit juice
3 tablespoons of lentils or chickpeas
3 tablespoons of baked beans or kidney beans
Remember, canned fruit is classed a portion as well as fresh fruit.
Source: BBC Good Food
Vitamin D
Another thing worth considering is the impact of vitamin D, particularly in children. When my oldest was small, I attended a workshop held at my local GP surgery about childhood illnesses. During the workshop, the GP holding the presentation talked in particular about vitamin D and how many children were now deficient in it. In fact, his actual words were 'there is a vitamin D deficiency epidemic'. He cited many reasons from the overuse of suncream, either a too high factor or not giving children a little no suncream time at all. To of course diet.
A lack of vitamin D is needed to keep bones, teeth and muscles healthy and can lead to rickets. You can read more about it on the NHS website. It was after this talk that I made the decision to put my children on vitamin D supplement. I actually went out and bought some the next day and they have been on them ever since. As I also have a daughter who is allergic to milk protein, having a vitamin D supplement can also make sure she is absorbing the calcium she gets in her diet more effectively too.
Consider Adding a Supplement to Your Diet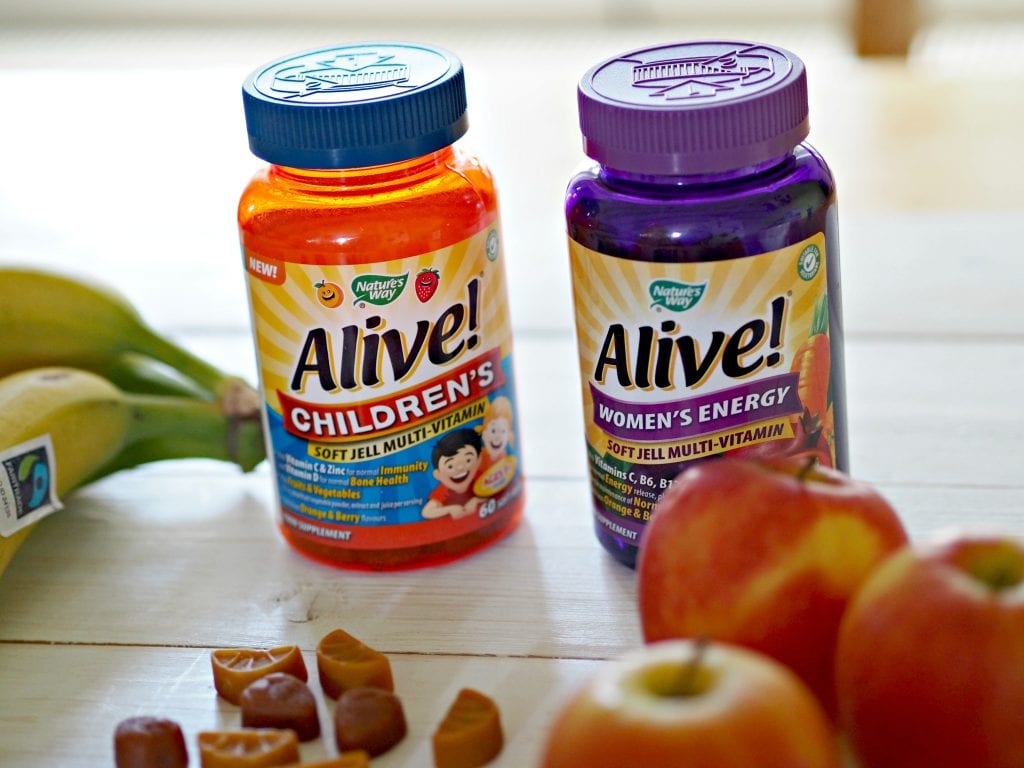 As well as my children, my husband and I are also on vitamin supplements. This started really when we were trying for a family and I started taking pre-natal vitamins, and then of course supplements for breastfeeding. My husband noticed that he was getting more colds than me and I suggested he started taking some vitamins too. I have worked with Alive! Vitamins on this blog a couple of times now and I have to admit I am a complete convert to their products.
For the last few months I have been taking Alive! Women's Energy soft jells, which contain Vitamins C, B6, B12 and Biotin which support normal energy plus Vitamin D for the maintenance of normal bones.
I also have switched my children to Alive! Children's Soft Jells, they contain optimised levels of all the most important vitamins and minerals including Vitamin C and Zinc to support normal immunity and Vitamin D to support normal bones.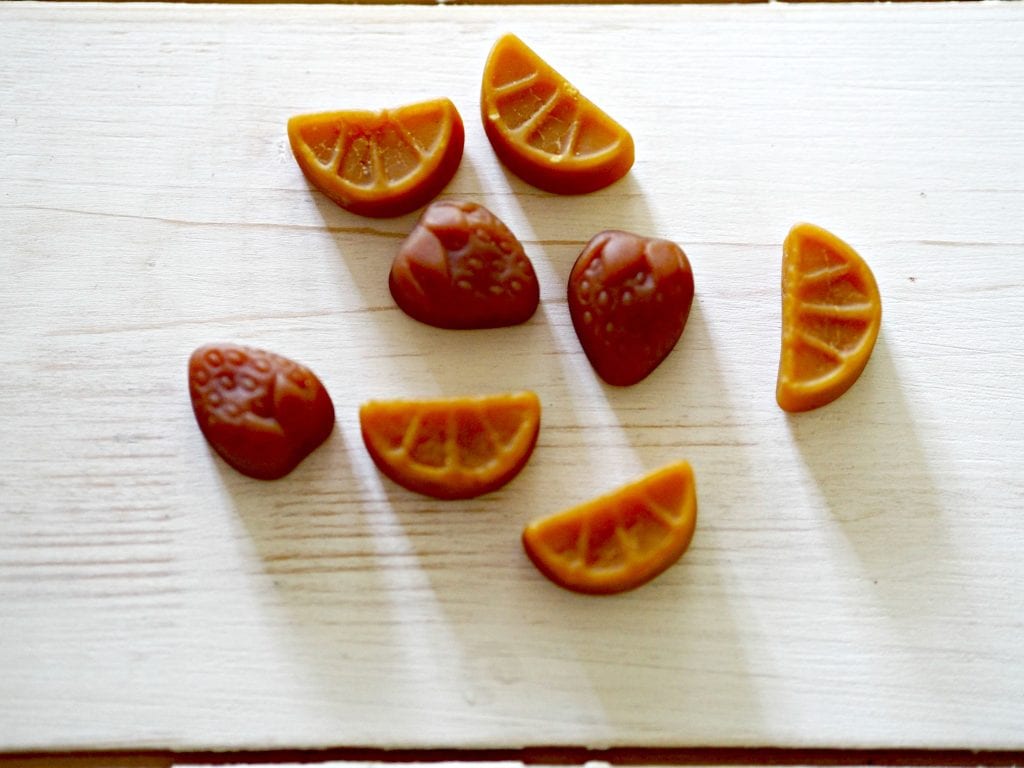 I think most of all, the big thing about them is that my children find them tasty. If I forget to give them one with their breakfast in the morning, they ask me for one. So there is no battle in getting them to take one at all. Also, as Alive! comes complete with a unique dried blend of 26 Fruits and Vegetables it's another great way of getting vitamins into them if you can't get them to eat 10 or even 5 portions of fruit and veg a day.
How to Increase Your Intake Fruit & Veg Intake
Here are some tips on how we try to get more fruit and veg in our diet each week:
Add fruit to your cereal or breakfast every morning.
Have a fruit juice or smoothie with one of your meals.
Hide vegetables in foods. For example our spaghetti bolognese always has carrots, celery, onions, tomato and often courgette mixed into it – that's 5 already taken care of. Carrot mixed in with mashed potato is another good one, and add vegetables to pasta sauces. the food processor is your friend here!
Make fun snacks for your children. Carrots sticks and humus, dried fruit and plain yoghurt, tomatoes and cream cheese.
Make a fruit salad. For some reason my children get so excited when I do this and it has much more appeal than a plain old apple or banana.
Do a bit of research into cereal bars as there are some brands that are made with pureed fruit instead of sugar and are classed as one portion of fruit. A good example of this are the Bear Nibble Yoyos (my children love these) or the Nakd Bars.
Add more pulses into your diet. A winner of a meal in our house is Jamie Oliver's Cassoulet. Firstly it contains sausages which are always a favourite, but it also contains 6 portions of fruit and veg in one meal including cannellini beans.
Add vegetables to cakes. Carrot cake is an obvious one, but beetroot and courgette taste delicious in chocolate cake. I made chocolate courgette cakes last summer and my children couldn't get enough of them.
Get pasta with vegetables in. You can buy pasta with added carrot, tomato and spinach into the actual pasta itself.
These are just a few of the ways I get extra fruit and veg into my children's diet. Do you have any tips to add?