Imaginext DC Super Friends Arkham Asylum Review & Giveaway
I think since seeing the Lego Batman movie in half term, my son has decided that Batman probably is the coolest super hero ever. Sadly I nearly fell asleep, but that's another story! So it was great timing that the Imaginext DC Super Friends Arkham Asylum was sent to us to review. The asylum does feature in the movie too, so a good tie in.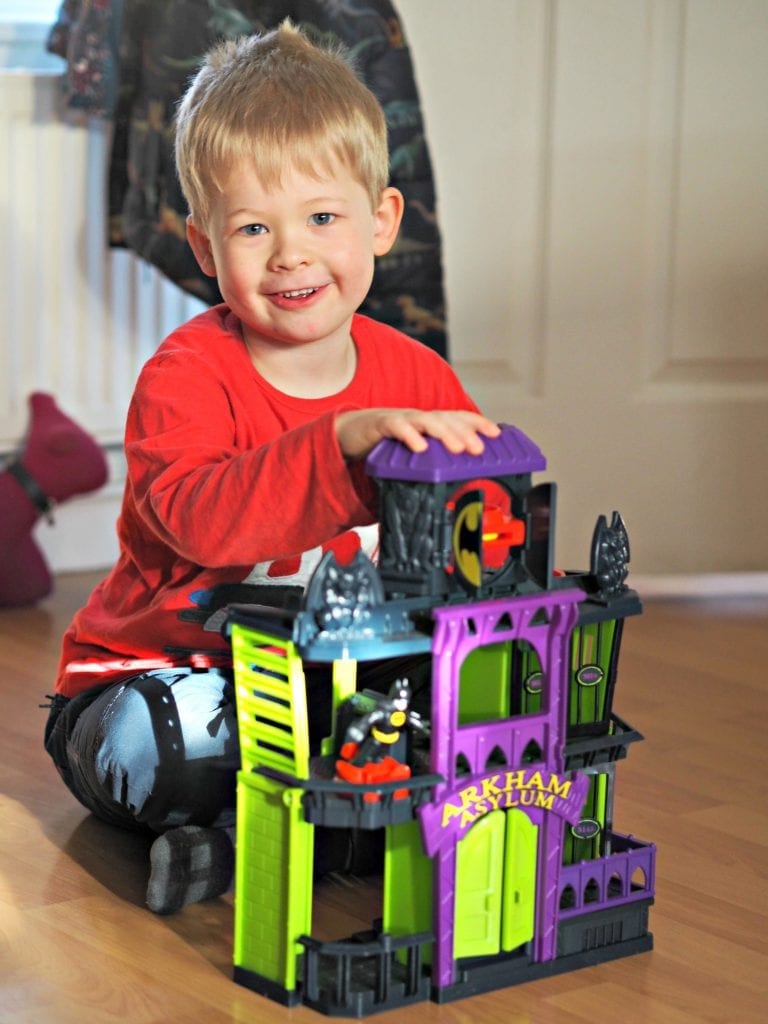 So it is a toy of the asylum that the baddies get sent to. What does it do? Now this is perhaps my son's favourite part of the toy. At the top there is a section where you can load up yellow discs, put Batman in the top pad, twist it and press and it fires discs across the room. The toy comes with three discs. This part caused much excitement for my son who pretty much fired them on repeat shouting 'take that joker'. You can probably tell from his face!
In the middle section there are the prison cells that the baddies go into. You can move Batman from the top standing pad to the middle one and use it to twist the cells open and closed.
A couple of things I would improve about the toy. I think it's a real shame that it didn't come with  a joker figurine as well. This was a cause of disappointment for my son too. We also found it quite hard to get Batman off the top pad – where he was set up when we opened the packaging – to move it down to the second pad to open the prison doors. There was no way my son could manage it on his own, and we only worked out this was a small red panel that went over his feet that needed to be removed by looking at the packaging to try and work out how you moved him.
The age range of the asylum is 3-8 years, and Aria being Aria decided she had to get involved with the new toy too. She is 3 in 3 months time so on the young side for the age range – although to be honest I often disregard this and just use my judgement if I think the toy is suitable for my children. But it was clear that Aria is at the moment a little too young and was unable to work out the disc launcher. She had to get her brother to do it for her, not that it seemed to stop the enjoyment. She has just as much fun running after the discs and bringing them back to her brother again.
This is a fun toy that Batman loving children will enjoy. There are a couple of things that I would change, but in fairness Logan was all about the disc launcher and has spent several days after school in his room firing them off at imaginary baddies.
RRP £36.99
Giveaway
I have one Imaginext DC Super Friends Arkham Asylum to give away to one lucky reader. To enter, please fill in the Rafflecopter form below.
This giveaway is for one person to win an Imaginext DC Super Friends Arkham Asylum. Open to UK residents only. The closing date for the giveaway is 31st March 2017 at midnight. One winner will be chosen at random.
*Disclosure: We were sent the Imaginext DC Super Friends Arkham Asylum for the purpose of this review, however, all opinions are my own.