*This post is in collaboration with Tesco
Putting our Christmas Eve Box together with Tesco
Last year I talked about our family Christmas traditions, and one that I introduced last year was a Christmas Eve box. Christmas Eve boxes are a new tradition that are rapidly growing in popularity. The idea behind them being that you give your children some items to keep them entertained on Christmas Eve before the big man in red arrives. As well as something cosy to go to bed in ready for the big morning. I'm actually kind of jealous because I would have totally loved one as a child! One of my favourite things was going to bed in new pjs on Christmas day, but I always used to think it would have been nice to wake up in new ones on Christmas day.
When I decided I would like to introduce one last year, I got a beautiful box made by a small business mum-preneur – Little Bird Makes , so that I can keep it and use it year after year. But all you really need is a cardboard and a bit of wrapping paper and you're good to go.
This year, Tesco contacted me and asked if I wanted to put together a Christmas Eve box together for my children in collaboration with them. If you are still thinking of putting one together, or just haven't completed your shopping yet then Tesco have a section on their website full of lots of ideas for Christmas Eve boxes. Also worth knowing that I did Click and Collect with them and was amazed at how quick it was. It arrived to my local Tesco Metro by 3pm the next day. I also had great fun choosing things for them, I do love buying gifts though!
I have a five year old son and a two and a half year old daughter and this is what I chose for their Christmas Eve box from Tesco this year.
PJs & Slippers
Pjs are a Christmas Eve box essential. I left it too late to get Christmas pjs, I must remember to shop sooner next year, so instead I went with Lego for my son and Frozen for my daughter. Both are bound to be popular!
My daughter has recently developed a bit of a love for slippers after finding a pair in a bag of clothes kindly passed on by a friend. So I thought it would be nice for her to have a lovely new pair for Christmas, the fairy pair I have chosen for her are actually musical, and monster feet for my son.
Books, DVDs and Activities

There is going to hit a point on Christmas Eve when your children are so excited you think that either their heads might explode, or yours will. My son has been fizzing since the weekend quite frankly. This is when having something in your Christmas Eve box to keep them entertained comes in handy. I have chosen an activity book with colouring and stickers for each of my children with some pencils. As well as a DVD each. Paddington for my son and Beauty and the Beast for my daughter.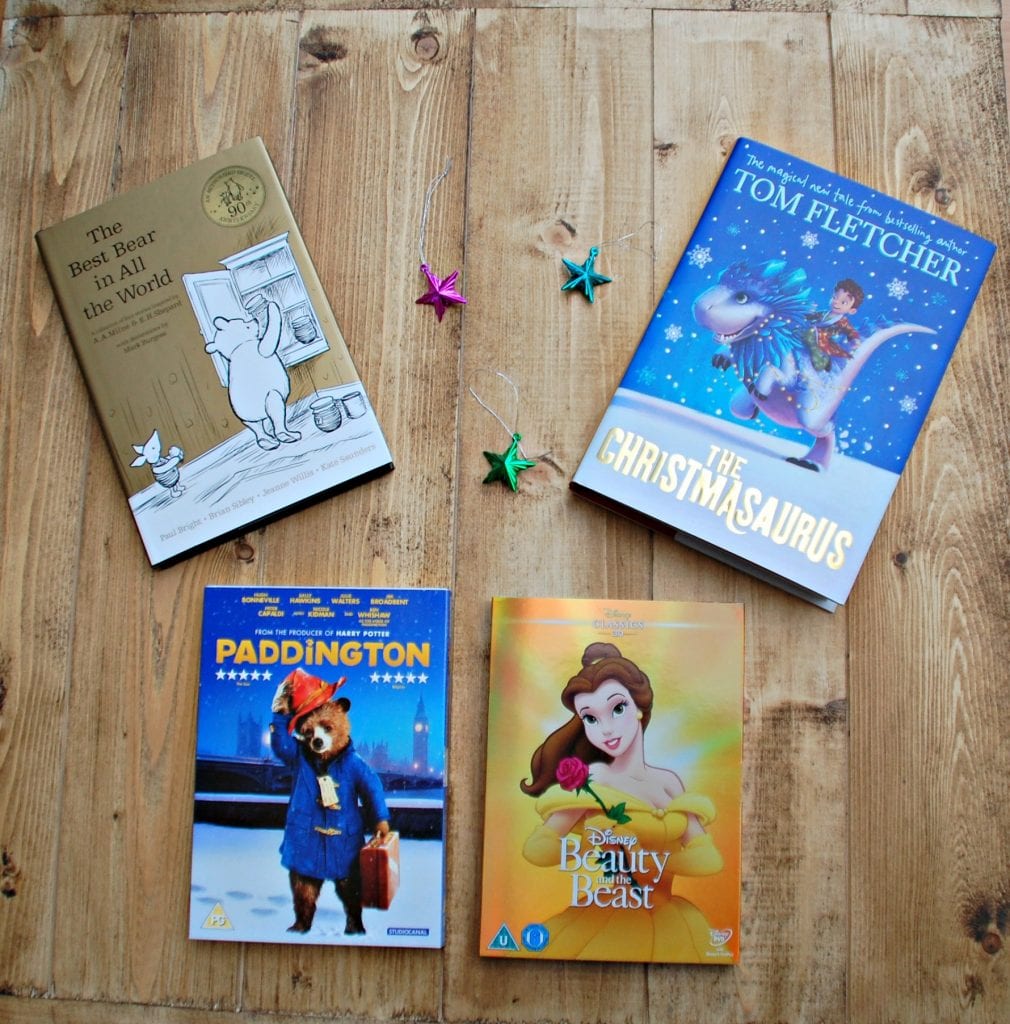 We love to read in our house, and read every single day. My son's teacher has been reading Christmasaurus by Tom Fletcher to them and he has not stopped talking about it. So I know he will be thrilled to get this and we can read a chapter each night. I went classic with my daughter, because who doesn't love Winnie the Pooh?
That's it, the contents of our Christmas Eve box this year. Are you doing one and if so what are you planning to put into yours?