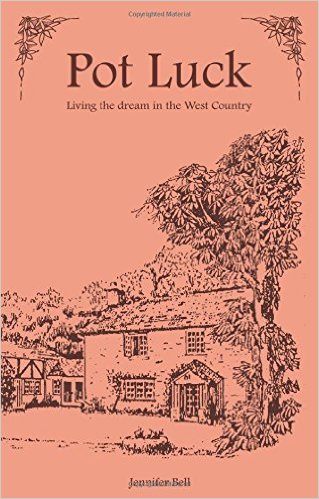 Pot Luck by Jennifer Bell
62 pages, including 6 pages of colour photographs
Lifestyle/Biography
Self published
Review by Hilary
Pot Luck is the story of a couple who gave up their nine to five existence in London to follow their dream of living and working in the West Country. Only married for two years, they sold up and moved after a holiday in which the 'magic of Cornwall got to us'. The book opens with an attention grabbing paragraph relating the author and her two children rushing to catch a train at the last minute after a hurried look at the property that would become their home and pottery business. From there it back tracks to explain how they arrived at this point, spending some years working in Cornwall, during which their children were born, and looking at many properties before finding the right one. Although they knew there were already over 350 potteries at that time in the West Country, they refused to be deterred and decided to work as a commercial business, supplying shops and stores, rather than the more uncertain tourist and studio potteries.
I enjoyed reading the book, my main problem with it was that there just wasn't enough of it! The business is set up, begins to grow, and seemingly rapidly progresses to Design Centre approval, selling to Liberty's in London, then on to Trade Fairs and international contracts. The book ends as the pottery is sold and the Bells are off to begin their next adventure, but apart from the occasional reference to something their sons are doing, there is no sense of the twenty year time period covered by the story. I am sure that there were long periods of plain hard work, when nothing much entertaining to a reader would have happened, but it felt a bit as if we were given the 'edited highlights'.
There are some anecdotes about things that happened during these times, but not nearly as many as I would have liked; for me, these personal touches are what make this type of book fascinating. There is a lovely cartoon of Malcolm working in the pottery with his broken leg in a cast which has a line drawn on it labelled 'flood level' and I really wanted to read how this came about! The colour photographs in the centre pages showed the people and the building, and even the family cat, but I wanted to know more about them, the obstacles they faced and the triumphs they experienced.
Although short, the book is well written and there is a lot to commend in it. If you enjoy reading about 'living the dream in the West Country' (the book's subtitle) I am sure you will enjoy Pot Luck as much as I did. I just wish there had been more day to day detail, and, as the author information on the back cover says that the family went on the run a B&B and then a small holding, I would love to know what happened there.
Rating: 3/5
Buy the book on Amazon.
*Disclosure: Pot Luck was sent to me for the purpose of this review, however, all opinions are my own.