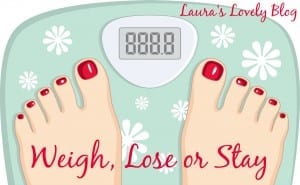 My Weight Loss and Fitness Goals for December
If you were a follower of my Weigh, Lose or Stay feature, you will know that I have been on a mission to lose weight, but of late I have faltered somewhat. I'm approximately two stone down, I was nearing 2.5 stone, but have gained a few pounds. I keep trying to restart my diet, but ultimately failing.
I have talked to a couple of confidents about this as I have been despairing at my willpower and they have made me think about it another way. In the last few months we have had a lot big changes going on. My husband has started a new job, travelled to the States with work, leaving me to care for the children for two weeks. As expected this caused a lot of upset for my son (see Coping when Daddy Travels with Work), during which we also all fell ill and our sleep fell to pot. This week my daughter is poorly and is not settling well, some days she has just wanted Mummy to sit down and hold her. I have also been having a lot of problems with my back, so much so that on some days I have quite literally been hobbling, it seems better now, I just need to take it easy.
When I look at things putting this into perspective, it is perhaps more understandable as to why I have been struggling. When things are tricky, I'll be honest I just want to eat proper food and comforting food too. But in many ways I am not helping myself by doing this either. Overall, I feel like I need a break from 'dieting', but at same time I don't want to lose what I have been trying to achieve.
So, I have decided to set myself some goals for December, to ensure I look after myself through the festive period and ultimately do not come derailed. It would be so easy to put a stone on over Christmas, so easy, and I do not want that to happen.
So here are my December goals:
Maintain my weight, to lose some would be awesome – but I am going to work hard to not gain any at all.
Exercise – I had got into a good habit with this doing it 2/3 times a week. But with my busy routine and then my back it just fell away. So my goal through December is at least once a week, even if it's just yoga if my back is bad. More would be better, but a minimum of one workout session might be more realistic.
Drink…. Not alcohol, but I am sure some of that will be happening too. I know when my diet is falling to pot, one of the first signs is that I'm not drinking enough. So I need to focus on lots of water. Often we think we're hungry when we're actually thirsty. So lots of water helps to curb this.
Weigh myself every week, this will help keep me on the straight and narrow. And do something about it if I'm seeing a number I don't like.
Anyone else have any tips for staying on course over the festive period?