Coping When Daddy Travels With Work
I have mentioned a few times that my husband has accepted a new job. It's a great opportunity, but one we deliberated for a while. His old job involved regular travelling, but a maximum of 4 days at a time. His new job requires him to be away for two weeks in a go. Which is quite a lot of in a 4 and a 1 year old's life.
We knew it would be something our son would struggle with. He has a lovely bond with his Dad. After debating pros and cons over and over and quite a few sleepless nights, my husband decided to accept the role. It was such a good opportunity for him and we know that many parents travel for much more.
The last two weeks saw my husband's first two week spell away and as I suspected it has been a tricky whirl of emotions for my son. From tears to anger. There were times I wondered who had stolen my child and replaced him with someone else. I've had tantrums and regression. Perhaps more sadly tears, bad dreams and waking in the night with stomach cramps and nightmares about his teeth, which doctor Google informs me is probably anxiety related – but coincidentally his dental check up is handily this week anyway. At one point rolling around on the floor crying that he wanted Daddy, and at his real lowest point, and most unlike him, he hit me. Then there were small things like he wanted to going back to using hooded towels like his younger sister does – rather than a grown up towel. I expected him to struggle, but not as much as did. Perhaps in hindsight I had been a little naïve.
I don't think it helped that the first week coincided with half term, so that already meant a change in his routine. Then the first three days we all got upset stomachs, the three of us all taking it in turns to be poorly. So it meant the first few days were decidedly dull and TV filled.
My plan was to keep ourselves busy with activities and seeing friends and family and we did do a fair amount of that. But maybe because of this he seemed to veer between big highs and lows. We face-timed with my husband every day and both of the children came to say hello and my husband asked Logan about what he had been up to that day. But they seemed to bore of chatting to him quite quickly – I guess they are still quite young.
There were inevitably times when I wondered if we had done the right thing. And then other times when I thought it's only two weeks, and surely next time will be easier?
For my husband's next travels I am determined to be more organised and have a bit of a plan in place. I am hoping now that my son has seen that my husband does actually come back after he's been away will help. My ideas include:
Having a countdown chart until Daddy returns
Having a daily fun activity planned that we only do while Daddy is away – I just need to work out what this will be
Giving my son something of his Daddy's to look after for him while he's away. I'm thinking this could be something like one of his t-shirts that will have his scent on
Finally, doing something a bit special as a treat on the day he goes away
On the positive side, their reunion at the airport was absolutely wonderful. We had to wait for a while after an issue getting the cases off the airplane, but I think that this picture says it all. And of course, Daddy managed to bring back a toy for each of the children too. Which always helps ease the troubles away.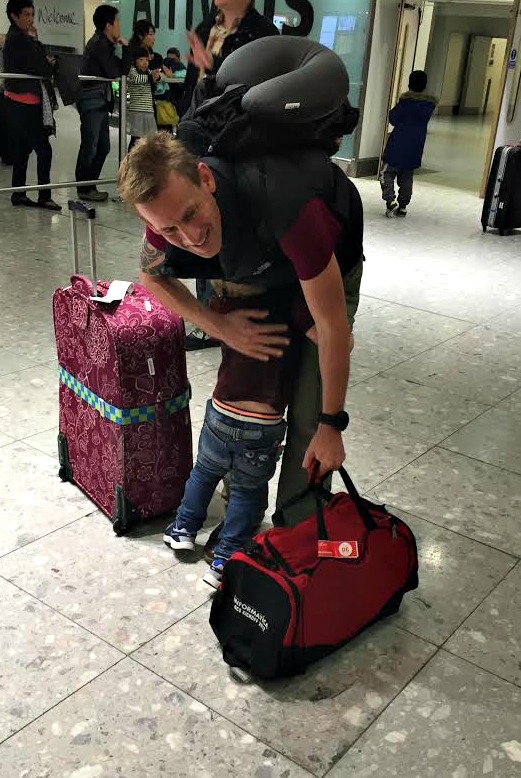 Does your husband travel with work? Do you have any tips you could share with me?