Through the Fairy Door by Elaine and Laura Nelson
Illustrated by Ste Johnson
44 Pages
Children's Stories
Published by My Own Fairy Ltd
Age range: 5+
Through the Fairy Door is a 44 page, illustrated book that arrived accompanied with a beautiful fairy door sent to me from My Own Fairy. It tells the story of Rowena a young girl who after singing the classic nursery rhyme Ladybird, ladybird fly away home… gets told off by a fairy for being unkind and sets off to fairyland with Leila the fairy of ladybirds to say sorry.
I read this story to my son who is just 3 weeks shy of his 4th birthday. I would say this book is slightly on the older side for him. We read it over the course of a few days at 10 chapters long it was a long story for him and we did a maximum of 1 to 2 chapters at a time.
When I started reading it to him I actually wondered if he was going to engage with it as it is quite long and descriptive, but he actually was really interested in it and asked the next evening to read more of the story at bedtime. He asked lots of questions about fairies and kept asking when we could put up his fairy door in his bedroom and we speculated what his fairy might be called.
The story is great for getting children's imaginations going is a fab idea to accompany a fairy door, we had great fun with it. But I do think it would have been better trimmed a little. It is immensely descriptive and as I was reading I also found myself substituting words that I thought were a touch too old for my son. Let me give you some examples:
'…as the spider began to pull silk from her abdomen'
'…and she pulled out two thistledown shawls'
'…they saw the Fairy Queen hurrying towards them followed by her retinue.'
Some of the words in general just seemed to old for the children it was targeted at, or perhaps just in general superfluous to a child's story. I think there are some adults who might not know what a retinue is; a blanket would have been fine and not detracted from the story in the slightest instead of a thistledown shawl which caused me to stop and explain what one was. The same with abdomen.
The illustrations in the book were fab and Logan kept asking to see them again after we had turned the pages. I found him on several occasions just sat there with the book on this lap, looking through them.
The Fairy Door
The books also came with a very lovely fairy door that we installed in my son's bedroom. They are featured in the book so are a nice tie in. The idea is you put the fairy door up (we just used blu-tac to stick it onto the wall), sprinkle some fairy dust, and leave the key out for the fairy. If the key is gone in the morning, then a fairy has moved in. You can also go onto the website and download a certificate to leave the next morning. My husband and I got a little carried away with this and even found some ribbon to tie around it, to make it look pretty 🙂 .
Fairy door in box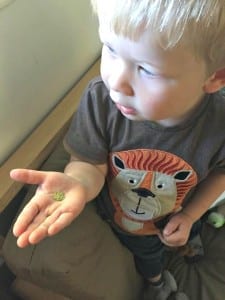 Logan getting ready to sprinkle the fairy dust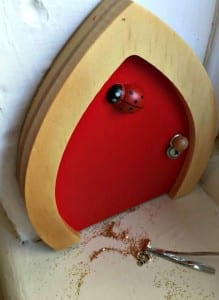 Our installed fairy door
My son was really excited about a fairy having moved into his bedroom, we have even decided to leave her a drawing one night in the hope that she might write a letter back to him and tell him more about herself.
Verdict:
A great idea that captured my son's imagination. The concept of a fairy door is such a lovely one and one we are going to continue and use. The book again is a lovely idea but I think a little editing would make it so much better, I say this is the kindest of ways because I actually really did adore what it was trying to do.
Win Your Own Fairy Door and a Copy of Through the Fairy Door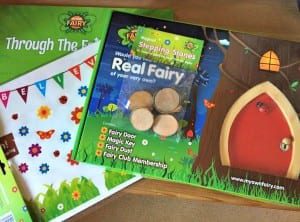 I am very excited to have a copy of Through the Fairy Door, a beautiful fairy door with wall stickers and miniature wooden stepping stones to give away to one lucky blog reader! Enter below and good luck.
*Terms and conditions: One winner will win a copy of Through the Fairy Door book, a Fairy door, wall stickers and fairy stepping stones. Open to UK residents only. Competition closes at midnight on the 17th October 2015. Winner will be notified by email and the prize will be posted out by courier. Laura's Lovely Blog takes no responsibility for prizes that get lost in the post. 
**Disclaimer: My Own Fairy door provided a copy of the book and fairy door and the competition prize in exchange for an honest review.