My Desk Makeover
About a year ago our conservatory was a bit of a disaster zone and had become a bit of a dumping zone while we did a lot of decorating. Time, several dump runs, a steam clean and some Ikea units later and it has been transformed.
Included in this makeover, has been a desk that both my husband and I use. Me probably more so. I use it for seeing my weight loss clients, and of course for blogging.
I wanted to make the area more organised, but also to look prettier to. We did it quite cheaply, with the help of good old Ikea again.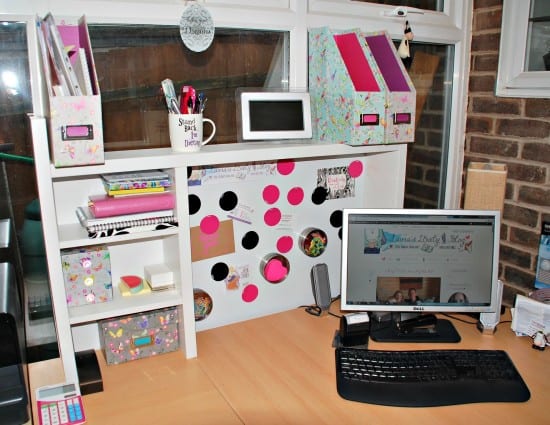 The first purchase was this desk shelving unit from Micke add on self unit for £30. It included the shelves and the magnetic board at the back. Completed with Ikea's Spontan magnets £2.50 for 4. I have also used their Grundtal magnetic pots £5 for 3 to store things like my paperclips and post-it notes on the board in a fun way.
On the notice board I have also added some prints offs of my blog design and creatives and some super cute postcards I received in my last #bringbackpaper stationery swap, as well as my business cards.
I love butterflies as you might tell, so I love WHSmith's Melodie and Amelie collection which I have mix and matched to get my magazine files and folders to go on the shelf unit.  The magazine files are going to purposed into in and out trays – I'm not quite finished yet.
I also went on the hunt for a pen pot, but couldn't actually find one I liked. Then I saw this mug – Stand Back I'm Dieting – and as I am on a diet and a weight loss consultant I thought it was perfectly tongue-in-cheek and decided to buy it and use it as my pen pot.
The follow your dreams sign was one my Mum got me for Christmas last year and I have been looking for the right place to put it.
The whole area feels much more organised now, but also a great creative and space for me. I am currently debating adding some bunting that goes all the way around the conservatory and maybe some fairy lights around the shelving unit as it gets quite dark out there are night and a pink lamp, what do you think?
---
This blog post is part of The Reading Residence's monthly Linky Papery Peep