Stationery Swap
The lovely Jocelyn from The Reading Residence regularly sets lovely stationery themed challenges for people (you don't have to be a blogger) to join in. Her stationery swap is one of my favourites, you are given a person you don't know, somewhere else in the country, and then for a small budget you each send each other a lovely parcel of stationery goodies just for the fun of it. You can read more about July's challenge here. This is a regular feature, so do look out for more in the future, if you fancy giving it a whirl next time.
This month I did a stationery swap with Imogene from Little and Big Blog.  It's a nice way to meet and talk to new people and bloggers too, so do go and check out Imogene's blog.
The Package I Sent
This is what I sent Imogene. The budget was £5 and in all honesty that budget is quite impossible to stick to, but it doesn't matter as it's all fun. I really hope Imogene liked what I choose.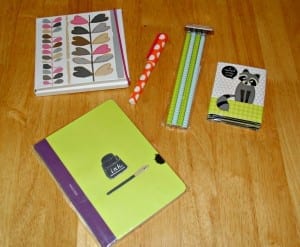 I loved the little note-cards so much I bought one for myself too (oops!) and the little post-it set was fun. As well as some a lovely pen, some pencils and a notebook too.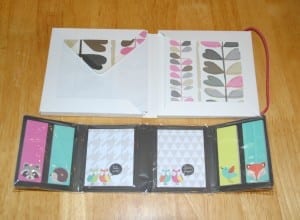 The finished package. Wrapped in tissue paper and ready to go.
The Package I Received
I got a super cute and girly package back from Imogene (thank you so much Imogene!). It is honestly so exciting to receive these little package in the post as you never know what you are going to receive.
It started with a lovely note.
The whole package was full of really sweet miniature stationery pieces from little highlighter pens, to mini tape dispensers and colourful pens. As well as some really pretty pens and a notepad.
I really love the postcards – particularly the 'Creativity never goes out of style' one. I have just ordered a noticeboard/shelving area for my desk from Ikea and these will so be going on the noticeboard. 
What was in the orange bag? This really, really adorable paperclips! These will have to be used for something special and not just ordinary filing!
I think I was a very lucky girl with my package, what do you think?
---
This blog post is part of The Reading Residence's monthly Linky Papery Peep