The Liebster Award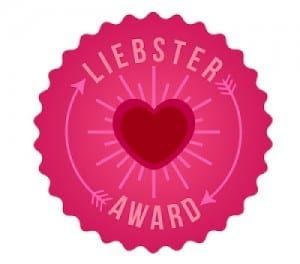 A big thank you to the lovely Becky at Cuddle Fairy for my nomination. Her blog is a very happy place all about positive parenting, if you fancy stopping by. The Liebster Award is given by a blogger, to a blogger. Becky was given me 11 questions to answer for my nomination, and I in turn must come up with 11 new questions for the people I then nominate to answer, I should nominate 11 people. I wonder who came up with the number 11? 😉 You can find my questions at the bottom of this post.
My Answers to Becky's Questions
1. What inspired you to start blogging?
My blog has been one of those projects that's been going on and off for years. I originally started it back in 2010, blogged for a little while, simply for the fun of writing. Then my life changed, I have re-started it a couple of times throughout the last 4/5 years, but really got into blogging and pushing it at the beginning of this year.
The reason I think I am really succeeding this time is I am no longer working 9-5 in a traditional office job. I run a small home business and help clients lose weight, but this blog has become a creative outlet for me which I felt I needed after giving up my marketing job.
2. What's your favourite thing about blogging?
Writing, I love writing. It's the main reason I blog, I love being involved in the wider blogging community. Also, every single comment I get on any of my blog posts makes my day.
3. What's your favourite song?
This is an impossible question! Hmm 'Smile' by Nat King Cole is one of my favourites and my go to when I am having a tough time. I am a big fan of classical music too and adore pretty much anything by Maria Callas – her voice is divine.
4.What's your number 1 travel essential?
My Kindle 🙂
5. What's your favourite quote?
I don't know that I have a favourite quote, but I do like this one:
"You've gotta dance like there's nobody watching,
Love like you'll never be hurt,
Sing like there's nobody listening,
And live like it's heaven on earth."
― William W. Purkey
6. What's your favourite blog post that you have written?
Well, My First 4 Weeks on the Cambridge Diet is by far my most popular blog post and people across the world have sought me outafter reading it, so it has a special place in my heart for that reason.
I am also particularly proud of Would You Microchip Your Child which got a mention on BritMums and I really enjoyed writing and discussing with fellow Mums – Motherhood, Careers and Feminism: Is There A Quiet Revolution Going On?
I know that's more than one shhhh…. 😉
7. Where's your favourite place to shop & why?
Hmmmm let me think, I tend to be a bit all over the place and not sure I necessarily have one favourite shop. Some of my favourite places to shop are Pepperberry (Bravissimo), Simply Be, Boden, Radley for their handbags, Cath Kidston and Orla Kiely for their accessories, I also love a bit of Dorothy Perkins, Joules (when I can afford it), Next – although particularly for their children's clothes, oh goodness I could go on and I'm sure as I'm writing this I've missed a favourite!
8. What's your favourite fashion item?
Handbags… Of course! 😉
9. Tell us something we will be surprised to learn!
Hmm I've never worn PJs all day except when I'm sick!
10. If you won £1,000,000 what's the first thing you would do?
Pay off all of my families' mortgages.
11. Give one piece of parenting advice to fellow mums.
Follow your heart and gut instinct. No ones knows your babies like you do.
My Nominees
Only if you want to of course :-).
My Questions
How did you come up with your blog name?
What is your favourite Linky to join in with?
What has been your biggest blog achievement?
What advice would you give to other bloggers?
How do you manage your home/work/blog life balance?
What is your favourite book?
And your favourite film?
What makes you happy?
What is your most treasured possession?
If it was your last day on earth, what would be your last meal?
What do you love the most about being a parent?
Good luck everybody, please let me know when your blog posts are live, I would love to read them x.