Weigh, Lose or Stay
Week Three
Week three, I have been on the Cambridge Diet two weeks now, for those of you who haven't heard of it, it is a meal replacement diet. I've had some harder days this week. One in particular when I had been up in the night with my daughter, so for some days I have introduced a small protein based meal as I have felt like I needed the energy. (Sole Source + if you know the diet). I'm still drinking a minimum of three litres of water per day, and I really think I can see the difference this is making to my skin.
On Friday I was invited to last minute meal out for a friend who is moving. Meals out on the Cambridge Diet are always tough. I skipped starter and desert, drank sparkling water, and had sea bass with pancetta and a green salad to eat. I should have not eaten the pancetta and avocado in the salad, but it was so hard when it was sitting there looking all yummy on my plate! But overall, I think I did really well and I'm pleased with my results :).
Results
Diet following: Cambridge Weight Plan
Weight lost this week: 4.75lbs / 2.2kg
Number of weeks on the diet: 2
Weight loss in total: 14.25lbs / 6.5kg
Measurements
This week:
Bust: -2cm
Waist: -2cm
Hips: 0cm
Arms: -1cm
Legs: -1cm
Total loss: -6cm
Total lost so far: 13cm
Goals
My first goals are:
Lose one stone – I reached this, this week hurrah! So I wll be getting myself some new make up :-).
Get my wedding rings to fit on the correct finger – no luck yet, but I'll get there.
My next goal will be two stone – I hope to reach this before I go on holiday in mid June. Hopefully sooner, but it is my birthday mid May, and I am planning to have a couple of days off over this time, which may affect my weightloss. When I reach this goal, I will treat myself to …. Do you know I'm not really sure – I shall let you know next week.
Linky Rules
I must stress this is open to anyone, you do not have to join in the Linky if you just want to share your weight loss or maintenance stats in the comments, this is totally fine. But if you want to link up that is also fab.
This is a feature that everyone can join in with (including my own clients!). Not every body is on a diet, but they do like to keep an eye on their weight for maintenance purposes. So this is a weekly weigh-in whether you want to lose weight or stay the same.
The more the merrier please join in. It doesn't matter what diet you are following, dieting is hard whatever route you take this is just about supporting one another.
Grab the Weigh, Lose or Stay badge and pop it in your post
You can link up any weight-loss or fitness and maintenance related blog posts each week
Use the #weighloseorstay hashtag on Twitter and Instagram
Share the love – try and read & comment on 3 other blogs listed on the Linky
Tweet me (@laurasummers) with your Link up and & I will retweet it to my followers
Linky will be open every Tuesday for one week
Grab the Badge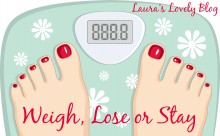 Loading InLinkz ...