Today I have a post written by Tina, Tina is a super organised Mum who knows her way around a spreadsheet that leaves my feeling envious! She has been helping me out with a bit behind the scenes as my business has grown, and today she is sharing her tips to surviving the summer holidays with kids.
---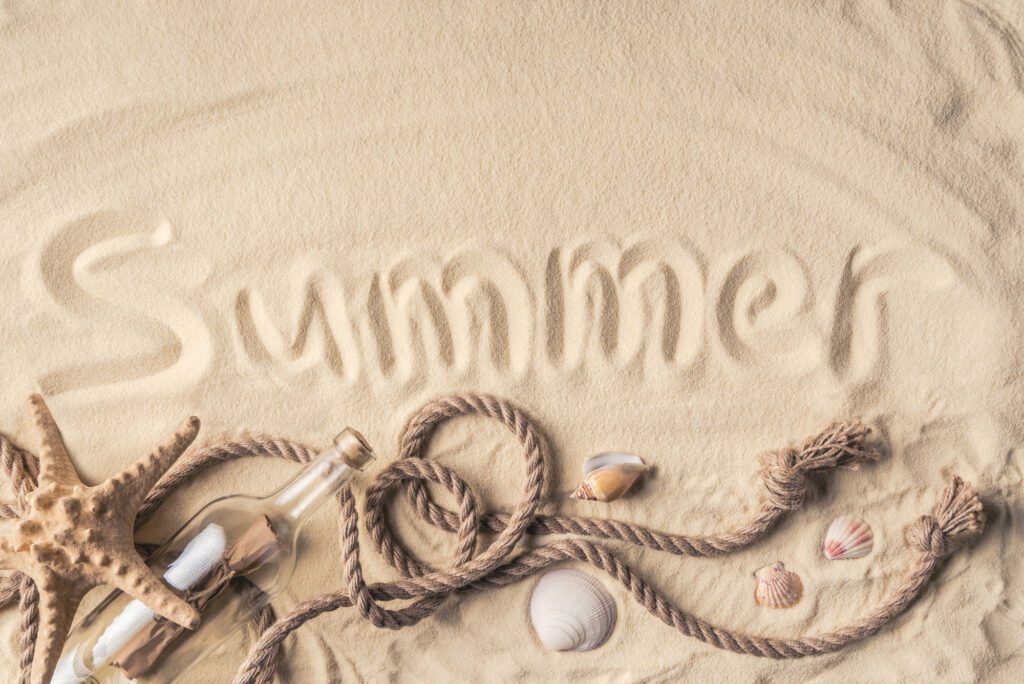 We're into the swing of the summer holidays now, and it's a time of year that can fill the most solid-footed, sussed and organised parents with fear.
It's the 1st of July, the school holidays are fast approaching and like many, it can fill the most solid-footed, sussed and organised parents with outright fear. Honest declaration here, I'm firmly in the flapping, disorganised camp!
6 to 8 long weeks to fill with children that just want a screen or to try and find a new and cunning way to and murder us or their siblings, can fill the strongest of us with outright dread.
The one thing none of think about as we are rapidly signing your children up for different camps and activities is to stop, take stock and go hang on what about me? Yes, you, their parent, the unpaid, overworked slave that feeds, clothes, and kowtows to the constant demands for snacks!
My husband is what can only be described as my 3rd child and a MAMIL – a Middle Aged Man in Lycra and he thinks nothing of waltzing out the door on the weekend for his "time out" and wizz around the roads of Berkshire for a gentle 60-mile bike ride, via a coffee shop for a slice of cake and coffee, whilst I'm at home juggling washing, kids homework, demands for the Nintendo Switch time to be extended and oh yes another snack. 
I'm saying this now, going to the supermarket alone (yes lovely) and showering alone in a locked bathroom (mine know how to use a coin and break in) is categorically NOT a break for you.
So I hear you asking, how do I survive, what should we do, to have a happy parent and content children? There is unfortunately no magic solution but yes go ahead and book the forest school and ballet clubs by all means but also chalk out a swathe of time where you are doing something that you their parent enjoys too.
We have recently got into Paddleboarding and I'm going to take the kids down to the River and muck about in the water with the kids, as this is something I genuinely enjoy and it's good exercise too, many local lakes offer lessons and it's great fun (if you can get back on the board, which is no mean feat!).
It might seem a bit mundane but I can't recommend picking up a book and reading to your children more, it is a fab time to take time out, snuggle up with the kids and disappear into magical worlds. I really must take more time out to read with the kids, as they genuinely drop their screens and run when I mention reading them a story.
We are now far away from Lockdown that the mention of a walk should not raise the 'uggghhh not another walk' complaint from your children. If you have not discovered Geocaching, go download the app and see how many hidden caches there are near you, 100s I bet! For the newbies to Geocaching, a geocache is a hidden container with a small piece of paper for you to log your find. You go for a walk armed with the app and find hidden caches all over the place, it's a very easy way to get my kids to go for a long walk.
When you get back from a busy day, go read a book, paint your nails, get a massage, go for a run, go for a swim but make sure you get some time to yourself and it is so good for your mental health.
Ah and yes the snacks, forgot about those for two minutes. During the holidays I place the kids' full daily allowance of snacks out in a basket and they can eat what they want, when they want, but when they are gone, they are gone. Works a treat as gives the kids a sense of maturity that they are making their own choices and you as the parent a break from the constant "I'm hungry can I have a snack" demand.
Have a great summer break!