*This is a collaborative post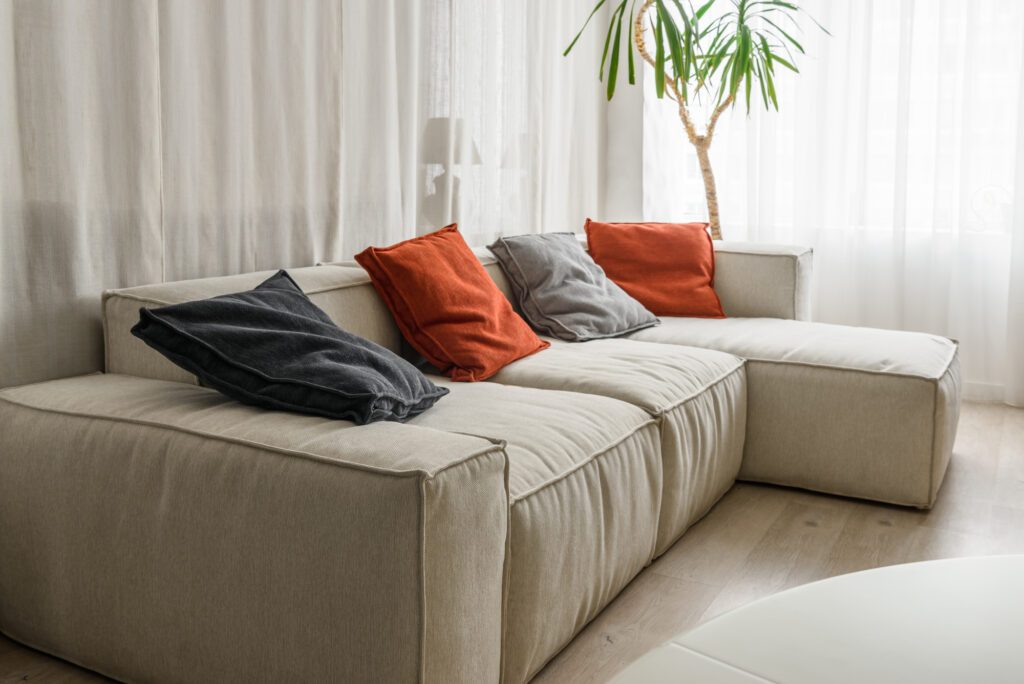 A sofa is an essential piece of furniture you need for your home. However, it is also a significant investment, so you want to ensure that you purchase the right one. After all, they are not the easiest items to return as they are so large and heavy.
Luckily, when it comes to purchasing a sofa, this guide is here to help. Below – are six things you should consider when purchasing a sofa for your home. Whether you choose a leather sofa or are looking for a softer fabric, there is a sofa out there to suit your needs.
Size
Size is a top priority when shopping for a sofa. You want to ensure that it is big enough to provide seating for everyone who lives in your household. Take the number of people you live with into consideration and use a tape measure to determine how much space you have. Think about how you will get your sofa into your living room. One mistake many homeowners make is they don't measure their doorways to the living room. Before they know it, they struggle to fit the sofa through the door. Take a look at some measuring tips online to help you out so you can avoid these common mistakes. 
Comfort
Comfort is key for any sofa. After all, the sofa is where most of us spend a lot of our downtime. It is where we choose to chill out with guests and watch the TV. Whilst you are shopping, don't hesitate to test them out. Although a sofa may look comfortable on the outside, it could actually be solid as a rock when you sit on it. Don't be fooled by the exterior. A leather sofa is often an excellent choice as the material is durable but comfy. If you are purchasing a sofa online, it is recommended that you read reviews to see what other people have had to say about its comfortability.
Material
What material should your sofa be made out of? The answer to this question will depend on your needs and who you live with. For example, a leather sofa could be ideal if you live with young children. Unlike fabric, the material is easier to wipe clean if a drink is spilt on it. Denelli Italia is a furniture store with a range of sofas for you to choose from, including leather corner sofas. Not only are their range of leather sofas an easy-to-clean material, but they are also durable and long-lasting. If you want to check out their product catalogue, head over to their website at denelli.co.uk.
Frame
Sofas do not come cheap. So, you want to purchase one that will last a long time. Therefore, you must choose a sofa with a solid frame. You don't want to feel like it will collapse underneath you. Instead, you want to ensure that the frame is structurally sound, particularly if you have young children who love to use the sofa as their own personal trampoline! Before you make a purchase, try the sofa out. Sit on it and move around, and you will be able to tell if it feels stable enough. Take a look at online sofa buying guides to help you understand the different styles available to you. 
Shape
The shape of a sofa is often something we forget to consider, yet it holds huge importance. Choosing the right sofa shape can transform the space in your home, and it can help create a cosy atmosphere. For example, a leather corner sofa could be ideal if you like to have guests around. The corner shape provides ample space for guests. You can also position the sofa facing a wall to create a cosy area within an open space. Try picking a sofa shape that fits in with your home décor. For example, if you have a vintage style, choose an antique sofa like a chesterfield.
Colour
Colour is something you want to consider when purchasing your sofa. For example, if you are a red wine drinker, you may want to steer away from colours like white. One spilt glass, and you will be doing everything you can to get those wine stains out for weeks. It is not worth the stress; maybe stick to a darker colour instead. When it comes to colour choice, your options are endless. If you want to choose something more on-trend, take a look at some of the most popular sofa colours by conducting a quick search online. Try to choose a colour that reflects your style and personality to really make your house a home. 
Summary
Size, comfort, material, frame, shape, and colour are all essential factors to take into consideration when purchasing a sofa for your home. Remember, this is a significant purchase, so don't be afraid to ask questions and read online reviews to help you find the best piece of furniture for your home and budget.