Welcome to a weekly feature on my blog – Ben's Zone. Written by husband… Ben. A foodie, coffee obsessed, ex-smoking, ex-drinking and Ridgeback loving Dad. Who is also seriously into his fitness.  You can find him on the blog (mostly) on Sundays. Enjoy!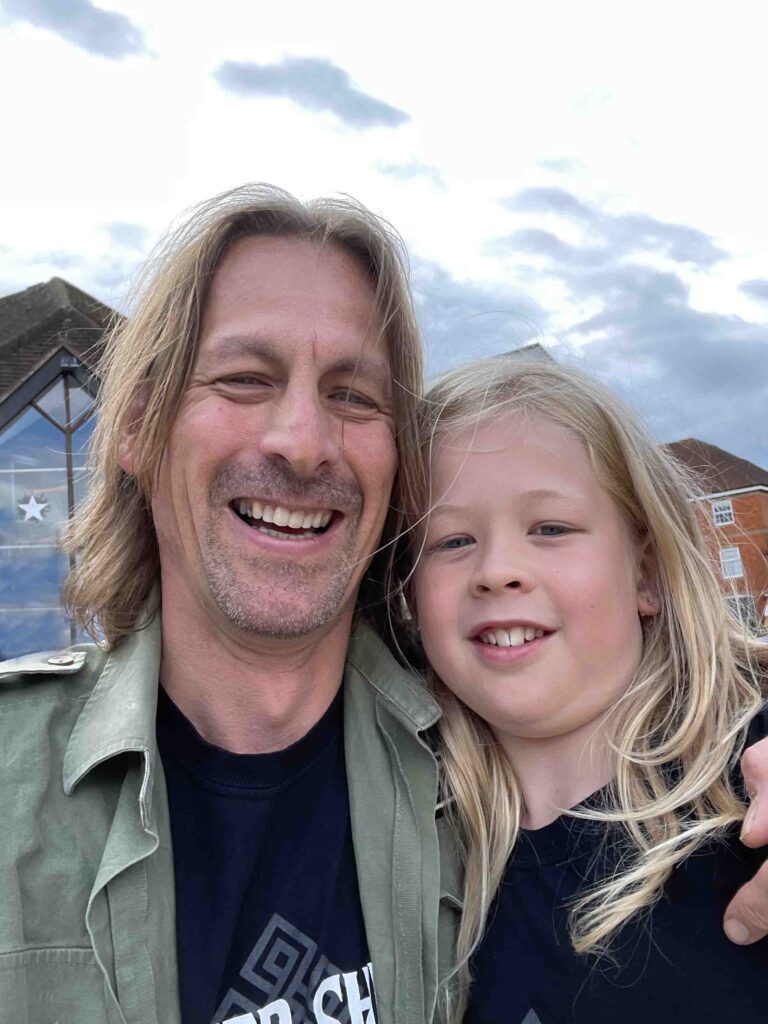 Logan's First Gig – Crooked Shapes
I have my father to thank for my love of music.  I can't remember a time when there wasn't music playing on the weekends in our house. The legend is that on bringing me home from the hospital my dad put me in the front room and stuck on Dark Side of the Moon.  Whether it was ska, British blues invasion, old delta blues, or hard rock, I've always lived in a musical house.  I've only been to one gig with my old man, a Beatles cover band (a pretty good one at that) and it was a cool experience to be digging music with my dad in a live setting.
It's no surprise then that I was stoked when my then 3-year-old son went mental one morning when I put on Angel Dust by Faith No More. As a baby, he'd bugged out to techno, grooved to drum and bass, and jittered to hardcore, but he'd never heard rock music before. The effect was electric. I could see from his expressions and movement that he'd connected on a deep level.
Checking any of the later pics on the blog shows where that particular story went. He's 9 now, a better guitarist than I am, and absorbing new ideas and influences in the way only the young really can. It's amazing to watch. He even has the hair to match.
The next logical step was to take him to his first gig. I'm not one for going out but there is something about hearing music on a big system in a big space that makes my skin tingle and my mind come alive.  The problem is that he's 9 and so too young for most venues.  I'm also a believer that, though I love kids, there should be spaces for adults to do adult stuff.  So 'traditional' early gig venues (tiny clubs, dodgy pubs) are off the menu for now.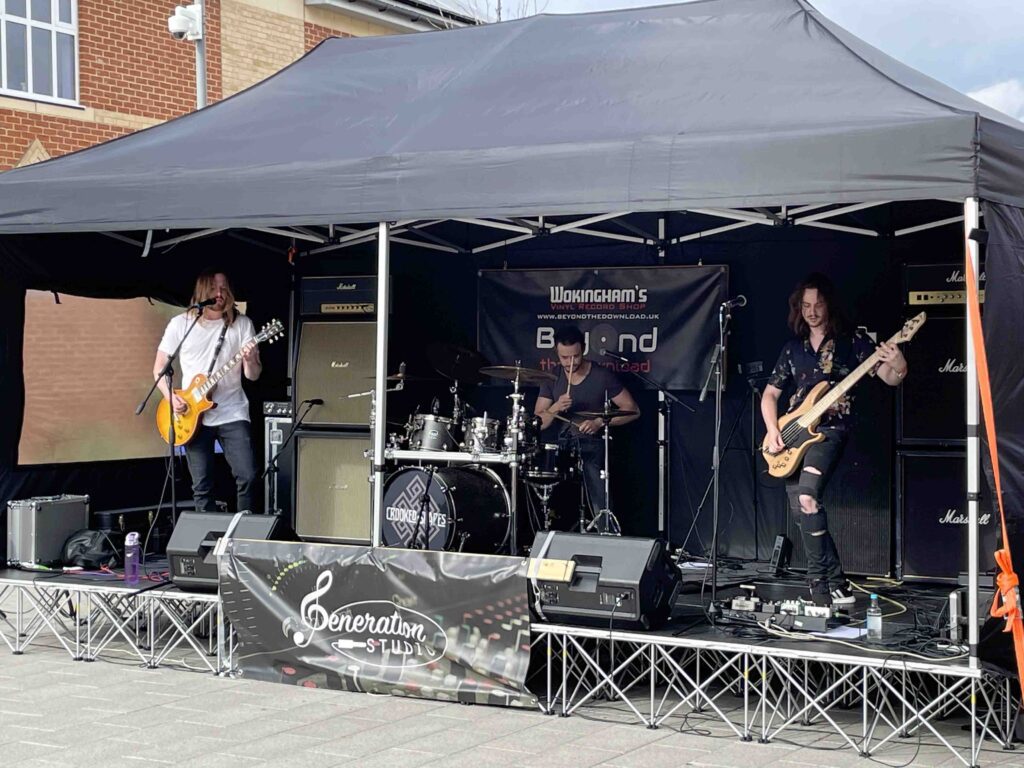 Call it happenstance or call it destiny but in the next town on from us, the local vinyl shop is making an effort to kick off some live music in a small piazza behind the main shops, even better, who was headlining but Crooked Shapes for whom our guitar teacher plays lead guitar and sings. It was set then, with a quick shift change for my work we were all sorted for our first experience of live music together.
I wasn't sure how things would pan out as, while he's a pretty balanced lad, Logan is autistic and gigs involve sensory overload and crowds which sometimes overwhelm neurotypical folks. I could see he was nervous and it certainly helped that he could see his teacher up at the front tinkering with the amps.
As time went on I could see him start to relax and lose himself in the music. It's silly but my heart did swell when he started to headbang with his fairly magnificent near waist-length hair.
The set was also spot on. The Shapes, while fairly young, have been together for a long time and as well as being consummate musicians have the tightness a band gets when they have spent a long time living and playing together. The music itself could be broadly described as alt-hard rock. Songs like Wicked Ways from 2019 EP Fallout make an unashamed nod towards the hard rock greats of the late 60s without sounding either dated or derivative. If I had to be referential in terms of description I'd say it's like the alt-rock or desert rock coming out of the US right now but where that draws influence from a relatively doomy Sabbath type vibe, the Shapes are more of the Free type blue rock.
It would be easy to pick out the guitar work as the standout but the reality is that the Shapes work as a band because all 3 members have a fair mastery of their instruments and it comes together into something genuinely engaging.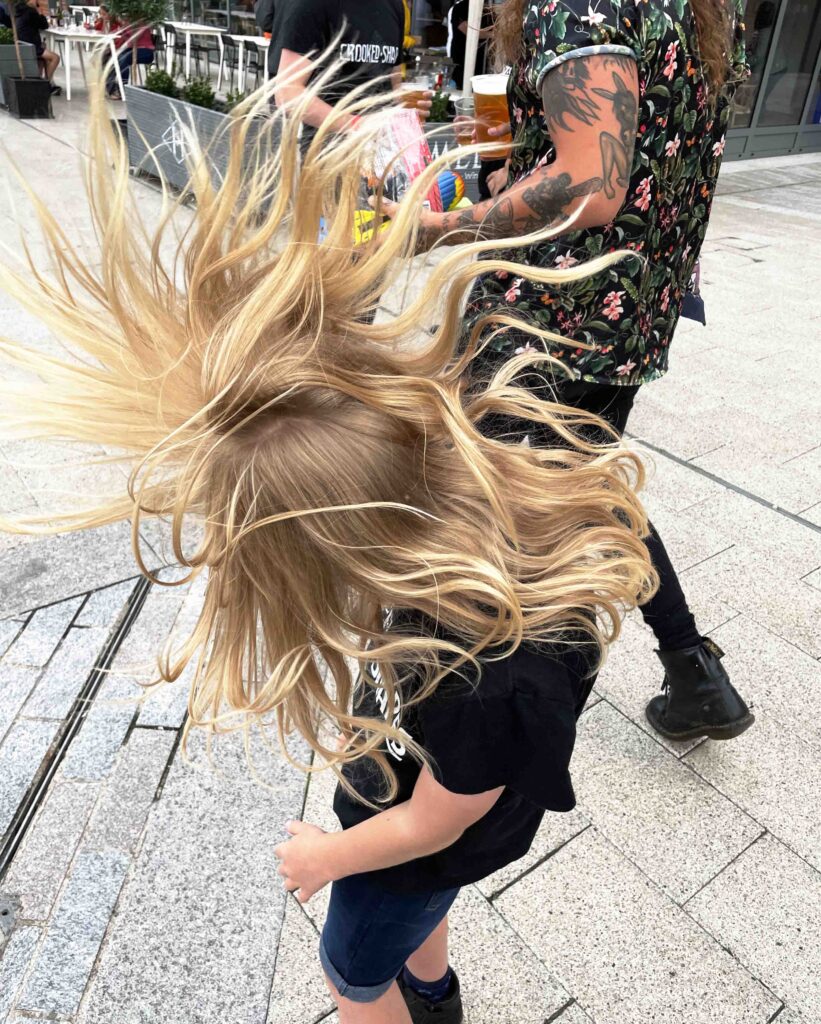 No gig is without ups and downs and the main casualty for this one was a Marshall stack that expired about 3/4 of the way through the set. There did happen to be two stacks and so, other than a short break, the show went on. There was even a brief cabaret act from a local resident who, having moved next to a venue with a live music license, then objected to the live music being played at 5.30 on a Saturday afternoon.
It didn't bring the afternoon down though and the net result was a splendid afternoon for all (well perhaps not the resident).
Walking back to the car I think I did notice a new bounce in Logan's step and I don't think it will be long before we're looking for our next dose of live music.
Crooked Shapes Ep Fallout is available via most streaming services and a new album is expected in November.