*Please note this post contains affiliate links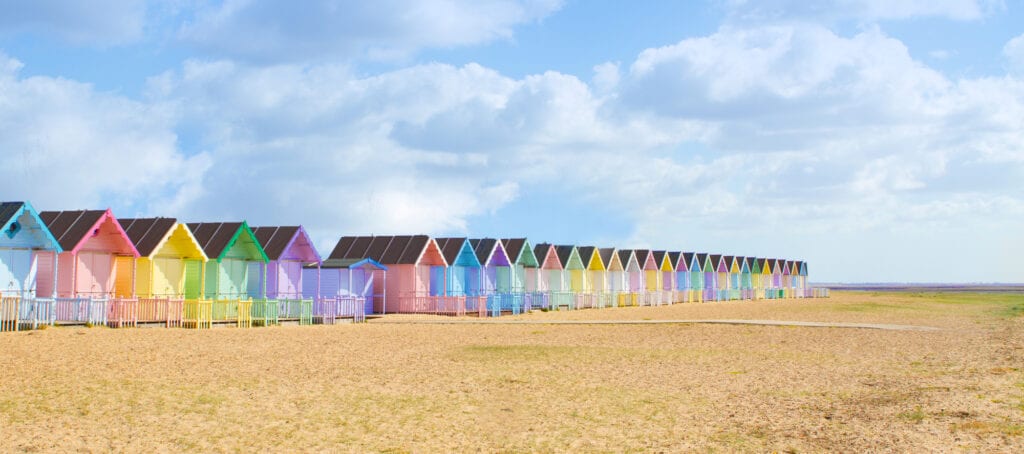 The pandemic means that many more people are going to be holidaying in the UK than they usually do. My family and I are pros at UK holidays and with small children, I find them easier than going abroad. But as we all know, the weather in the UK can be unpredictable, so how on earth do you work out what to pack without packing the kitchen sink and half your wardrobe?
The key is planning, preparing and accepting that the weather probably won't always be glorious, but that's ok. Embrace the weather and you can still have a wonderful family holiday together, albeit perhaps a different one than you are used to.
A Spare Toilet Roll
And a kitchen roll for that matter. You just never know how much toilet roll there is going to be in a property when you arrive, there is usually one, but I always find it useful to have a spare in the car just in case. Also handy for bathroom stops on the way with children.
Board Games and Books
I love to read on holiday, one of the most fun things for me is to plan books I am going to read during my break. I now also give my children a small budget to choose new books for holiday and this is something they're beginning to love too. But is also nice to move away from evenings dominated by the TV. Board games and card games with or without cocktails make for fun, feel-good family evenings that kids really love.
Craft, Lego and Colouring
I think when you become a parent, a real adjustment comes to your holidays and realising that the days of sitting by the pool are over for a good few years. But it's fair and reasonable to want some downtime during your holidays. I get around this by packing craft (that won't damage the holiday property), colouring and Lego for the children. If I have the budget I try and buy them something new and keep it aside so it's a surprise for them to do when I just need a break and I know they will sit and entertain themselves with it.
Waterproofs and Wellies
The weather in the UK is unpredictable, there is no getting around it. So I pack waterproofs, wellies or walking boots for everyone. The beach can actually be just as fun in the rain as it is in the sun if you're wearing the appropriate clothing. Accept there is a good chance it's going to rain and embrace the adventure. Ice cream in the rain on the pier is perfectly acceptable.
Suncream, Swimsuits and Wetsuits
Equally, it can be a scorcher. Suncream and swimsuits are also essentials. As the weather is usually somewhere in the middle, I would highly recommend investing in shortie wetsuits for your children. All of my children have one. We don't buy hugely expensive ones, below you can see the one we have you bought Aria or this year which came in at £13.99. But it means they don't get too cold on the beach and will happily paddle in the water and make sandcastles without complaining about the cold. I wouldn't do a UK holiday without one now.
Use Packing Pods
A friend introduced me to packing pods a couple of years ago. I hadn't come across them before that. If you haven't, they are different sized zipped pods. I use them to pack everybody's clothes separately. It keeps clothes neater. It makes it so much easier to pack for a family. Everyone has their own pod which can then be taken to their rooms to unpack on arrival. It also helps me keep track of what I have packed for who and just makes the process so much easier and organised. You can also have a pod for wet weather gear, a pod with medication in, and a pod charging cables. You get the idea.
Book an Online Grocery Delivery
About a week before you're due to go on holiday, book an online food delivery slot. Get it to arrive 1-2 hours after your check-in time to leave time for any delays or traffic troubles. Order all your essentials, your tea and coffee, your shampoo and conditioner, milk, cereal, bread so you don't have to carry it up there with you and worry about getting to a supermarket as soon as you arrive.
Money-Saving Tips
A good tip my Mum taught me actually was to take a few things with you that it wouldn't need to buy a whole box for on holiday. A great example of this is dishwasher tablets. You don't need a giant box of dishwasher tablets, so in a small Tupperware box, I put a few in for the number of days you'll be staying. The same with washing tablets (if you have a washing machine) and a single washing up sponge or cloth. It saves you spending money on expensive multi-packs of items you don't need and really want to bring home with you.
Check Bedding and Towels are Included
Not all self-catering places include bedding and towels. I have had to stay in places where you have to take your own duvets covers, pillowcases, sheets and towels. This is a bit of a pain with a family of five like ours, it's a lot of bedding and towels to take with you! Make sure you check before you go.
Tea Towels
Even if sheets and towels are included, I often find tea towels are not and I usually pack a couple to take with me.
First Aid Kit
We usually keep one in the car, but even if it's a scraped knee with a young family, accidents happen. Make sure to include paracetamol, Calpol (or equivalent) and anti-histamines. Oh and tissues!
Items to Support your Toddler or Pre-Schooler
My pre-schooler is pretty capable and will take himself off to the toilet by himself and wash his own hands, but he does need a step to help him to reach. I remember a holiday a few years ago where I didn't pack a step for one of my now older children and I spent the whole holiday lifting them up whenever I wanted to go to the toilet. So now, I make sure I pack a step and a training toilet seat. If space is limited you can buy travel and collapsable ones.
My oldest son used to have a problem with bedwetting, so I took a waterproof bedcover in the bag too.
Tablets, E-Readers and Charging Cables
While the aim of the holiday is to spend quality time together. I don't see anything wrong with a bit of screen time downtime either. In fact, it is often the only way that I will get a lie-in. My 3 year old wakes early, so we pop him in bed with us with an iPad and Peppa pig and try and pretend we're still sleeping for 20 minutes. So pack an iPad, my E-reader comes with me wherever I go and of course charging cables for devices, phones and watches. A charging plug is really handy if you may have limited power sockets in your holiday home.
Barbecue Time
My family love a barbecue. This includes on holiday. Often holidays homes provide a barbecue, but if they don't then a travel barbecue is on our must-have list. Check that your property allows them first. But my husband has the Weber one below and it's great for classic British summer food.
And Finally
Here are a few other things I find useful:
Face masks
Hair ties
A change of clothes in the car (in case of toilet accidents or car sickness)
My own hairdryer (the ones in the place are never good enough)
A torch
Nail file
Water bottles and cool bag
Picnic blanket
Buckets and spades and beach towels (if a beach holiday)
Decent sharp knife for the kitchen (if you're planning on cooking)
Let me know if you think I have missed something!