Welcome to a weekly feature on my blog – Ben's Zone. Written by husband… Ben. A foodie, coffee obsessed, ex-smoking, ex-drinking and Ridgeback loving Dad. Who is also seriously into his fitness.  You can find him on the blog (mostly) on Sundays. Enjoy!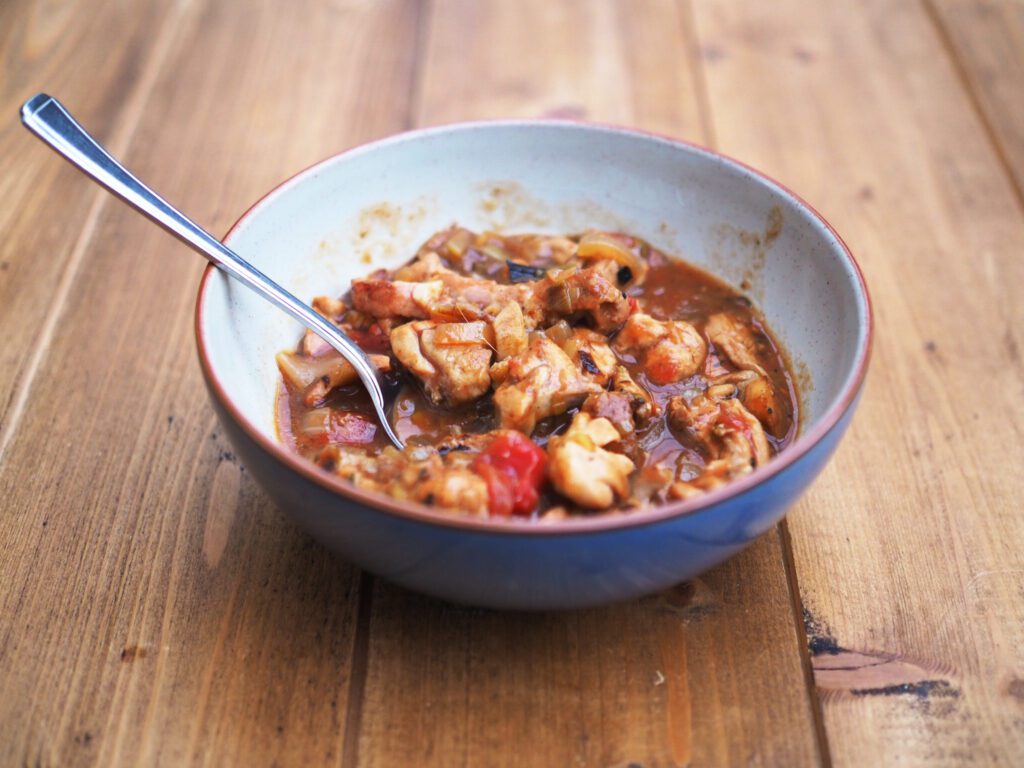 Weekday Easy Slow Cooker Chicken Casserole Recipe
My post for today is to share a simple recipe for a chicken casserole that I cook a lot for the family on week-day dinners. I often do it early in the week for a casserole dinner and then serve it later with some extra sausage added in pie form. It makes cooking weekday dinners easier as it can be prepared on the weekend.
Meat wise my preference for casseroles is chicken thigh as breast can get dry in a longer cook. Ideally, I try and get skinless and boneless thigh fillets. It's not boning out chicken thighs is particularly hard but it does add time to a recipe that's really all about convenience.
I cook this in a slow cooker but there's no reason why it wouldn't work just as well in the oven. What I do think is important is that the pan is thoroughly deglazed after the meat is cooked. I use red wine vinegar but red wine would do just as well.
In terms of efficiency, once the chicken is chopped you can chop all the vegetables while the batches of chicken fry. It's important not to overload the frying pan when doing the chicken as it will release water and the chicken will boil. That's not the end of the world but the chicken won't be as nice.
Ingredients – serves 6 adults
1kg chicken thigh fillets (skinless)
1 large onion
3 cloves garlic
4 rashers smoked bacon
1 can tomatoes
500ml chicken stock
Plain flour
1 leek
1 can chopped tomatoes
Red wine vinegar
Worcester sauce (optional)
Mixed herbs (optional)
Method
Chop chicken into bite-size pieces while heating a frying pan to a high temperature.
Using spray oil fry chicken in small batches until nicely browned.  When each batch is finished put it into the slow cooker.
Chop bacon into strips.
Once all chicken is fried fry off the bacon.
While meat fries chop the onion, leek, and garlic finely.
When the meat is done cooking deglaze the pan using red wine vinegar scraping any bits into the slow cooker.
Put more spray oil in the pan and fry vegetables together until softened and brown.
When the veg is ready dump in a few tablespoons of flour and mix through.  You need to cook this for a few minutes now to get rid of the floury taste, the purpose of this is to thicken the sauce for the casserole.
When the flour is cooked out' add the stock gradually and mix, it should thicken as it does so.
Pour everything into the slow cooker along with chopped tomatoes, a few drops of Worcester sauce, and a pinch of mixed herbs if you like.
Season with salt and pepper.
Cook for 5 hours at low temperature, check the seasoning halfway through.
Serve immediately or reheat later, goes well with fresh bread but can also have pasta or rice with it.
What I tend to do is to take enough for the family and put it into one portion and put the rest into a dish and cover it with a pre-bought puff pastry crust to have as a pie later in the week.  If the pie portion is a bit small it can be filled out with cooked sausage and even a can of baked beans.  When cooking the pie make sure to have the oven temperature correct so that the filling heats through properly before the pie crust cooks.