Welcome to a weekly feature on my blog – Ben's Zone. Written by husband… Ben. A foodie, coffee obsessed, ex-smoking, ex-drinking and Ridgeback loving Dad. Who is also seriously into his fitness.  You can find him on the blog (mostly) on Sundays. Enjoy!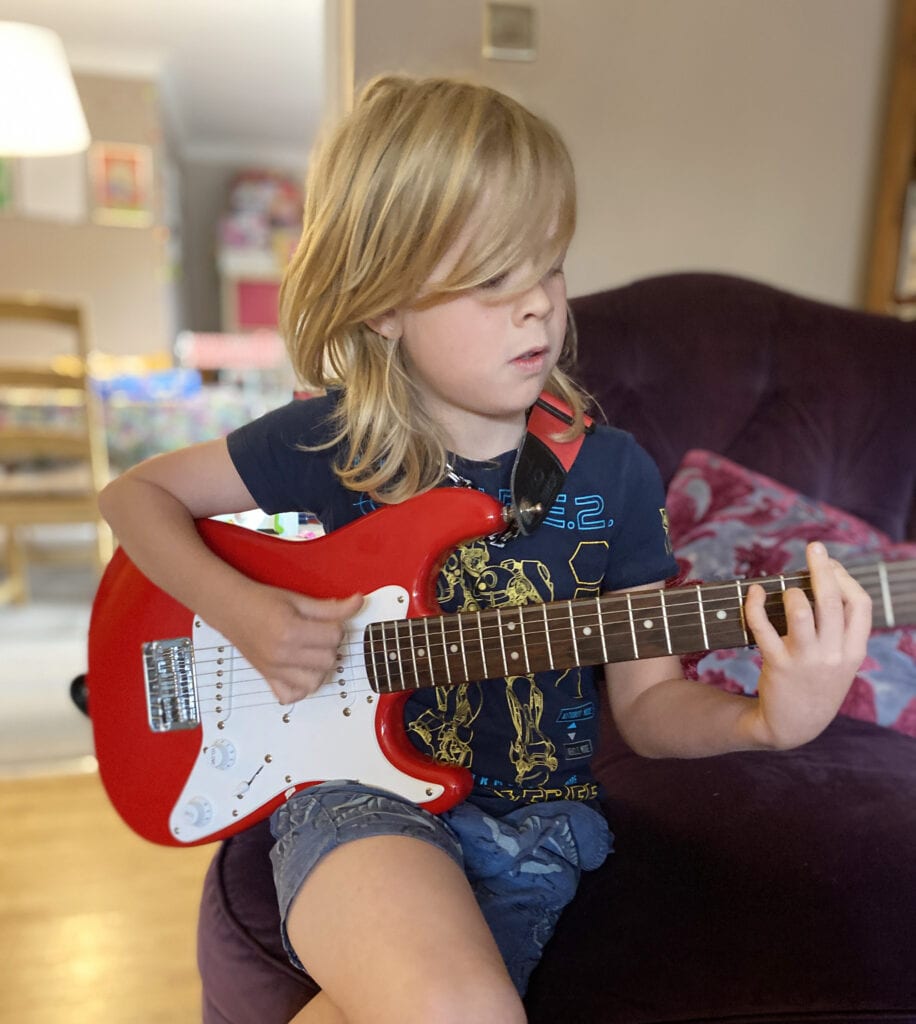 Gifts for the Junior Guitarist
*AD – please be aware that this feature contains affiliate links
It may seem a bit early for Christmas shopping just yet but it's only 2 pay checks away and in our house that means planning has already started.  In earlier articles I've talked about how to go about buying a first guitar for a younger player,  in this article I'm going to list out some nice gift ideas for consideration around Christmas time.
1. Decent Practise Amp
Electric guitars don't have to be played through an amp.  They're expensive to get started with and it may be that they're bought either without an amp or with a tiny amp to get going.  Once the junior guitarist has spent a little time with their instrument a nice gift might be a beefier amp for a bit more fun at practise time or something to go to a band practise with.  There are a lot of options at around the £100 to £150 mark.  You can get cheaper modelling amps (where software inside the amp simulates a variety of sounds) and a whole bunch of traditional transistor amps.  You're unlikely to find a valve amp in this price bracket but that's no bad thing as they're not necessary for starting out and they're often extremely loud.
The choice I went for was a basic transistor amp, the Orange Crush 20.  It is cheap (I got a nice second hand one for £55), loud and tough.  What I thought was even more useful was the simplicity of the controls.  It has a clean and a dirty channel and a shared EQ for both.  It's easy to dial a good sound in and without a ton of options it stops hours of fiddling and messing around.  There are other good options from manufacturers such as Blackstar.  It's always worth looking on Facebook marketplace for amps like this as they're often sold in reasonable condition as owners trade up.  As the Dad of an aspiring Tony Iommi I'd caution against anything too big just yet as 1. you get to hear it, 2. you get to carry it places.
2. Gig bag
Most guitars come in a box.  This is fine for home practise but soon enough the guitar and associated small person will be wanting to go places to play with friends.  For this the idea is a hard case as they really protect the guitar but they're expensive and so the next best thing is a padded gig bag.  You can really spend as much or as little as you like on this.  I didn't go bargain basement as you can because the guitar will get bashed and knocked as it goes from car to concert.  I managed to find an Andertons' branded 'pro bag' for £35 although they're currently out of stock.  Essentially they are like this Tourtech model with Andertons branding.  Key things to look for are a couple of pockets for spare strings and music etc, good padding in the bag, cushioning around the neck strap and at the base and padded straps.
3. Nice strap and strap locks
It's normal to sit down when first learning to play but it's more usual to play the instrument standing up.  Believe it or not this is actually quite hard at first but a nice strap can take the sting out a bit.  Personally I prefer woven straps to leather and I love the Ernie Ball jacquard patterns.
What I would say is that strap locks are a must have.  You don't need to spend a bomb but they simply stop the strap popping off the buttons while being played, I fit them to all my guitars as a matter of course.
4. Clip on Tuner
There are many tuning options, from the mark 1 ear through to quite expensive pedal based solutions.  For me I find it hard to spend money on something that is necessary but unexciting so I spend as little as I can.  That being said I can't stand out of tune instruments so I'd always recommend a little clip on tuner to address the issue.
One thing to bear in mind if you have younger children kicking around, these take coin type batteries so should be kept out of little hands.
5. A Bunch of Spare Top E Strings
Guitar strings should be replaced periodically however you'll often find with younger players that the thin top E string goes long before the others.  This isn't anything to be concerned about, it's good when they're passionate about their playing but you don't want to be buying a whole set just for the one that's broken.  The people at Ernie Ball obviously have this sussed and offer sets of just top E strings in packs on Amazon, genius.
A Final note
If I've learned one thing over the last year or so it's that though there are some great resources on Youtube and via band based tutoring, in terms of engagement and development you really cannot beat a lesson with a guitar teacher.  Both Logan and myself have lessons and for both of us it's resulted in a dramatic increase in focus and skills.  It need not be a weekly thing if money is tight but it will pay dividends far more than the equivalent money spent on pedals or other shiny bits.