Welcome to a weekly feature on my blog – Ben's Zone. Written by husband… Ben. A foodie, coffee obsessed, ex-smoking, ex-drinking and Ridgeback loving Dad. Who is also seriously into his fitness.  You can find him on the blog (mostly) on Sundays. Enjoy!
How to Make a Fried Chicken Feast
A lot of what I'd term comfort food is stuff I can whip up easily when I want something quick and nice, but it doesn't always have to be the case.  Sometimes comfort food can be quite involving if it hits the spot in the right way and today's example is exactly that. There's something wholesome about fried chicken, calling it soul food isn't a misnomer, it's hearty, filling and, if done properly really tasty.  It can also be greasy and nasty and if it's overcooked it's straight up gross. 
The nice thing about American food though is that it's forgiving and relatively easy to cook.  For this one I cooked sweetcorn fritters, fried chicken and biscuits (not sweet cookies, a similar recipe to a scone in the UK).  Next time I might try my hand at sausage gravy to go with it.  What I find important is that even when you're careful this is a very rich dish and so you need something to cut through that.  Citrus isn't really in keeping with the mood so your sharp has to come from vinegar.  Coleslaw made without mayonnaise is one idea, I just used a really sharp vinegary hot sauce instead which did the job.
For the chicken I based the recipe on a really nice one from Jamie's Comfort Foods (affiliate link).  I changed this as I omitted the brining stage.  Brining seems really popular at the moment and while it might really tenderise the meat, I find it makes things just too salty.  For the chicken you want thigh, wing or drumsticks.  A purist is going to say it has to be on the bone and, yes, that's probably got an edge taste wise but a thigh fillet works perfectly well.  The main thing is to be careful when portioning stuff out because the coating on the chicken will expand so you'll need fewer pieces of meat that you'd usually have.  The chicken is OK cold with a buffet but you really want to eat it when it's hot to get it at its best, so don't allow for leftovers.
The fritters are a basic batter with bits of sweetcorn and spring onion in, there's nothing complex there but they're nice when fresh.
The biscuits are simple to make and although I had not made them before they're going to be a regular as they were nice for mopping up left over chicken and sauce.
Do be prepared to use the oven to cook the chicken and do plan this one in advance, there's a lot to be gained by soaking the chicken pre-cooking.
One last thing, this is deep frying on a hob so care must be taken. Use a probe thermometer to regulate temperature, never ever fill the pain more than 1/3 deep with oil and if you do not have a fire blanket close by make sure you have a damp tea towel.
Oil will catch fire and can be very dangerous. Do not put water on an oil fire, that will spread the fire round your kitchen. If your pan does catch fire take your fire blanket, hold it in front of you towards the fire by the upper corners (long side up) and turn the corners over so your hands are protected. Approach the fire carefully and place the damp towel or blanket over the fire and cover completely. This will stifle the fire and it will go out. Absoluteley do not try and move the pan until it has fully cooled.
That being said, if you are careful none of that will be necessary, so let's get on with the recipes.
The order is simple. Prep the chicken, make the biscuit dough, make the fritters. Fry the chicken and then while baking the chicken fry the fritters and bake the biscuits. With the spice mix, experiment, celery salt, for example would be nice and maybe some chilli powder to assist the cayenne. It's ok for the chicken to have a little kick if that's your thing.
Fried Chicken Recipe
4 – Chicken thighs or mix of thighs and drumsticks
400ml buttermilk or creme fraiche
200g plain flour
Spice mix:

1 tsp baking powder
1 tsp cayenne pepper
1 tsp smoked paprika
1 tsp onion powder
1 tsp garlic powder
1 tsp fine salt
1 tsp thyme
Method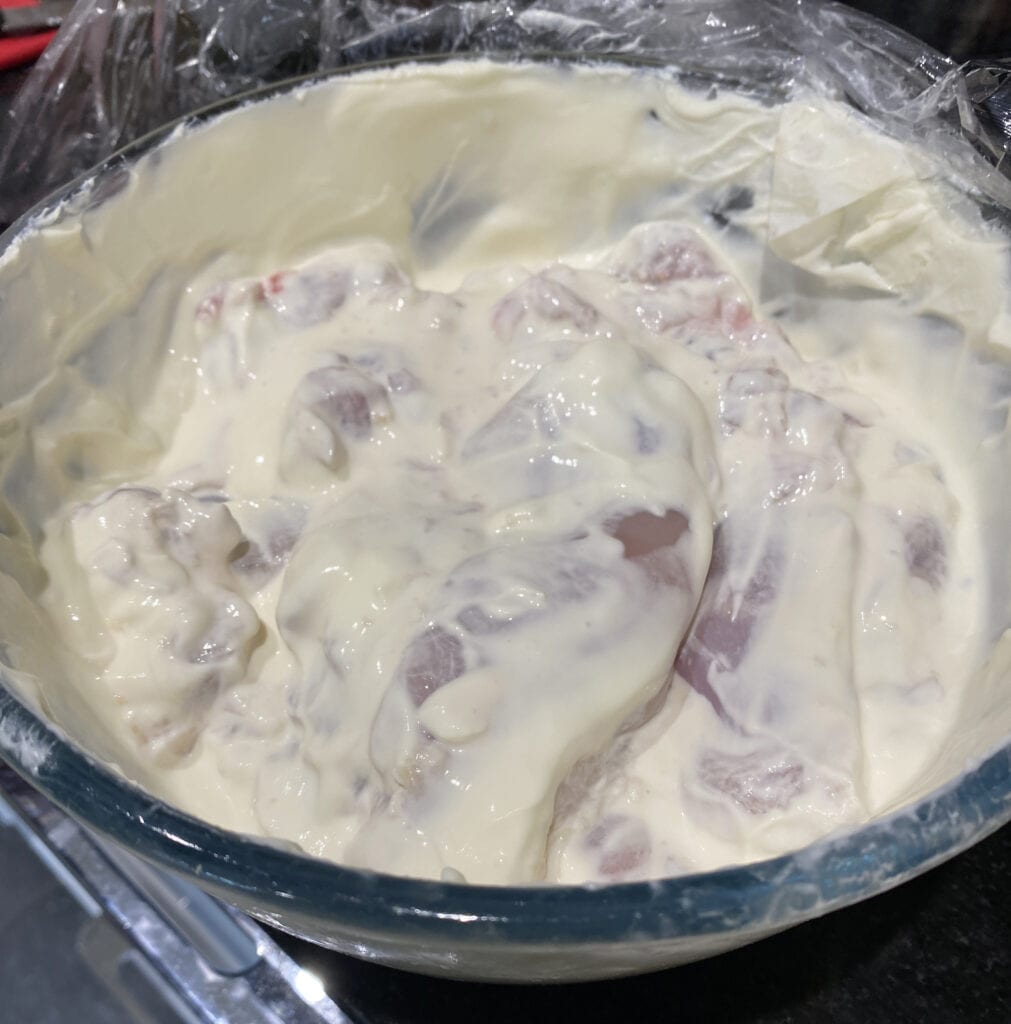 Put the chicken in a bowl and cover with the butter milk, refrigerate.
Mix spice mix into flour in a nice big bowl.
After about 6-8 hours take chicken out of fridge.
Fill pan with 1/3 of high smoke point oil (sunflower  / rapeseed not olive).
Put pain on medium heat and put in probe thermometer.
Heat oil to 170C put oven on at 180C / 170C (fan).
While the oil is heating, piece by piece dredge the chicken through the seasoned flour.  Dredge each piece again just before cooking.
When the oil is at temp take a plate and place a kitchen towel on it, put this next to the hob.
Drop no more than 2 pieces of chicken at a time into the pan and cook for 5 minutes.  Control the temperature so it does not go too low.  If it does the chicken will soak up the oil and the chicken will be greasy.  If it's too hot the chicken will burn which is equally nasty.  Remember there is a lag between changing the hob setting and the oil temperature. Be patient and make small changes.
After 10 minutes remove the chicken, allow it to fully drip dry and place on the kitchen towel.
Cook all chicken then put on a tray in the oven for 20-25 mins to cook through.
Sweetcorn Fritters Recipe
4 x corn on cob
1 bunch spring onions
3 large eggs
30ml milk
150g plain flour
1 tsp of spice mix from chicken
Method
Remove kernels from cob place in a bowl.
Top and tail spring onions and chip finely.
In another bowl crack eggs, add milk.
Mix in flour and spice mix.
Mix in corn and spring onions.
Check at this point, you need quite a sticky batter so if it's loose work in more flour until you need another spoonful to push the batter off a spoon.
In oil from chicken heat back to 170C
Using 2 spoons drop a spoonful of batter into the oil.  Cook 2-3 fritters at a time. Do this close to the oil as you do not want the oil to splash back on you.
Cook for 5 minutes.
When cooked place on a plate with a kitchen towel.
You can put fritters into the oven with the chicken to keep warm until they are ready to serve.
American Biscuits Recipe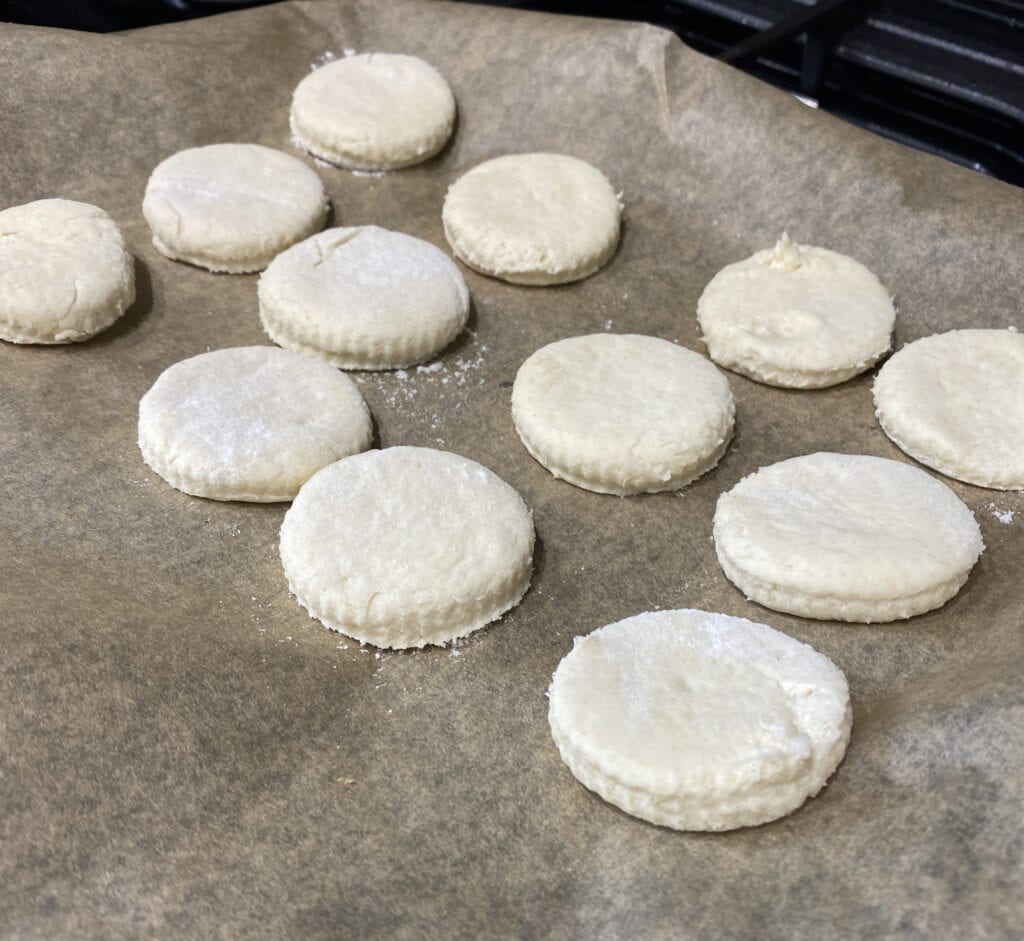 These are dead easy, food processor, bowl, oven. After all that frying (which is intense because you have to really concentrate) it's a welcome relief to just whack these in the oven.
175g Self raising flour
1 tbsp caster sugar
1/4 tsp Bicarbonate of soda
50g of butter (from fridge)
175ml buttermilk (I took this from the chicken)
Method
Put everything barring the buttermilk / creme fraiche into the food processor.
Blitz until bread crumby.
Pour into a bowl and use the buttermilk / creme fraiche (whichever you used for the chicken) to bring it into a relatively moist dough.
Flour a rolling board and roll out to 5mm thickness.
Use a biscuit cutter to cut out small disks and place on a baking tray on top of greaseproof paper.
At the end of the cooking just whack this in with the chicken for the last 10 minutes.
Serve and enjoy!