Welcome to a weekly feature on my blog – Ben's Zone. Written by husband… Ben. A foodie, coffee obsessed, ex-smoking, ex-drinking and Ridgeback loving Dad. Who is also seriously into his fitness.  You can find him on the blog (mostly) on Sundays. Enjoy!
EasiYo Yoghurt Maker Review
*Advertisement Feature
I like yoghurt but, for me, there are two drawbacks.  First, it can be quite expensive and second, it always comes in single use plastic pots. The obvious solution would be to make your own and so that's what I'm testing here, the EasiYo yoghurt maker which retails for about £20.  The thing about making yoghurt though is that it looks quite hard.  I'd imagined it would be taking milk and pouring stuff in it until it sets but not so.  You have to mess about with a starter and heating milk, and then cooling milk down. It's very hard looking.
So the EasiYo is a bit of a blessing really.  You get a sachet of mix (various flavours), put it in the pre-sized beaker and mix it with room temperature water.  You then boil the kettle and fill the maker up above the supplied spacer.  Then you put the lid on and leave for 8-12 hours.
We were sent an EasiYo to review and got a Greek style, as strawberry flavour and a banana flavour sachet to try.  Normally the sachets would retail for about £3 each dependant on flavour and quantity you're buying.
I won't labour the process as it's as simple as described above. Let's get on to the good bit, the results. I did strawberry first simply because it was my favourite as a kid. On seeing how easy it was to make I was a little suspicous that it might taste like a protein shake but I couldn't be more wrong. It was great, not too sweet, no synthetic edge to the taste and massively creamy. I served it with real strawberries and it made for a perfect summer treat.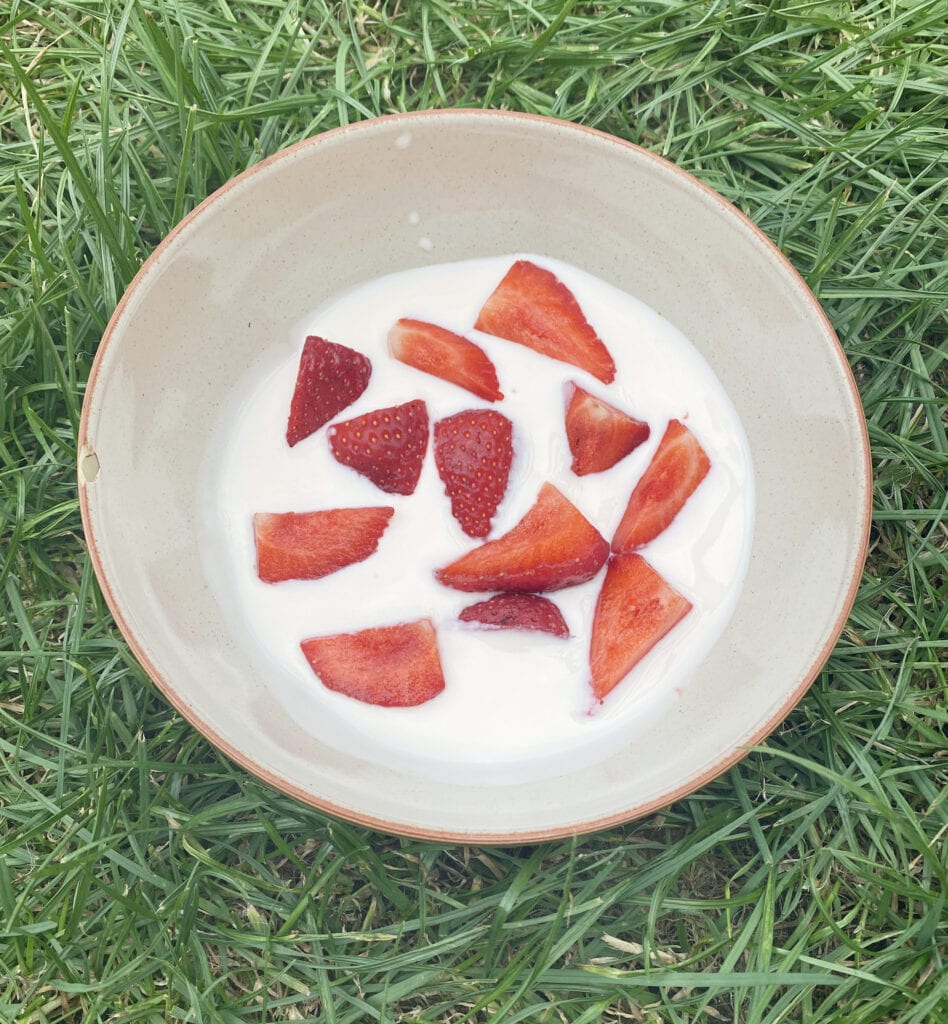 The real acid test though was the Greek style. My early foreign holidays were to various Greek islands and I fell in love with the food. Most of all the thick yoghurt served with a good honey. So how did it measure up? Pretty good actually. Slightly less creamy than a full Greek yoghurt but I suspect it's a thickened version of the normal mixture as Greek Yoghurt is normally sieved to get the excess moisture off. I really liked it.
In conclusion I liked the EasiYo Yogurt Maker, quite a lot actually.  It's simple, relatively cheap (just a bit above half the price of an electric yoghurt maker) and it avoids lots of annoying milk heating.  The product is good and per serving it's cheaper than buying yoghurt from the shop.  It also generates far less plastic waste.  I would recommend this to anyone wishing to have minimal faff tasty yoghurt.  Win.
Buy the EasiYo Yoghurt Maker on Amazon (affiliate link)