*Advertisement Feature
Interactive Kids Map Review
For millions of children across the country, returning to school is still quite a few weeks away. If you're like me, you're still trying to find innovative ways to both teach and keep your children entertained at home.
Recently we were asked to try out a couple of children's maps from Maps International. Which are a fun and interactive way to get your children learning a little geography. They're the kind of tools that your children don't really comprehend that they're learning , because at the same time they're having fun.
Kids Doodle World Map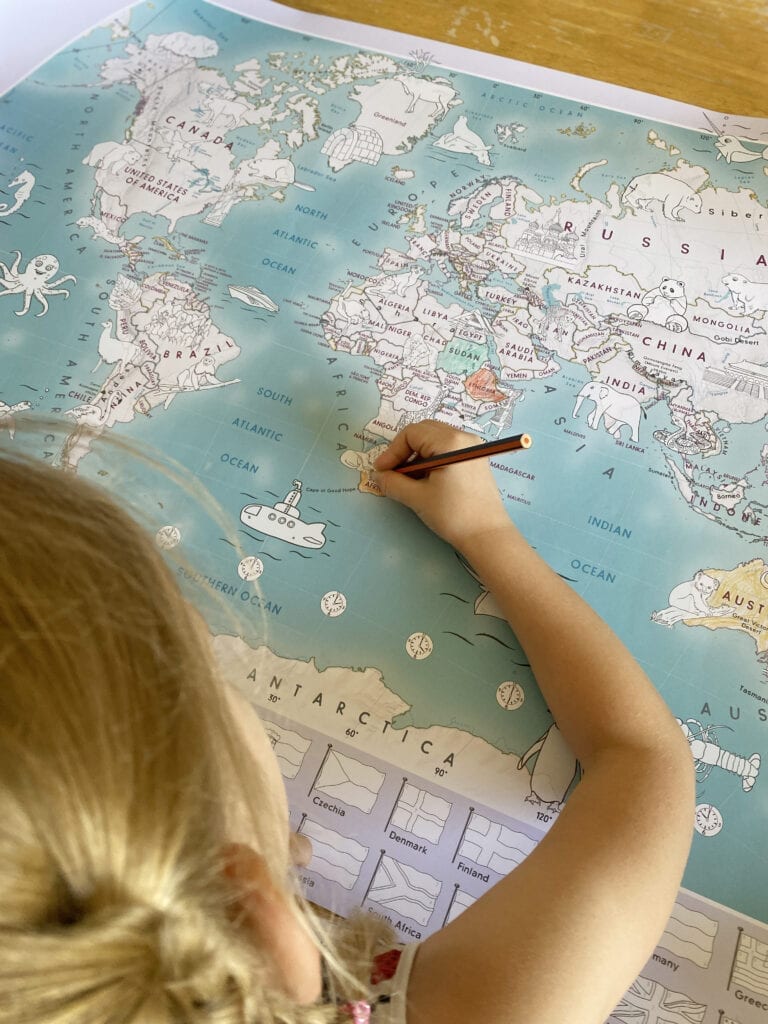 The first map is the Kids Doodle World Map. It's a large map of the world which your children can colour in. To make it more fun, countries have pictures of animals and things they're famous for next to them that need to be coloured in too. You can find penguins in Antartica, elephants in India and an Igloo in Greenland.
Another fab feature is at the bottom where there is colour by number flags of the world. Which is a great way to teach children all the different flags.
I think what I particularly liked was as Aria was colouring the map in, we talked about the names of the countries and the continents they were on and the seas they were near. It was a nice way to start to familiarise her with the world in an entertaining way.
Scratch Off Kids World Movie Map
Maps International also make scratch off maps. The map we were sent to review was the World Movie Map which teaches children all about which country their favourite movies were set in.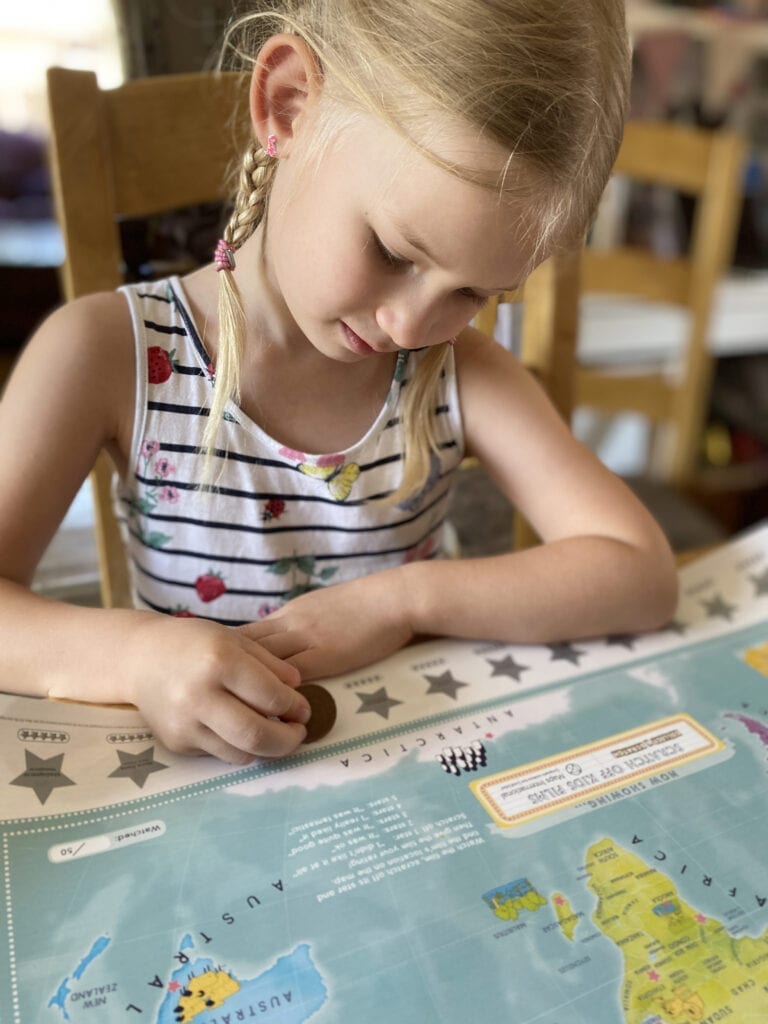 There is a list of children's films around the outside of the map in silver stars. It has the name of the film and the country it was filmed in. Your child then has to find the country. There is a symbol to represent the film on each map to help them. When they have found it they can then scratch off the the star to see if they have found the correct symbol in the right place.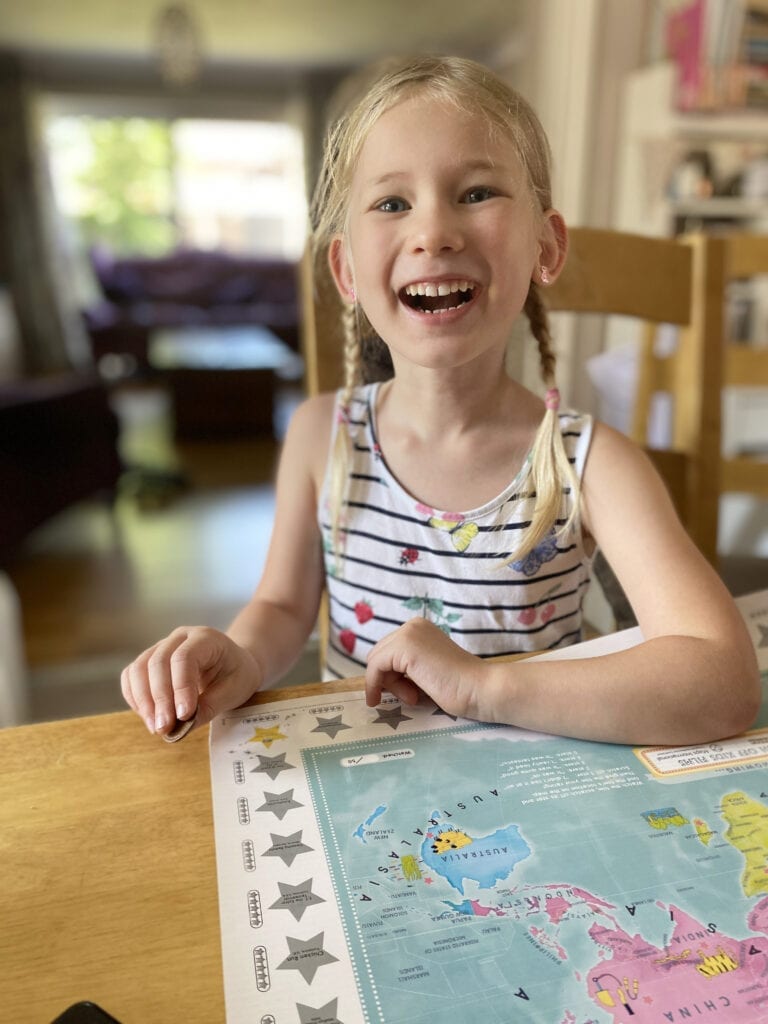 I actually expected the doodle map to be more of a hit as Aria really loves colouring, but I think it's fair to say that the scratch off map was the winner and caused the most excitement. It was a bit like a quiz they could do themselves and kept my children entertained for quite a while.
Summary
I really liked both maps and I think they're pretty good value at £9.99 and £14.99 respectively. My children loved doing them, they thought they were lots of fun and it kept them entertained for quite some time.
Another thing I like about both maps is that when we're finished with them we can put them up on the children's walls and they can be a piece of creative art too. Particularly the doodle map. Which they can continually refer to when they're learning and it will be all the more special that they have made it. A fab educational resource for children and I actually think it would be a nice and bit different gift for a child too.
Giveaway
I have one map to giveaway to one lucky reader. The winner can choose one of the maps featured, their choice. Either a Doodle Map or a Scratch Off Movies map. To enter, simply enter your details below.
*Terms and conditions: Entries are open to UK residents only. The competition closes on the the 17th July 2020. Winner will be announced on social media and contacted via email. If the winner does not respond to the email in two weeks, a new winner will be randomly chosen. Please allow extra time for prize delivery due to current pandemic restrictions. Host reserves the right to substitute the prize for a suitable alternative in case of problems with supply. No cash alternative available.
a Rafflecopter giveaway