*Advertisement Feature – we were gifted a skip for the purpose of this review
I don't know about you, but lockdown has been a great time in our house for projects. Things in the garden that we have promising to do for ages. but never quite got around to because something more important or fun took up our time instead.
It will certainly be one of my positives of the time. The work we have done in the garden. Transforming an area into a children's area with a playhouse and mud kitchen. Ripping out our old decking and having a new patio built and generally transforming the garden into a nice haven for us all to escape.
Rubbish Clearance
The biggest problem, however, has been getting rid of the rubbish. For a long time in lockdown our local recycling centre was closed so we just had a pile growing in the garden. Even now, it's limited with certain slots per week which you have to book in advance. In the end, we also created such a lot of rubbish that it would have taken several trips which would have ended up being quite tricky.
Which meant it was really great timing when we were contacted by www.anyjunk.co.uk. Any Junk are a waste removal service and have loads of different options depending on the waste that you have.
Any Junk Review
If you have waste to get rid of, then Any Junk offer the following services:
Man & van rubbish clearance
Skip hire
Hippo bag collection
Furniture disposal
Bulky waste collection
The big thing I really like about Any Junk is that they're sustainable and they recycle 96% of your rubbish, which is pretty cool. I'm glad that the contents of my skip won't just end up in landfill, especially as lot of it is garden waste which is easily recyclable.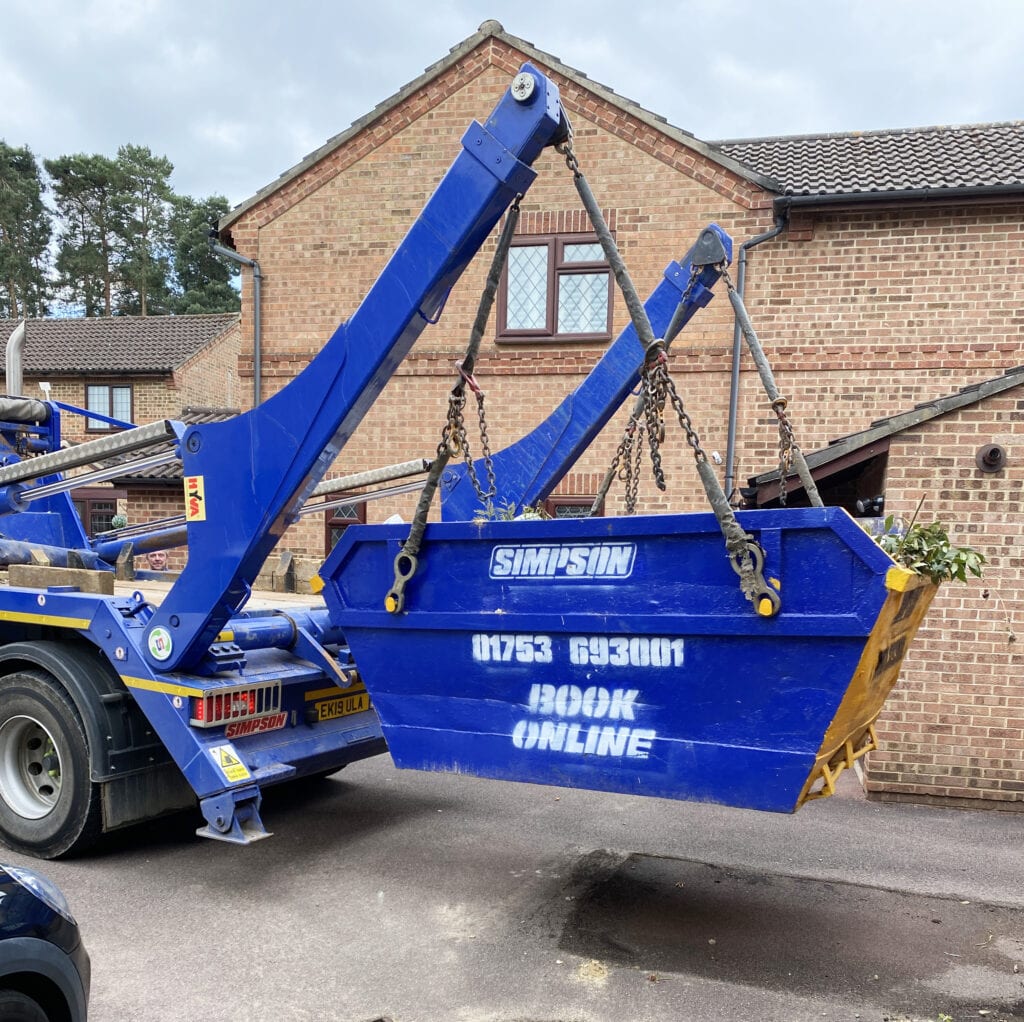 Any Junk Skip Review
We had quite a lot of waste to get rid of in the end. So we decided on a Skip. There a 4 different sizes of Skip and on the Any Junk website they have very handily put photos of the type of content you could fit into them, helping me to decide what we needed for the volume of rubbish that we had.
The one you can see here we have used is classed as a X-large skip and is 8 cubic yards. Before ordering your skip, you will need to check access and the the lorry can get there to deliver the skip. Also if you don't have a drive and need to place it on the road you may need to get permission from your local authority.
The skip was placed on our drive with no problems at all, plus the children found it rather exciting. There is no time limit for how long you keep the skip, I guess how long you need it for will depend on the scope of work you are doing. We kept it for two weeks. When we were finished I called customer services and they arranged for someone to come and collect it the next day. My only slight constructive criticism is that someone said they would call me to let me know when it would be collected, but they didn't. But it didn't really matter as you don't need to be in for the collection at all, and collection was very prompt.
Summary
Overall, I had a very positive experience with Any Junk Rubbish Removal. It was great not to have to worry about doing multiple trips to the dump, which is what we would have needed to do and with the current restrictions, probably over the course of several weeks. But also that 96% of our waste will be recycled. I would have hated the idea of all of that waste going to landfill. I think with restrictions probably going to be in place for a while, so it's a fab option for people doing projects in their house or garden. If you haven't got lots of waste, the Hippo bags are a good option rather than a skip too.