*Advertisement Feature
My children love stories, it is one of their favourite things, and while my oldest two children are perfectly capable of reading on their own now. They still really enjoy having a story read to them. Which is where the Toniebox is perfect.
The Tonie box is a small and robust audio player for children. With 7 hours of battery life, once the stories have been downloaded to it, it doesn't need wi-fi to use. It has a soft outershell, which makes it soft enough to cuddle, but still robust for life with children. It also comes in a variety of different colours.
How Does the Toniebox Work?
The Toniebox is an audio player that works by placing a Tonie on top of it. The Tonie is a little figure that connects to the top of the device magnetically. Don't worry the Tonie itself is pretty robust and designed with clumsy children in mind. The Tonie contains different content for you to listen to. Think of it like your audio player's cassette or CD (showing my age there!). You can have multiple Tonies with all of your different stories and music on.
Why are There Two Different Types of Tonie?
There are two types of Tonies and Creative Tonie and a Tonie. The difference is that a Tonie comes with pre-recorded stories on it. A Creative Tonie is a blank Tonie which you can record your own content onto – up to 90 minutes worth. You do this via an app on your phone. So I started by recording by reading my daughter's favourite stories. Each story records as a chapter. Although if you wanted to you could also read a larger chapter book and record that a chapter at a time. Or sing their favourite songs, or even a meditation. The only limit really is your creativity there.
For the Tonie which is pre recorded, you can purchase all sorts of different story packs suitable for younger children and juniors. From classic fairy tales, The Gruffalo and Guess How Much I love you, to Junior spooky stories and adventures as well as fact files about sea life and dinosaurs. If you have a look at the Tonies' store there is something for everyone.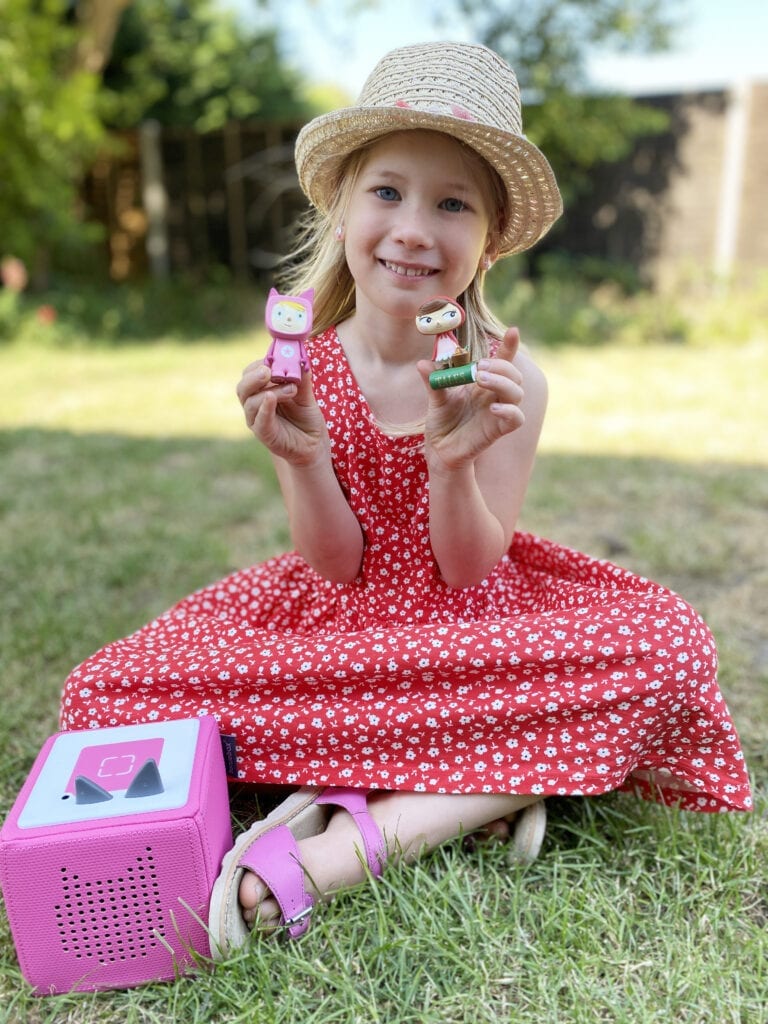 Toniebox Controls
The Toniebox itself is really simple to use. You can squeeze an ear to change the volume, tap the sides to switch chapters left for forwards and right for backwards. Once a bedtime story is finished the box will automatically turn itself off, so you can leave it playing to help your little one get sto sleep. It comes with a charging station which you put the box on to charge. Easy peasy.
The Tonies App
You can manage the Toniebox and Tonies with an app on your phone. The main function of the app is that it enables you to record content to be played on Creative Tonies. But it can also, set the maximum volume on your Toniebox, as well as for earphones and tweak the control setting so that they suit you and your child.
Another cool thing you can do via the app is get relatives to log in and record content for the app. A great idea at the moment when children are missing family members. To have story read on their audio player by a grandparent.
What Did We Think?
We loved the Toniebox, I found the setup a little bit frustrating as it took 3 attempts to find our wi-fi but after that it has been really simple to use. Very instinctive for the children. The Tonies are a fun way to share different stories and the children like the different figurines. The Creative Tonies have been a big hit as they can have a story read by Mum and Dad at any time even when we're busy. We haven't managed a grandparent recording yet, but I am going to organise one as a surprise!
The box itself is lightweight but robust, I like the outer shell as it makes it not too hard if they want to have the box in bed with them. The children have really loved it and I am actually debating purchasing one for my older son so he can have audiobooks at bedtime too.